Referral Email Templates: Secret Weapon for SMB Growth
People are 4 times more likely to make a purchase when their friend refers to it. Welcome to the world of referral emails: a powerful tool to grow your network and enhance your engagement rates. This article will walk you through the nuances of referral email templates, the need for them, writing tips, catchy subject lines, and referral email examples to inspire you. 
What Is a Referral Email?
A referral email taps into the potential of word-of-mouth by encouraging satisfied customers to recommend a product or service to their friends, colleagues, or family members. The survey shows that 92% of people trust referrals from the people they know, thus making referral email campaigns one of the most effective ways to acquire new customers.
Essentially, a referral email is a type of communication used to reward subscribers for every successful referral they make: a new sign-up, a completed purchase, or even a certain level of engagement. The exact definition depends on the company and its objectives. Referral emails are usually mutually beneficial: they offer rewards both to the referrer and the referred individual (a perk or discount, encouraging them to try out the product or service).
4 Types of Referral Emails
Referral emails are not a one-size-fits-all solution. They can vary significantly based on the nature of the business, the target audience, and the specific goals of the referral program. Here are a few common types of referral emails to choose from:
1. Direct referral emails. This is perhaps the most straightforward type of referral emails. Customers are incentivized to directly refer the business to people they know. For example, a streaming service might offer a free month to any customer referring a friend who subsequently signs up for a paid plan. Or an ecommerce brand could offer their customers a benefit for every friend who purchases in the store as Ghia does:
2. Tiered referral emails. In a tiered email, the more referrals a customer makes, the bigger the reward. Such emails encourage continuous referrals and are great for businesses looking for broad exposure. For instance, a software company could offer escalating rewards, such as premium features, additional storage, or even cash rewards, based on the number of successful referrals.
3. Community referral emails. These emails provide rewards that benefit an entire community, not just the individual making the referral. For example, a company that sells eco-friendly products might plant a tree for every successful referral. This is an excellent way for businesses with a socially conscious audience to encourage referrals.
4. Partner referral emails. This type is common in the B2B sphere, where businesses refer each other's services to their customers. It's advantageous in industries where businesses offer complementary services. For example, a web development agency might partner with a digital marketing firm, and they could mutually refer each other's services to their clients.
7 Reasons To Send Referral Emails
Before you start sending out referral emails you should understand what benefits they will give you. We've come up with 7 compelling reasons that may convince you to incorporate referral emails into your marketing plan:
1. Cost-effective customer acquisition. Traditional advertising campaigns can be quite expensive while referral emails leverage your existing customer base to spread the word about your company. For instance, if a loyal customer of an ecommerce store refers their friend through an email referral program, the business acquires a new customer at a much lower cost compared to traditional marketing channels.
2. Higher conversion rates. Referral emails are not only a cost-effective marketing strategy: their conversion rate is 3-5 times higher than that of an average email campaign. This is because people tend to trust the recommendations their friends and family give.
3. Enhanced customer loyalty. When your existing customers refer their friends to your business, it deepens their loyalty to your brand, as they commit themselves further to your product or service. An example could be a fitness app that offers free premium months for successful referrals, thus turning usual clients into brand advocates.  
4. Improved brand awareness. Referral email templates are an effective way to increase brand awareness without additional costs. When your customers refer your business to their friends, family, and social circles, your brand's reach multiplies organically: in some cases, you may attract people who might not have otherwise heard of your brand.
5. High customer lifetime value. Referred customers have a 16% higher lifetime value than other customers. This means that attracting such customers is more profitable for your business as they're more likely to stick around and keep buying.
6. Measurable results. Referral emails are easily trackable. With the right software, you can see who opens your emails, who clicks on the referral links, and who makes a purchase. This helps your company measure the success of your referral campaign and make adjustments for better results. 
7. Quality leads. Referral programs are likely to bring high-quality leads because they come from people familiar with your product or service. It could potentially increase user engagement with your campaigns as well as drive more sales. 
If these benefits are not enough, you should also know that more than 52% of small businesses in the USA consider referrals as the most powerful tool for their growth. Now that you know why referral emails should be your go-to promotion channel, let's take a look at some tips for writing a perfect referral email.
How to Craft an Engaging Referral Email Template: 5 Small Tips
The success of your referral email template rests largely on its content. Let's dive into the essential elements and practical tips to help you craft a compelling referral email:
Clear purpose

. Think about the rules of your referral program and describe them to the readers as clearly as possible. Perhaps they should ask their friends to sign up for your services, buy your products, or attend an event: don't leave out necessary details including the validity period of your promotion, the sum of the purchase, the number of friends your subscribers should bring, and so on. Ensure the readers have no questions about what they should do after reading your email. 

Personalization

. Personalize your referral email templates. Use the recipient's name and, if possible, relate the content to their interests or needs. This may boost customer loyalty and increase the chances of taking part in your referral program. 

Incentivize

. The study shows that incentives are likely to incite more than

50%

of people to refer their friends and family to your business. At the same time, the size of the incentive

isn't that important

: it could be a discount, a free trial, or even a small gift. This nice gesture not only encourages the recipient to act but also shows your appreciation for their time.

Easy referral process

. Make the process of referring incredibly simple. If you have even a tiny spark of doubt that people will get confused after reading your referral email, they definitely will. So make sure you simplify the process as much as you can: include a clear call-to-action (CTA), and if possible, a simple click-through link for the referral process.

Follow-up

. Don't forget to follow up on your referral email. If the readers didn't act on your offers after a reasonable amount of time, a gentle reminder might help you nudge them in the right direction. The content of your follow-up email depends on your offer: if your offer has a short validity period, you might send several follow-up emails throughout this period to those subscribers who haven't brought any friends yet. And if your referral program is permanent, think about adding a small section to your promotional emails reminding readers about it.  
With these tips in mind, you have all the knowledge you need to create a perfect referral email your subscribers will interact with. Now let's take a look at another important part of your referral emails: a subject line. 
Referral Email Subject Lines: Best Practices and Ideas for Inspiration
About 64% of people decide whether they want to read an email or not based on its subject line only. That's why you should put a lot of effort into making your referral email subject line compelling enough to grab your subscribers' attention. 
Here are 6 best practices for crafting a top-notch referral email subject line:
Use the recipient's name

(or other specific details). This way, your email'll be more likely to draw readers' attention.

Provide a glimpse of the benefit

. What's in it for the subscribers? Mentioning the benefit in the subject line can intrigue the recipient and make them want to read more. For example, your referral email subject line could be "An opportunity that could boost your annual sales," or "This could help you save 20% on marketing costs."

Keep it short and simple

. Long email subject lines can get cut off, especially on mobile devices. It's best to keep your subject line under 50 characters if possible. You don't have to fit the content of the whole email into its subject line: only the most important details. 

Create a sense of urgency or exclusivity.

This is a classic marketing technique that can also work in email subject lines. The idea is to make the recipient feel like they'll miss out if they don't open your email right away. 

Ask a question

. Starting with a question can spark curiosity and draw the recipient in. The question should be relevant to the content of the email and hint at the potential benefits the recipient might receive. An example might be, "Ready for a referral that could transform your business?"

Mention the referrer

. When you send an email to the new users your subscribers referred to, use this to your advantage by mentioning the names of those subscribers. This not only adds legitimacy to your email but also builds trust. For example: "A special recommendation from Jane Smith."
Remember, the goal of your subject line is to get your email opened. Use these tips as a starting point and adapt them to your audience and the specifics of your referral.
28 Catchy Referral Email Subject Lines to Get Inspired
If you don't know where to start with your referral email subject lines yet, take a look at these 13 catchy subject lines from well-known brands:
Get 2,000 points for every friend you refer to Merryfield! (Merryfield)

For the LOVE of Ghia (Ghia)

Want 30 days of free Premium access? Refer a friend 💙(Busuu)

Give $50, Get $100 for yourself (Outdoorsy)

Wellness grows when shared (Saje Natural Wellness)

Spread the Love (And Get PAID💰) (MeUndies)

Be a good friend, get $15 (Italic)

Share the love and save 15¢/gallon (GasBuddy)

Enjoy Setapp for free again (Setapp)

 Refer your friends and get $$$ (Postable) 

 Sharing Email from Treehouse (Treehouse)

 Two razors for your friends (on us) (Harry's)

 Get free Bitcoin when you refer a friend (Coinbase)
For those of you who are still at a loss, we've crafted 15 engaging subject lines you may use to get inspired (or steal for your next referral email campaign):
"Unlock Exclusive Benefits with Our Referral Program"

"Share the Love, Get Rewarded"

"Give [Product/Service], Get [Product/Service]"

"Help Us Grow and We'll Help You Save"

"Invite a Friend and Enjoy [Discount/Offer] on Us"

"A Special Thank You for Helping Us Expand"

"Your Referral Means the World to Us"

"Join Our Circle and Reap the Benefits"

"We're Better Together – Refer a Friend Today"

"Earn Rewards with a Simple Click"

"Spread the Word and Make a Difference"

"Got a Moment? Refer Us to a Friend"

"Share and Earn — It's That Simple"

"Recommend Us and Unlock Exclusive Perks"

"Friends Don't Let Friends Miss Out on Deals"
Don't be afraid to experiment with your email subject lines: no one knows your audience better than you do!
Referral Email Templates: 15 Ideas and Examples
A well-crafted referral email template can become a turning point in acquiring new clients and turning the existing ones into brand advocates. Here are 15 ideas and examples to guide you in creating your engaging referral email campaign:
1. Introduction to the referral program. This is your chance to introduce your referral program to your customer. When a person subscribes to your blog (especially after making their first purchase), you might send them a welcome email explaining the program's benefits for both the referrer and the referred. 
For example, that's what Hylo does in their referral email template:
2. The direct way. Sometimes, the most straightforward approach works best. If your customers love your products or services, they might be willing to refer a friend even without incentives. 
For example, Ultrahuman sent such referral emails to those users who ended up on their waitlist for the new product launch:
3. Refer and earn. People love earning rewards, especially when it involves minimal effort. That's why keeping your referral email template to a short message "Refer N friends and get X perks" may be a great idea.  
This referral email template by Oura is short and simple, but it still manages to highlight all the details that might be useful for subscribers: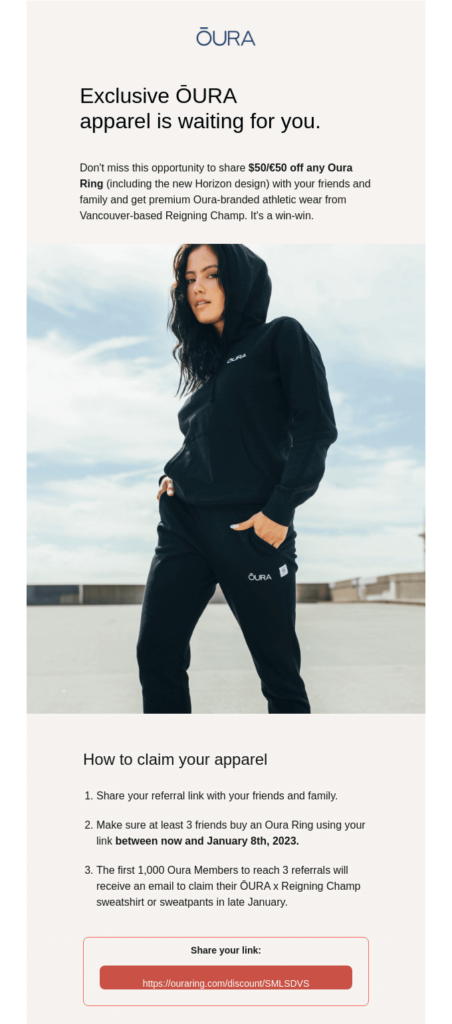 4. Reminder email. Keep in mind that your customers are subscribed to numerous other email sequences and they don't keep track of the terms and conditions of all the companies they buy from. In this case, a gentle reminder about your referral program can go a long way. 
Your reminder email could look something like this: "Hi [Name], Just a quick reminder about our referral program. Don't miss out on the opportunity to earn exciting rewards."
5. Thank you email. Always remember to thank your customers for their referrals. This small act of appreciation may serve as a sign that they've done everything right and show them you care.
Here's a great example of a thank-you referral email template by Fellow: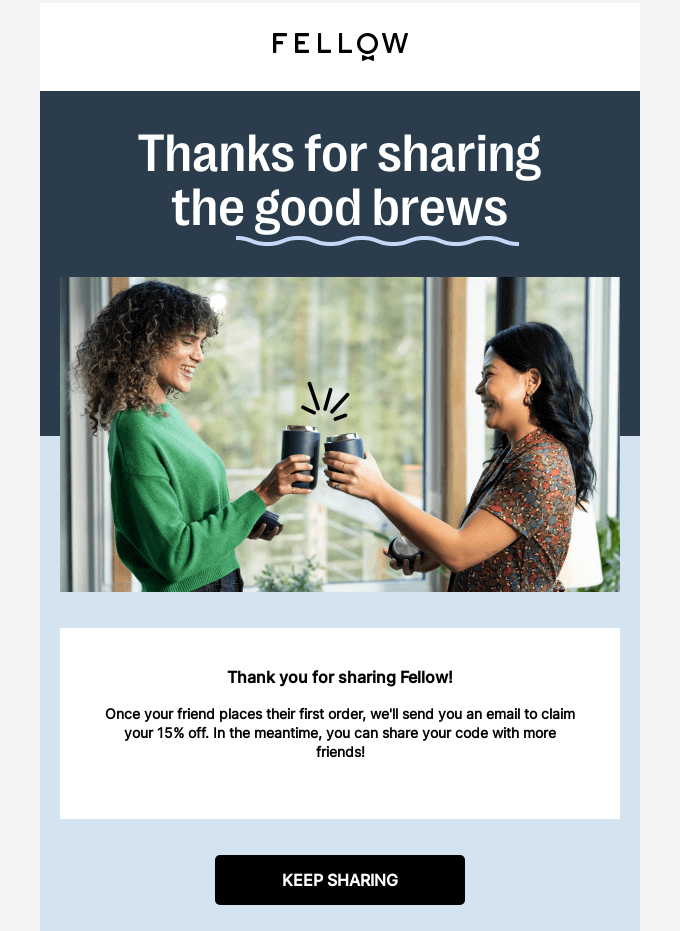 6. Referral follow-up. It's a good practice to follow up after a successful referral. This way, your customers will always be updated on the rewards they could count on. 
For example, Allset sent follow-up emails telling subscribers about the money they got for their friends' purchases. Nothing extra: just the important facts:
7. The limited time offer. To create urgency and drive more people to your referral program, offer customers double rewards (or some other additional perks) for a limited time. Some of your customers are only waiting for the best offer to act: that's how you can reach out to them.
Take a look at how Cometeer makes use of the limited time offers in their referral emails:
8. The specific benefit referral. You know your typical customers and what bothers them better than anyone else does. Use this to your advantage and send your subscribers an email emphasizing how the friend will benefit. Keep the main focus of the email on the problem your product or service solves: this will make your readers actually think about the friends who would appreciate getting your referral.
Saje Natural Wellness mentions the friend's benefits in their referral program email template:
9. Milestone celebration referral. Your subscribers are more likely to act on a special occasion: so you should give them this occasion every once in a while. Celebrating business milestones by inviting customers to share the joy may be a very good opportunity. 
For example, here's how theSkimm celebrated their 5th birthday:
10. Personalized rewards. If you want to boost referrals and get more clients, try to tailor rewards to your customers' preferences. If you remind them of how awesome your products or services are, they'll be more likely to take part in your referral program.
Here's how Outdoorsy makes use of this method in their referral emails:
11. Referral сontest. Another idea for a great referral email campaign is to turn referrals into a game. Think about the rules of your game and the process of choosing the winner: will it be a person with the biggest number of referrals, a person whose friends will spend more money in your store, or someone you will choose randomly? Don't forget to mention these rules in your email not to confuse your subscribers: try to keep the email short and clear.
That's just what Reveal does in their referral email:
12. Seasonal referral. Not only your company's birthdays are a perfect occasion for promoting your referral program. Tying referrals to seasons or traditional holidays can also be effective.
For example, Robinhood decided to draw users' attention to their referral program in a Thanksgiving email:
13. Referral checklist. Make the process easy for customers by providing a referral checklist. Sometimes the tasks we need to do seem big and confusing: break the process down into small steps that won't take long to keep the subscribers calm. 
Use this referral email template by Setapp for your inspiration:
14. First-time referral request. First-time customers can also make referrals. Sometimes new customers are even more likely to bring friends, as interacting with your brand hasn't become something usual for them.
After the first purchase, you might send your customers something of the kind: "Enjoyed your first purchase with us? Share the joy by referring a friend."
15. Refer multiple friends. Encourage customers to make multiple referrals by offering additional perks. This will be a win-win situation for both of you.
Take a look at how Busuu encourages subscribers to bring more friends to their brand: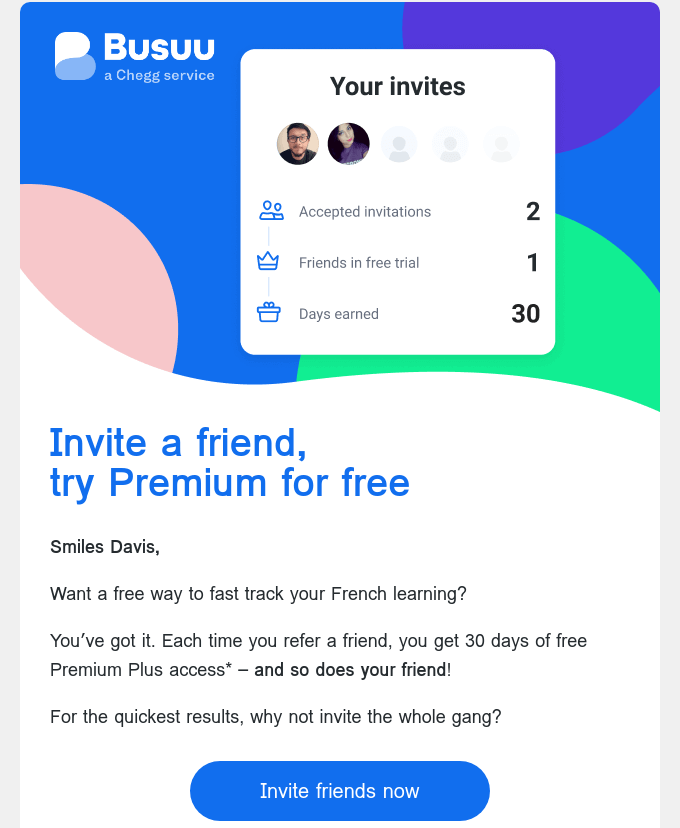 These examples should give you plenty of ideas to craft compelling referral email templates. Remember, the key is to keep your customer's needs and preferences at the heart of your referral strategy.
Key takeaways
Referral emails are a great tool in the arsenal of growth strategies. They can help you in numerous different ways: 
enhance your client base 

build trust 

offer a cost-effective marketing approach

boost engagement rates 
To craft a compelling referral email template, keep it short and simple, make use of incentives, personalization techniques, and follow-ups, and put a lot of effort into your referral email subject line.
From introductory emails to follow-ups, there's a wide range of templates that can be used to drive your referral program. Mastering the art of referral email templates can open doors to unparalleled growth and success in your business endeavors. Want to make the process of crafting referral email templates smooth and simple? Try Blocks for free today!