Newsletter Footer Design: Tips, Examples & 12 Best Practices
The footer, alongside the header and the banner, is one of the essential elements of an email. Often, its significance goes underrated: the footer is located at the very bottom, and some subscribers don't pay attention to it. But in addition to performing its legal functions, the newsletter footer might actually become an additional source of traffic for your website.
Follow our article and find out what are the email footer best practices, see noteworthy email footer examples, and learn how to create a newsletter footer that will serve as a valuable user engagement tool for your emails.
What Makes the Newsletter Footer Important
Despite being located at the very bottom of an email, the footer remains a prominent and impactful element. Specifically, a newsletter footer carries out 2 significant functions:
First, it contains all the vital information that you can't place in the email body. Some of this information is not only important but also required by law (we'll get back to this point a bit later).

Second, a newsletter footer is your chance to impress your subscribers and make them engage with the email for a bit longer. Therefore, even the simple footer must be both compelling and visually appealing.
3 Email Footer Essentials
Regardless of which design you choose for your footer, a number of elements remain mandatory. Be sure to include the following in your newsletter footer:
Contact information.

The footer should contain your company's address, website, and phone number (if applicable). Of course, these details are vital because the subscribers should have a way to reach out to you. But on top of that, indicating the name of the company and its mailing address is required by the

CAN-SPAM Act

(if you're dealing with the US audience) and should not be neglected.

Unsubscribe / email preferences link. Give your subscribers the option to customize their email preferences, or even unsubscribe entirely if they want to. This is yet another element that falls under the law. Be sure to include the respective links in your newsletter footer and check their functionality.
A good practice would be to highlight the unsubscribe link using bold font or underlining, which makes it easier for recipients to notice the link. While this probably won't dissuade them from unsubscribing, this small detail might leave an overall positive impression.
Legal disclaimers.

Provide any legal information that is required by government regulations for your company or products. Often, it's not necessary to include every single detail in the newsletter footer itself; you may simply provide a link to the legal disclaimer page on your website. However, in some specific cases (for example, particular offers or products) showcasing important legal information in the footer is a must.
12 Email Footer Best Practices
After you've included the essentials, it's time to give your newsletter footer a boost. Let's take a look at 12 email footer best practices (alongside the email footer examples for further inspiration) and see how they might make your footer truly outstanding.
Follow your brand design
Craft your newsletter footer to fall in line with the overall design of your email. If you want to go even further and make the email more logical and visually appealing, separate the footer from the rest of the email using a different background color. This is one of the most prominent email footer best practices: it helps to maintain brand consistency and might serve as a good tool to underline the overall message.
Here is one of the best email footer examples by Pearly that perfectly illustrates such an approach.

Don't overload the footer
In most cases, a simple footer is the best option you could choose. Too much text and visual elements might make the footer look cluttered and hard to digest (especially considering that the footer text is usually way smaller than the rest of the email). If you have a lot to share, simply provide links to the relevant pages on your website.
L'Occitane USA here shows an example of a crowded newsletter footer, with lots of detailed information that most people would probably ignore.
Optimize for different devices
Many people read emails on their smartphones, which places footer optimization among the most significant practices. Ensuring the adequacy of desktop and mobile footer designs is an absolute must. Thoroughly test the emails before launching your campaign and check that all the components look exactly the way they should.
A simple footer by Brightland provides a great example here, showcasing a compelling mobile footer design.
Include social media icons
77% of businesses use social media to communicate with their customers. If your company maintains a presence on social media platforms, be sure to include the respective links in your newsletter footer. This provides additional engagement and opportunities to connect with the audience.
Email footer by Bellroy here showcases a vast variety of social media platforms, from Instagram to LinkedIn.
Add links to download your app
Statistics show that 1 out of 3 Americans prefer mobile apps for online shopping. Therefore, if your brand has a mobile app available in App Store and/or Google Play, include the download links and ensure their visibility. This simple footer practice saves your customers' time and informs those who didn't know about the existence of your app.
For the illustration, take a look at the email footer example by Nasty Gal.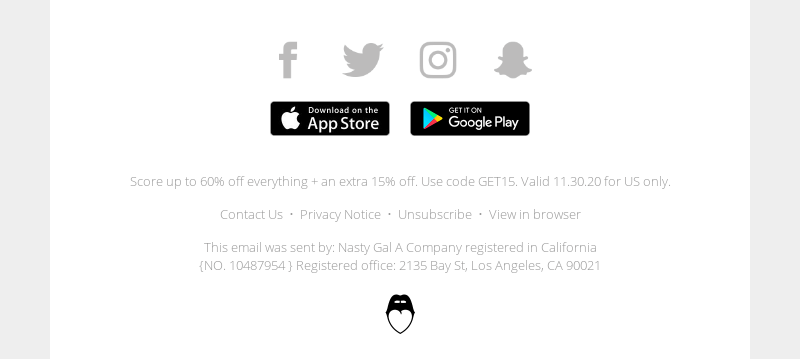 Update the footer frequently 
Don't forget about footer optimization and revising its contents on a regular basis. Сheck your newsletter footer for dead links and obsolete data, and update it timely. Otherwise, you risk sending an outdated email to thousands of recipients and (potentially) losing some of them.
Pay extra attention to small details since those might be easily overlooked. For example, this email footer by Beefree (received this October) uses the old Twitter icon, even though the rebranding took place in July 2023. Whenever such changes occur, it's important to notice them and make timely amendments.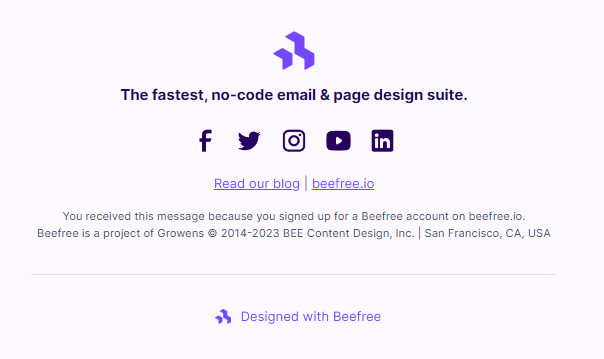 Include a reminder 
Remind your subscribers why they receive the emails from you in the first place. For instance, include a phrase like "You are receiving this email because you asked to hear updates from us" (as Nuts.com did in its email footer example). Additionally, if you show the recipients that your messages are not random or spontaneous, this might discourage them from marking your emails as spam.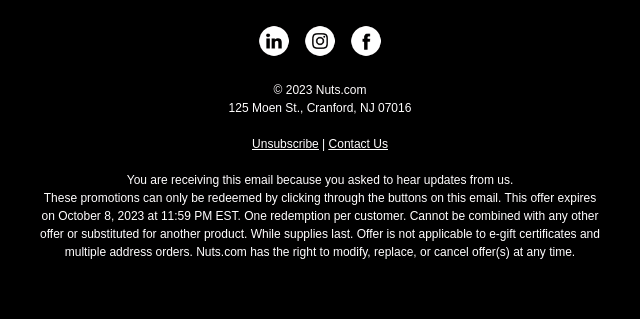 Make use of referrals
Invite the subscribers to actively participate in your email marketing campaign by providing a "Refer a Friend" link. This simple footer tool encourages the subscribers to share the email content with their friends and family. 
Referrals are a great way to attract new audiences at no extra cost. And if you wish to go further, you may create a dedicated referral email to increase the subscribers base, some of which might potentially become your customers.
No need to be very fancy, either. In the email footer example below, Fatty 15 keeps the "Refer a Friend" link (and the newsletter footer as a whole) plain and simple.
And for cases when the email is referred by a friend, include the respective notice in your footer as well.
Use jokes carefully 
Even with a simple footer, it's perfectly okay to make it look fun without going overboard. A lighthearted joke might work for your company (and even become your trademark), but only when done correctly. 
Analyze both your newsletter style and your audience to determine which jokes might be appropriate (and if they are needed at all). If you're not sure, conduct an A/B testing for a specific group of subscribers. Examine the results in detail before putting them to use in your emails since an inappropriate joke might alienate your subscribers and harm the company's reputation.
Here are 2 email footer examples to illustrate this tip. 
Threadheads goes for a more daring approach, though in its case, this falls in line with the newsletter style and brand positioning.
The newsletter footer by Surreal, on the other hand, uses a more neutral tone and includes a clever pun, which might be a better fit for the general audience.
Share your mission 
Statistics show that around 64% of consumers prefer brands to openly state their purpose. Dedicate one or two sentences in your newsletter footer to showcase your brand's values and goals, as Koala Eco did with its email footer. This might increase credibility and attract those subscribers who see importance in such acts (and possibly even share your values).
Give the option to rate the email 
Provide a bit of interactivity in your footer by including a small survey. This may take different forms:
simple numbers;

smiley faces;

thumbs up / thumbs down;

stars;

and many, many more!
Let the recipients share their opinions on your email: what they liked about it and what you should improve. This fun little interactivity might also help you collect direct and valuable feedback without the need for crafting a separate survey email.
An email footer example by Withings provides a great illustration, demonstrating a scale of 5 smiley faces, each expressing a distinct emotion.
Add more CTAs 
Make your newsletter footer even more diverse and vivid by using a number of various calls-to-action. For example, include menus for different sections of your website (like Kurk did in the email footer example below), or a button that leads to your company's landing page. This is yet another element, suitable for simple footers and more complex alike, that might increase user engagement.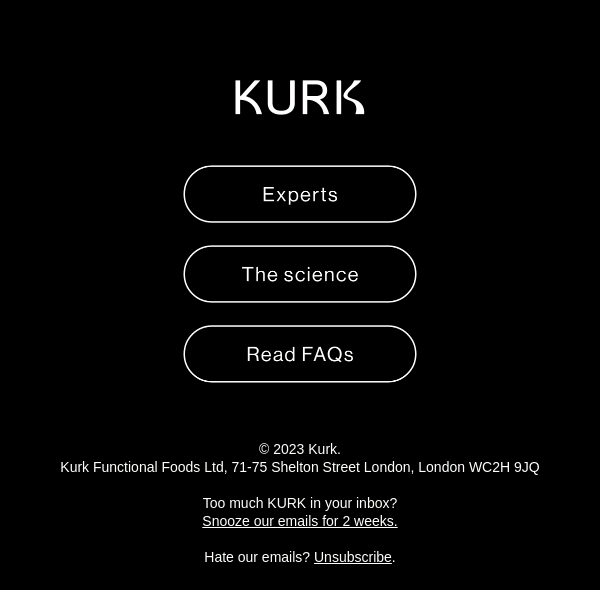 How to Create an Email Footer with Blocks
Blocks, our drag-and-drop email builder, is a perfect solution for designing effective newsletter footers with ease. The drag-and-drop interface makes the process fast and smooth while ensuring the consistency of both the desktop and mobile footer designs.
There are 2 ways to create your newsletter footer in Blocks: 
customize the pre-designed examples;

create your own footer from scratch. 
For any of these options, all it takes is just a few steps.
Using Pre-designed Footers
This is the easiest way to create a footer in Blocks. Simply select one of the pre-designed footers and customize it to your liking.
Step 1. Log into your account and either create a new email or select a template from the gallery.
Step 2. From the menu on the right, select "Blocks" and choose "Common blocks". Next, click "Footers". You will see a selection of pre-designed footers.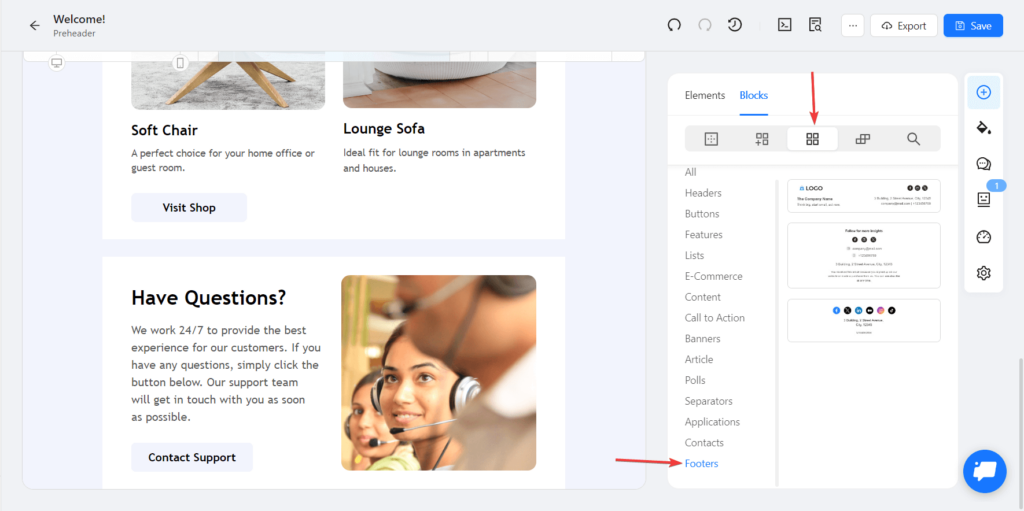 Step 3. Choose the footer you like the most and add it to your email. Now you are free to customize it as you see fit.
From Scratch
Wish to create a totally custom footer from the ground up? Blocks got you covered. Follow these steps and craft your unique footer from scratch.
Step 1. After logging in, click "Empty blocks" and choose an empty block that suits your email.
Step 2. Next, click "Elements" and fill your empty block with text, images, links, and other required elements.
Step 3. Make all the adjustments needed, and you're all set! Additionally, you may save your footer as a custom block for further use. To do this, simply click the "Save to Blocks" icon on the left and enter the name and type of your newly created block.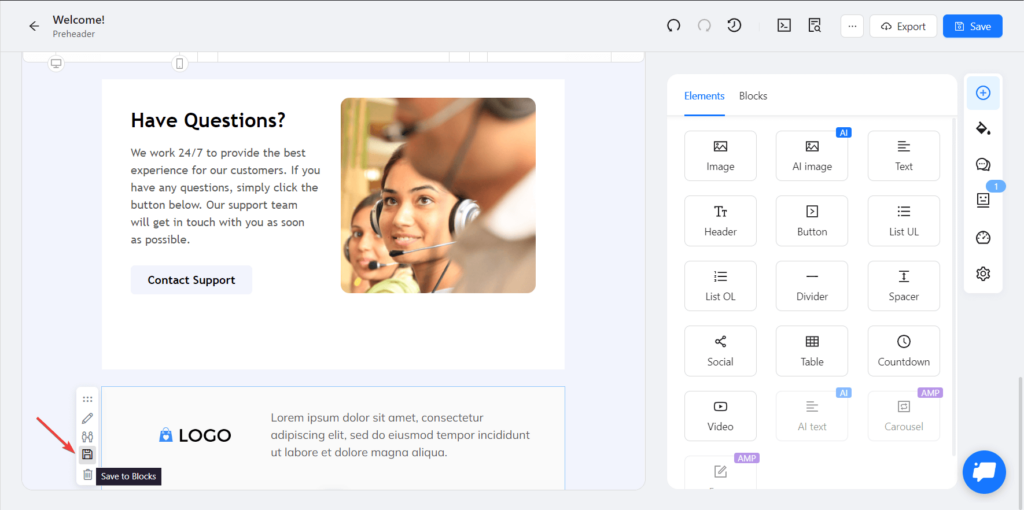 Conclusion
Even the most simple footer remains a pivotal element of an email. And the following pieces of advice might help you craft a footer that will add engagement to your newsletter:
include the essential and legally required information;

stick to a more simple footer outline and don't overload it;

keep the footer in line with your brand design;

include links to social media and your app;

ask your subscribers to share feedback and refer a friend;

share your brand's mission, goals, and values;

optimize your footer for different devices and update it regularly;

use jokes and puns without going overboard.
And while crafting a great footer might seem complicated at first, powerful tools like Blocks make the process fast and simple. Our AI-powered no-code solution will be a great fit for both professional marketers and regular users alike. Sign up for free and get ready to design your best emails in a matter of minutes!