Master Newsletter Banner Designs for a Greater Subscriber Impact
Newsletter banners are excellent for grabbing the attention of your audience: they can significantly impact the readability and attractiveness of your newsletter. This article will guide you through the what, why, and how of newsletter banners and provide actionable tips for creating your own.
What is a Newsletter Banner?
A newsletter banner is typically the first visual element that your readers see when they open your email newsletter. It's a graphical representation that sets the tone for your newsletter, acting much like a headline in a newspaper. It often contains your logo, the title of the newsletter (or any compelling message that resonates with your readers), and an image connected to your brand in some way.
For instance, a software company might have a banner that showcases its latest product updates. A fashion brand may use the banner space to highlight its new season collection by adding high-quality visuals and compelling taglines. The key is to make your banner intriguing, relevant, and in sync with your brand's identity.
Newsletter Banner Size
It's crucial to get the size of your newsletter banner right to ensure it looks good on all devices and doesn't take up too much space. Here are the most widespread newsletter banner sizes:
Full-Width Banner

. A full-width banner typically stretches across the full width of the email. Its width is commonly set at 600px, which is the standard width of an email. This is because most email clients, from Gmail to Outlook, support this size, thereby ensuring the banner displays correctly irrespective of the client. However, the height of the banner is flexible, usually ranging between 200px to 500px: this way, the banner remains noticeable without taking up too much space. The final choice depends on your design, just make sure the banner is visually balanced within the email's overall layout.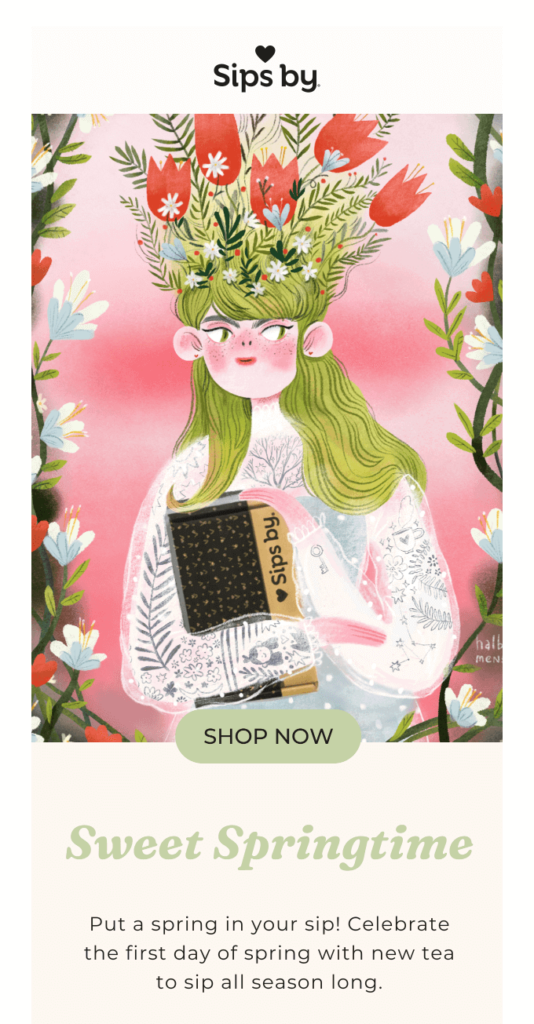 Half-Width Banner

. A half-width banner, usually around 300px wide, is an excellent option if you want the banner to share the space with other important elements, like text or images. In terms of height, the same principles apply to full-width banners. It is vital to maintain visual balance, ensuring the banner is large enough to attract attention but not so large that it overwhelms the other content.
When it comes to mobile devices, there's another set of considerations. As screen sizes are generally smaller, it's important to ensure your newsletter banner adapts well for a good mobile viewing experience. If you want users to have a seamless reading experience, make sure that your banner scales properly on different screen sizes.
Things to Add to Your Newsletter Banner
A compelling newsletter banner is more than just an attractive image; it's a strategic blend of several elements working together. Here are some essential aspects to consider:
Brand Logo

. Your logo is an instant identifier for your brand. Position it prominently in your banner to reinforce brand recognition among your audience. Align it with your brand's visual guidelines, such as color scheme and typography, to ensure brand consistency.
Catchy Headline

. A compelling headline is a hook that reels your audience in. It should be brief, engaging, and directly linked to the content of your newsletter. A good headline piques curiosity, evokes emotion, or offers value to encourage your readers to explore further.
Relevant Images. Visuals are integral to your banner's appeal. Use high-quality images that are relevant to your newsletter's content. For instance, if your email announces a product launch, include an enticing image of the product. If you ask for customers' feedback on a product via a survey email, make sure you showcase the product in the banner Or, if you're promoting a special offer, use visuals that communicate the value of the deal. Always remember, the images should blend seamlessly with the other design elements.
Call-To-Action (CTA)

. A CTA is your direct request for readers to take a specific action. This could be anything from 'Shop Now', 'Learn More', 'Sign Up', to 'Get Started'. Make your CTA stand out using contrasting colors, ample white space, and a font that's easy to read. Ensure your CTA aligns with the goal of your newsletter, prompting readers toward the desired action.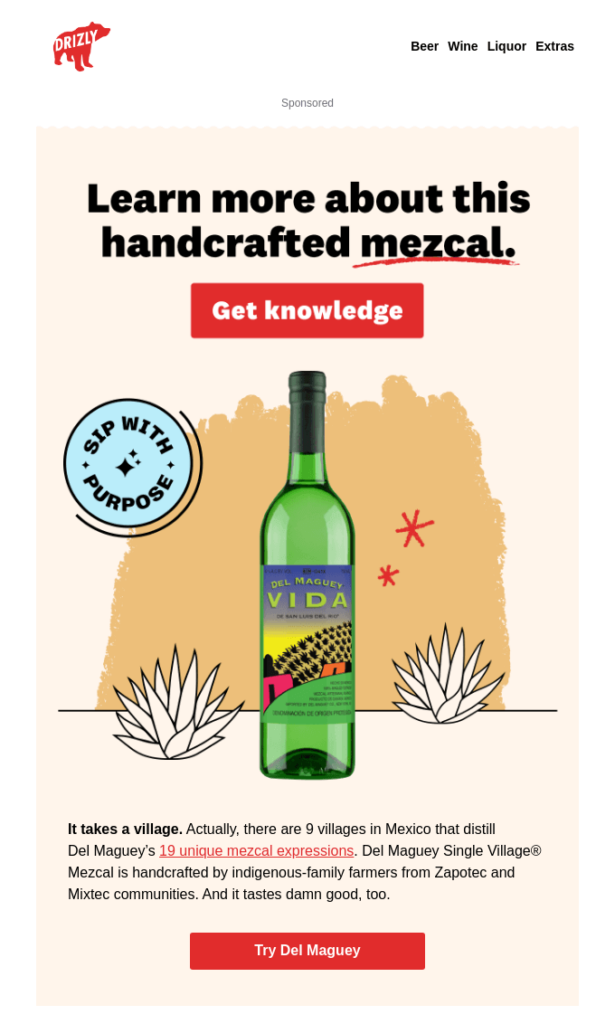 10 Newsletter Banner Design Ideas to Inspire You
When it comes to designing your newsletter banner, creativity is your greatest ally. Here are ten design ideas to inspire you:
1. Play with Colors. Colors are not just visually pleasing: they evoke emotions. Use your brand colors for consistency or experiment with different color palettes that complement your message. For instance, vibrant colors can convey excitement, while muted tones can reflect sophistication.
In an email by Resy, the red color of the email banner coincide with the color of the logo, while the black and yellow colors make the banner stand out, adding a touch of boldness to the email: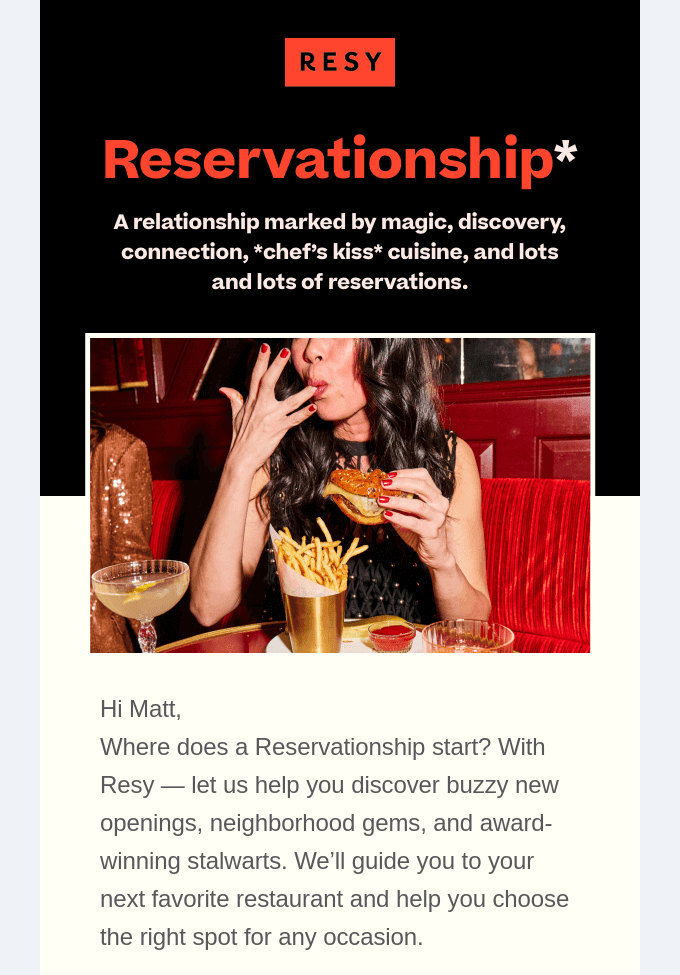 2. Use Typography Wisely: Typography can significantly influence the readability and mood of your banner. Try combining different font styles and sizes to establish a visual hierarchy and guide your readers' attention. However, ensure that the fonts are legible and complement each other.
The example below shows how to play with fonts without making the email banner difficult to read. The result: the email is catchy and urges you to keep scrolling.
3. Highlight Offers: If you have special deals or discounts, make them the focal point of your banner. Use bold fonts, contrasting colors, and engaging language to draw attention and ignite interest.
The Glossier team has succeeded in this task: even if a user opens the email via their mobile phone, the first thing they see is a special offer with a powerful call-to-action.
4. Animate Your Banner: Animation can add a dynamic element to your banner. Whether it's a subtle transition effect or a full-fledged animated storyline, it can make your banner more engaging and memorable. Just make sure it doesn't distract from your key message.
Here's a cool example by Lyft: it's not just a GIF to make the email more entertaining, but it showcases the product as well.
5. Tell a Story: Narratives can engage readers on an emotional level. Consider using a sequence of images or text in your banner to unfold a story related to your brand or the content of your newsletter.
This email by Sauna House shows you the full range of emotions you'll get if you visit their sauna. It's much easier for the subscribers to perceive information visually cause they can associate themselves with the people in the photos.
6. Feature Testimonials: Showcasing positive customer feedback in your banner can boost your credibility and trustworthiness. You could include a brief, compelling testimonial along with the customer's name and photo for authenticity (just don't forget to ask for your customer's permission first).
This email by GoodRx is short but it serves its function: it starts with a review by a real customer along with their photo, making the email very powerful.
7. Include a Countdown Timer: For time-bound offers, a countdown timer in your banner can create a sense of urgency. This can encourage readers to take action quickly before the offer runs out.
In an email by AppSumo, the countdown timer along with the catchy CTA create a perfect combination, urging the readers to act faster.
8. Showcase Products: If you're launching new products or services, feature them in your banner. High-quality product images, combined with a compelling headline and CTA, can pique curiosity and drive conversions.
The Loftie team sent an email promoting their clock and lamp as a perfect duo for any nightstand. That's why they chose to add both of the products to the newsletter banner to show how they look together.
9. Seasonal Themes: Tailoring your banner design to align with seasons, holidays, or popular events can make your newsletters timely and relevant, and resonate more with your readers.
Moment is a marketplace for photographers and filmmakers, which means they don't have any "seasonal" items in the normal sense of the word. Still, they decided to keep their Summer sale email timely, adding a relevant summer image.
10. Use Infographics: Infographics can simplify complex information and make it more digestible. Consider incorporating mini infographics in your banner to share important stats or updates about your brand or industry. This could be especially useful for B2B newsletters.
In the example below, Glassdoor uses numbers to make its email more powerful.
How to Create a Stunning Newsletter Banner in Blocks
Blocks, our no-code drag-n-drop email builder, offers image editing functions, which means that you can create some simple design right within the instrument!
Let's take a look at what you can do with Blocks:
1. To add an image to your email, go to the "Elements" section, click on the "Image" button, and drag it to the part of the email you want.
2. After that, click on the image to go to the editing section.
If you want to edit the image or add a different one, click on the small icon on the left.
3. This will take you to the Image Center where all the magic happens: here you can add your own photo, find one using our stock with hundreds of free photos, or generate an AI image for your email. (To learn more about the power of artificial intelligence, read our exhaustive guide on AI in email marketing!).
4. Let's imagine you don't have a ready-made photo and want to find one in stock. You're creating an email telling subscribers about your referral program, so you need to find a photo of a group of friends to support your idea. Go to the "Stock" section, enter your search inquiry, and choose from the photos you get. You can use filters to search for photos of a particular orientation or color scheme.
5. When you find the perfect photo, click on it: this will take you to the "Preview & Edit" section of the Image Center. Take a look at the photo and think about whether you want to change anything. If the answer is yes, click on "Edit the Image".
6. Use this section to style the photo to your needs: you can add some text, crop the image to a different format, make the corners rounded, and do lots of other things.
7. I decided to add a CTA to the newsletter banner to make it more appealing for the readers. In the "Text" section, you can choose the desired fonts, change the color of the text and its background, add shadows, and do lots of other things.
8. When you're happy with the newsletter banner you have, click on "Update Image": voila, your email is ready to shine!
P.S. If you're not satisfied with the result after you add the email banner to the template, don't hesitate to go to the Image Center and make some changes.
P.P.S. If you're super fancy, you can even add the shadow to the whole newsletter banner and change the corners of the photo using the left menu.
Conclusion
Newsletter banners are vital for enhancing your newsletter's attractiveness and increasing reader engagement. Remember, your banner should not only be visually appealing but also align with your brand and newsletter's purpose. Use Blocks to experiment with sizes and incorporate essential elements, and get creative with your design ideas to create an eye-catching banner that leaves a lasting impression on your readers.
If you have any questions, our team is always ready to help! Let's create awesome emails together!