How to Find Marketing Jobs Near Me: A Comprehensive Guide
The marketing job market is an ever-evolving landscape, with a wide array of opportunities for skilled and passionate individuals. As you embark on the journey of finding a marketing job near you, it's essential to utilize a combination of strategies and tools to maximize your chances of landing your dream position. In this article, we'll explore practical steps to help you identify, apply for, and secure marketing job opportunities close to your house.
Where Can I Find Marketing Jobs Near Me? 
If you wonder where to find marketing positions near you, check out the following resources and platforms. 
Job Search Platforms and Websites
Popular job search platforms can be a great starting point to find marketing jobs near you. Use location filters and specific keywords to narrow down your search to local job opportunities. Here's an overview of popular job search platforms:
1. LinkedIn is a professional networking platform that offers job listings. It allows users to find marketing jobs nearby by searching by industry, location, and keywords. Build a comprehensive profile, connect with other professionals, and engage with relevant groups to increase your visibility to potential employers.
2. Indeed is one of the largest job search engines. Indeed aggregates job listings from company websites, job boards, and staffing agencies. You can use the advanced search options to filter jobs by location, salary range, and job type.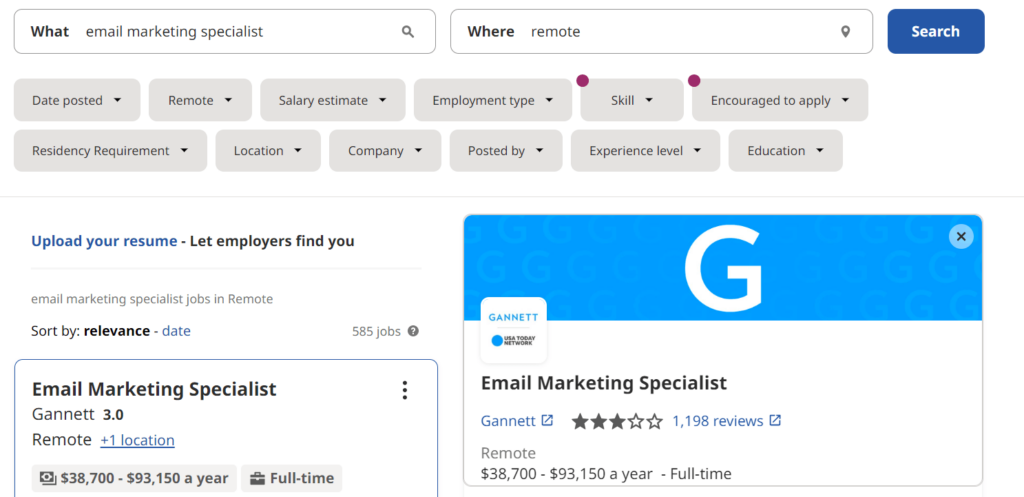 3. Glassdoor is known for its company reviews and salary information. It also offers a job search platform that allows you to find marketing jobs based on location, company size, and industry.
4. Monster is a longstanding job search platform allowing users to search for jobs by industry, location, and title. Upload your resume, and receive personalized job recommendations based on your profile.
Additionally, explore niche job search platforms such as MarketingHire and CreativeJobsCentral that cater specifically to marketing professionals.
Connecting with Local Marketing Agencies and Companies
Conduct thorough research on local marketing agencies and companies in your area, as these can serve as potential employers. Follow these steps to connect with them:
1. Search for companies and agencies near you online or using local business directories.
2. Visit their websites to explore job listings, learn about their company culture, and gain insights into their marketing strategies. 
Many companies share their local and remote marketing jobs on their website: for example, HubSpot has a whole section dedicated to job listings with locations and detailed job descriptions.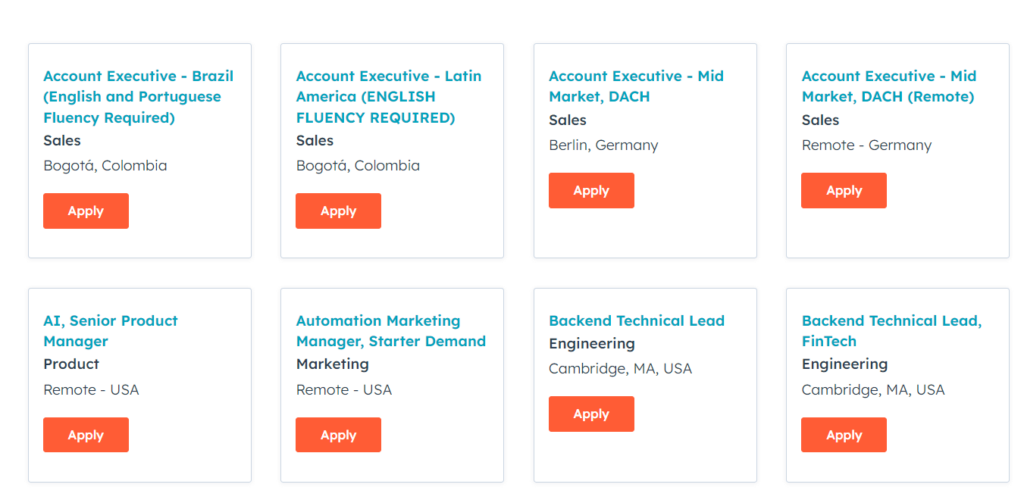 3. Connect with hiring managers on LinkedIn: you can showcase your genuine interest in working for the company and initiate meaningful conversations.
4. Prepare tailored applications, highlighting your relevant skills and experience, and submit them directly to hiring managers or via their website's job application portal.
5. Follow up with a personalized email expressing gratitude for the opportunity to apply and reiterating your interest in the position.
Leverage Your Network
Networking can significantly improve your job search, as many job openings may not be advertised. Here are some ways to find marketing positions near you via networking:
Reach out to friends, family, and colleagues for leads.

Attend industry events and

marketing conferences

to meet professionals and learn about job openings.

Participate in educational programs for marketers, such as

HubSpot marketing courses

or

Google certification programs

. Such programs often offer communities of peers where you can connect with fellow students and find more marketing job opportunities near you. 

Participate in local marketing meetups and workshops to build connections, improve your skills, and find marketing jobs near you. 

Join professional associations related to marketing, such as the

American Marketing Association

, to expand your network.
Utilize Social Media to Find Marketing Jobs
Social media & networks can be a goldmine of job opportunities and allow you to connect with potential employers in a more casual setting. There are several ways to use social media in your job search:
Create a professional online presence. Make sure your profiles on platforms like LinkedIn, Twitter, and Facebook reflect your marketing expertise.

Engage with industry leaders and influencers: share relevant content, comment on posts, and join discussions to establish yourself as a knowledgeable and engaged marketing professional.

Follow relevant hashtags and accounts. You can monitor hashtags such as #marketingjobs, #jobsearch, and #hiring to stay updated on job openings. Also, follow marketing agencies, companies, and industry influencers for insights and potential opportunities.

Don't forget to post your content: share your thoughts on industry trends, showcase your previous work, and demonstrate your marketing knowledge to attract the attention of potential employers.

Use LinkedIn's job search feature and join relevant groups to find job listings.
How to Get Prepared For Applying For a Marketing Job Near Me? Creating a Well-Crafted Resume and Portfolio
No matter whether your job interview will be offline or online, it's important to optimize your resume and portfolio to make a strong impression on potential employers. Here's how to create a great resume and portfolio:
1. Emphasize relevant skills and experience. We'd recommend you tailor your resume for each marketing job application by highlighting the most relevant aspects of your background. Use quantifiable metrics to showcase your accomplishments and impact.
2. Include relevant certifications and courses. Showcase your commitment to professional growth by listing any marketing-related certifications, workshops, or online courses you've completed. 
If you haven't acquired any certifications yet, we'd recommend you start with the basics, for example:
If you want to find a marketing job in the SaaS industry, you might also consider acquiring SaaS marketing certifications. 
3. Maintain a visually appealing layout. Ensure that your resume is clean, easy to read, and has a consistent format, with ample white space and clear headings. Nowadays, maintaining a visually appealing resume is essential to make the best impression on your potential employers.
Consider building your resume using no-code design platforms like Canva or Resume.io.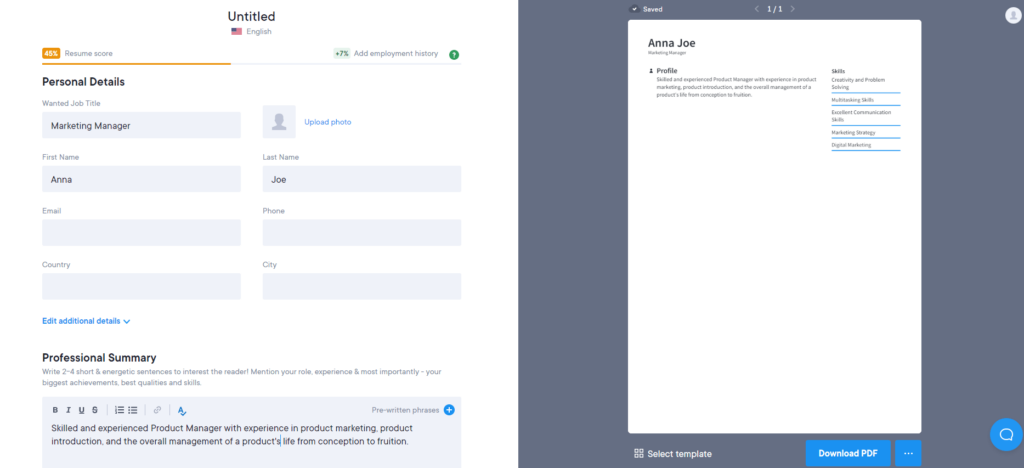 4. Create a portfolio landing or website. You can showcase your best work and provide context for each marketing project, detailing your role, the project's objectives, and the results you achieved. 
5. Don't forget to add links to your professional social media profiles, personal website, or blog to provide potential employers with a more comprehensive picture of your abilities and interests.
Preparing for Marketing Job Interviews
Once you've secured an interview for a marketing job near you, you'll need to prepare for it! Here are some tips to keep in mind:
Research the company and its marketing strategies and get familiar with the company's products, target audience, and competitors. Analyze their marketing efforts to identify strengths and areas for improvement. 

Practice common marketing job interview questions and prepare thoughtful answers. Be ready to discuss industry trends, tools, and strategies.

Develop a list of questions for the interviewer. Show your genuine interest in the position and company by asking thoughtful questions about the company culture, team dynamics, and expectations for the role.
How Do I Identify My Ideal Marketing Job?
Before you start your local marketing job search, it's also crucial to evaluate your skills, interests, and professional goals to identify the marketing roles that are the best fit for you. Some popular marketing job categories are:
Search Engine Optimization (SEO)

. SEO professionals optimize websites and content to rank higher in search engine results, driving organic traffic and visibility. They focus on keyword research, on-page optimization, technical SEO, and link-building strategies.

Pay-Per-Click (PPC) Advertising

. As a PPC marketer, you will create and manage paid online advertising campaigns, primarily on platforms such as Google Ads and Facebook Ads. Some of your tasks will be optimizing ad creatives, targeting, bidding strategies, and budgets to maximize return on investment.

Email Marketing.

Email marketing includes email campaign management, lead capture, content creation, personalization, and more! If you look for a position in this specific sphere, check our

detailed guide to finding an email marketing job

. 

Affiliate Marketing

. Affiliate marketers work with affiliate networks and partners to promote products or services on a commission basis. They manage relationships with affiliates, develop promotional materials, and analyze performance data to optimize campaigns and maximize revenue.

Content marketing

. This sphere includes marketing jobs like content creation and distribution. 

Social media marketing

. Social media managers usually manage a brand's presence on various social media platforms and craft content and strategies to build engagement and brand loyalty.

Event marketing.

If you want to become an event marketer, you're going to plan, organize, and promote events such as conferences, trade shows, and product launches to generate brand awareness, build relationships, and drive sales.

Influencer marketing

. This type of marketing involves partnering with influencers and content creators to promote a brand's products or services to their audiences, leveraging the trust and reach of these influencers.
There are some other marketing jobs and spheres, but these are the most popular ones today. Always align your qualifications and experience with the marketing job opportunities near you to increase your chances of finding a suitable match.
Conclusion
Finding a marketing job near you may seem daunting, but if you utilize a combination of networking, job search platforms, social media, and a well-crafted resume and portfolio, you can significantly improve your chances of getting an amazing marketing job!