Ideas for International Women's Day Email 2023: 20 Examples of Templates
International Women's Day 2023 is a good reason to send your subscribers a relevant offer. But how to create an email template that will convert your subscribers into customers? Learn all the secrets from email practitioners in this article. 
5 Email Design Ideas For International Women's Day Email That Will Stand Out 
Visual content is crucial in email marketing, and it's no wonder: research shows that visual information is processed 60,000 times faster than text. Gorgeous email design can increase subscriber engagement in your Women's Day email campaigns. Let's look at some design ideas that you can use in your email templates for March 8th!
Show Your Women Employees 
March 8th is a good day to make your women customers and employees feel empowered and united. Add photos of your women team members to your International Women's Day email templates: it will increase customer loyalty and help you build long-term relationships with email subscribers. 
Look at this email design example: photos of women employees on the minimalist background look stylish and remind subscribers of the holiday in a classy way.

A team photo might be even better: it lets subscribers feel like they are a part of a brand and get inspired by women working on something that matters together. Look at the International Women's day email template below: it has a simple design, so it probably won't take a lot of your time to create a similar email, but it still reveals the brand identity and looks unique thanks to the custom photo and brand logos.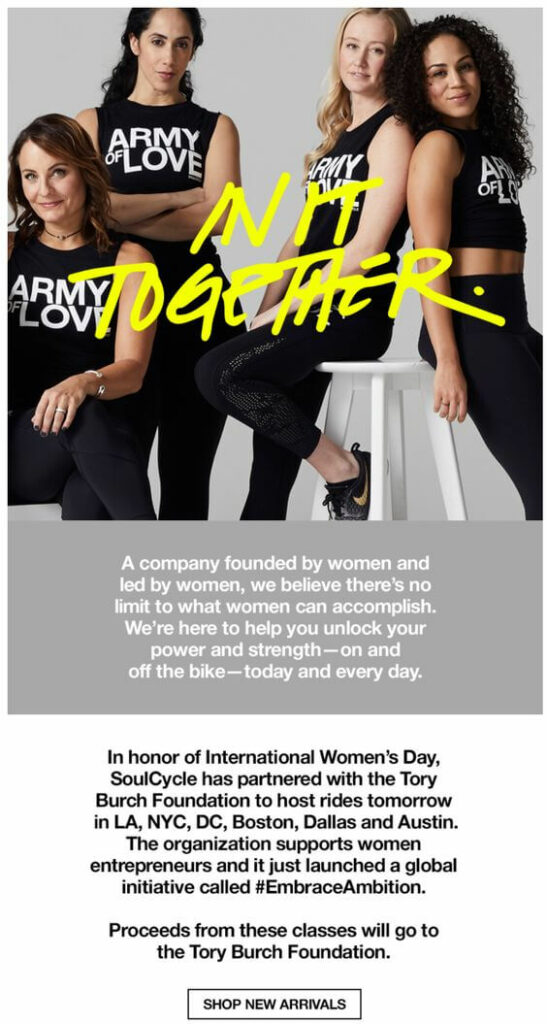 Try Unusual Fonts and Formats For Presenting a Text
Don't know how to design your simple email so that it would look authentic? Try using unusual fonts! This way, even a simple email idea can be designed into a beautiful email template.

On International Women's Day, brands often send personal letters from CEOs or employees, but very few do it in some uncommon way. We've found a great idea: redesign your email copy into "hand-written" text using one of the special fonts. Look how a simple email from the brand's team turns into a personal and authentic letter: all thanks to the font.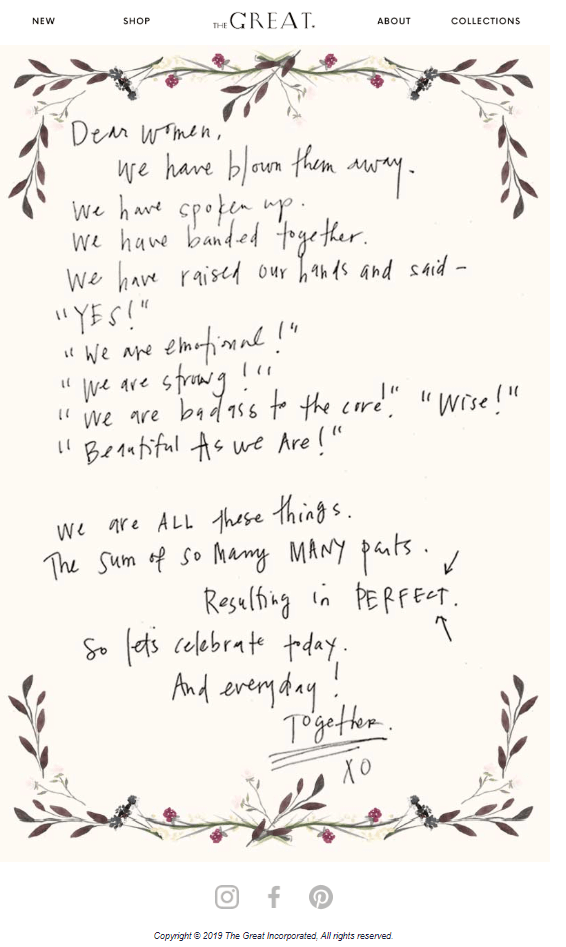 Add an Illustration to Your International Women's Day Email
If you want your email to celebrate the holiday and look neat without wasting too much time on design of a template, just find a suitable illustration (or better still: draw a custom illustration that will refer to your brand) and create a simple email template that still will look classy. 
For example, you can include a relevant slogan in your email design for March 8th like in the email template below.
Another idea for an email illustration is to show different women among which every woman customer might find herself.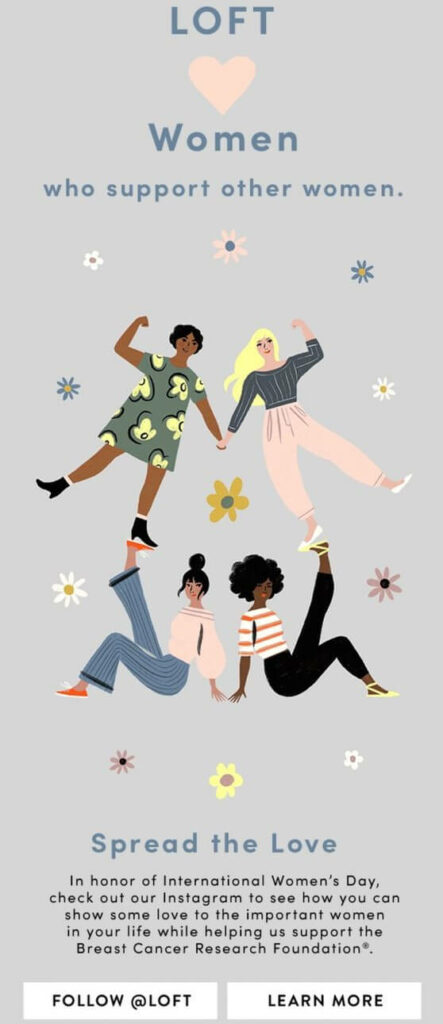 How to Advertise Your Product in Women's Day Email Campaigns
Email marketing is an investment and is meant to pay off. That is why it's important to advertise your product in your emails in such a way that subscribers won't simply read your email and instantly forget about it, but will get interested in your product and buy it. 
Look at the ideas of how you can draw subscribers' attention to your products with email campaigns on March 8!
Recommend Your Product As a Gift For International Women's Day 
Every time a holiday comes, people wonder what they should give to their loved ones, and International Women's Day is no exception. Help your subscribers make the right choice: offer them to give your product as a gift to their favorite women. 
For example, Saucey encourages subscribers to send their products to their besties and offers a special discount coupon for those who refer their friends.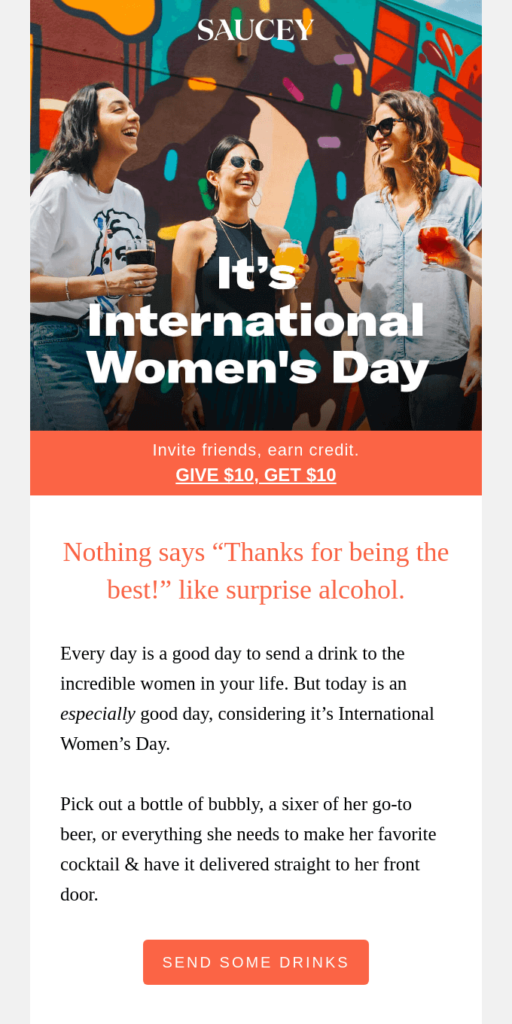 Show Your Product to Subscribers As a Way to Take Care of Themselves
People love being taken care of, and that's why you can use this chance to earn your subscribers' trust in your emails for International Women's Day! Encourage subscribers to treat themselves on this special day and in the days to come!

For example, think of a daily routine that might include using your products and create an email template with a step-by-step self-care guide: this simple idea works great in industries like clothes, beauty, supplements, home accessories, and many others!
Let Your Product Embrace the Girl Power Movement
You can make your usual newsletter look more relevant to the Women's Day topic by simply switching the focus from your regular topics to girl power.
You can just create a simple email template that includes the following email elements:
banner;

CTA;

product grid.
When you choose what products to show in the product grid, bear in mind the topic: just add the products that are relevant to the celebration and add a few words of appreciation or facts about March 8th. Look at the simple yet beautiful International Women's Day templates from ecommerce brands below!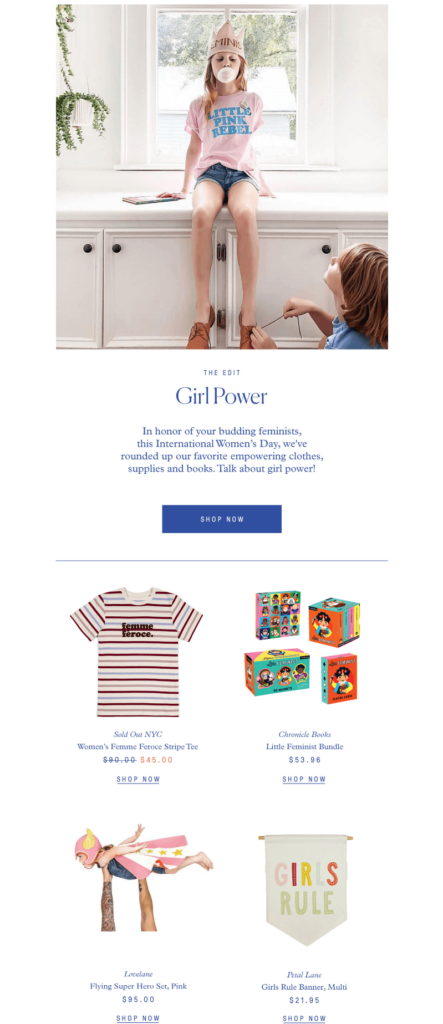 How to Write an Email Copy for International Women's Day That Will Convert
Copy is equally important for International Women's Day campaigns: if you want to create an email template that will stand out from competitors and convert your subscribers into customers, you need to write a compelling email copy. Let's look at some creative email template ideas from brands. 
Embrace the Community in Your Women's Day Email Copy
Let your subscribers feel united with the community of women around the world. A sense of community is a great way to boost your subscribers' loyalty and retain them, so don't miss this opportunity on International Women's Day this year. 
The easiest way to create a community and build long-term relationships between email subscribers and the brand is to share more details about your internal processes in email campaigns: tell subscribers about the amazing women who create, advertise, and sell your products.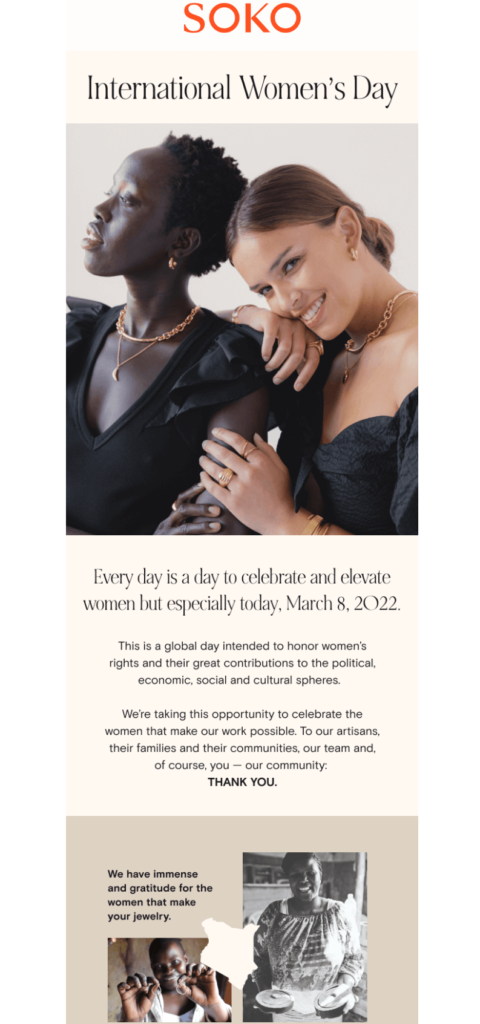 Tell About a Relevant Event in an Email Campaign
One more way to promote the women's community on International Women's Day is to tell about a relevant event in your emails. It doesn't matter whether it's an event organized by your company or not or whether it's online or offline: the main thing is that the event should be relevant to your subscribers and it should be connected with Women's Day. 
For example, last March, Boss sent an email campaign telling about the NFT auction that promotes young female artists.
Transform Plain Text Into a Conversation
If you want your email copy to look more catchy without spending much time, just transform your plain text into a conversation! Also, it's much easier to make an offer in such a way: you can make it a role play as if you're chatting with your subscribers. 
This email idea works great for any industry: just work on your tone of voice, add your brand details, and your email is ready.
Let Your Female Employees Talk
If you don't know what to tell subscribers about your team, let your team speak up! Let your women employees share advice, tell about what they like most about your products, or share their favorites.

Mistakes In Women's Day Email Templates 2023
Let's talk about common mistakes in email campaigns that we often see on International Women's Day. 
Mistake 1: No Value For Email Subscribers
In 2023, subscribers' inboxes are overwhelmed with various emails, so we can't expect that they'll be impressed with a simple congratulation on Women's Day. Your email campaigns should offer value to subscribers! A congratulation on International Women's Day is just a good reason to get in touch with your audience but it's not enough for a good email campaign. 
If you want to send a Women's Day email, make it useful for receivers: offer interesting content, discount, or relevant products. If you don't have any relevant content or offers, it's better to not waste your resources and subscribers' time. After all, irrelevant emails are the most popular reason why people unsubscribe. 
Mistake 2: Outdated Design Trends in Email Templates 
If you want your Women's Day email template to stand out and encourage customers to visit your website and buy your products, keep up with design trends, and offer relevant content to subscribers. Even a good offer may be spoiled by outdated design.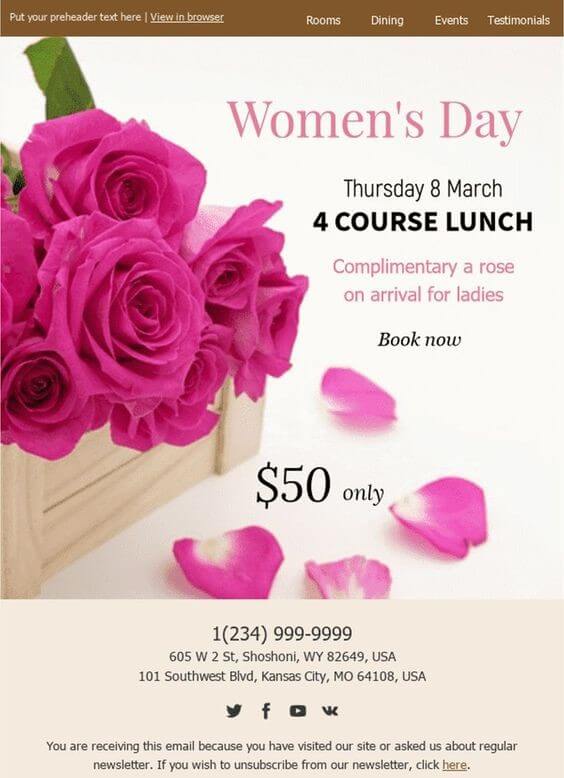 Mistake 3: Irrelevant Offers in Email Campaign 
Offers, product recommendations, and other email content should match with the topic: overwise, why bother talking about International Women's Day at all? Still, we often find such mistakes in email campaigns, so we'd recommend you check your templates before sending them and ask a question: "Does the email content match the topic I've chosen?". 
Look at the email below: at first, it offers a discount on International Women's Day and then advertises men's style with a huge banner. This offer looks irrelevant in this email campaign and would better be placed in another email.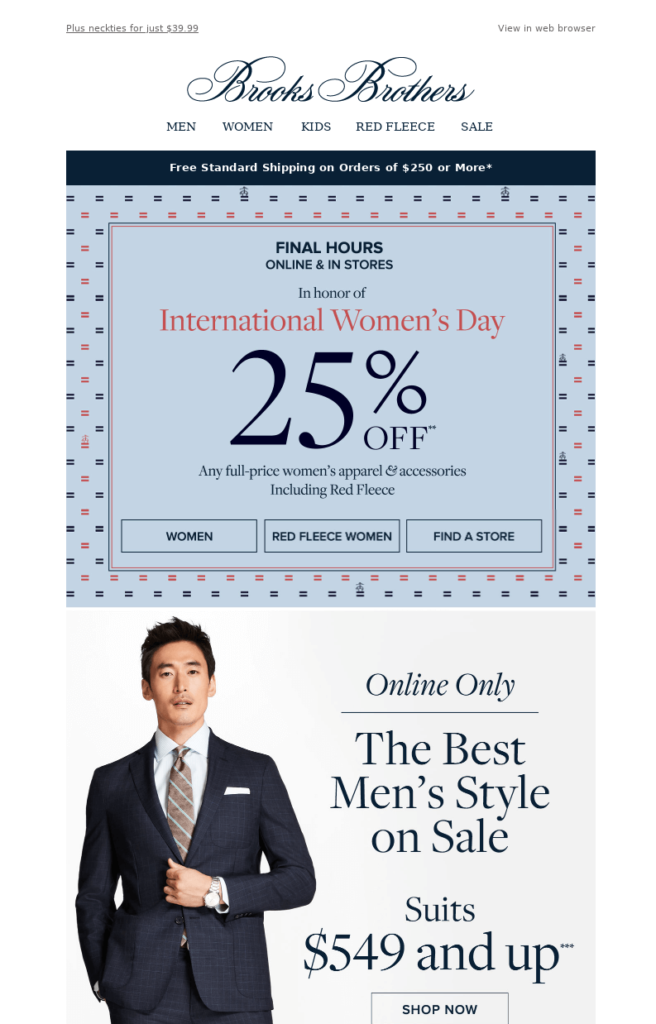 7 More Creative Ideas For Amazing Women's Day Email Templates 2023
Get inspired with some more ideas for Women's Day email campaigns! 
1. Email Collaboration With Other Brands 
As we've mentioned earlier, International Women's Day promotes a sense of community and lets women feel united. It's a good opportunity for your brand to do a collab with another company with a similar audience and create an email campaign together.
2. Give Gifts to Subscribers 
Subscribers often expect some kind of a gift from you on a holiday like International Women's Day, so brands often offer discounts to their email subscribers. 
You can go further and give some small physical gifts that will motivate your subscribers to buy being even cheaper than discounts for you! For example, Paper Source gives away free feminist stickers with any purchase on March 8 and promotes it in their email campaigns.
Also, you can send gifts for buying items from a particular product category: for example, PUMA sends purple laces with footwear purchases.
3. Organize a Lottery Or Giveaway 
If you want to give discounts or other gifts in a more engaging way, just make it with the help of a lottery or giveaway. Even a simple wheel of fortune can make your email more compelling and provoke your subscribers' interest. If you want to make your email campaign even more engaging, consider adding more complex game mechanics.
4. Organize an Online Event to Celebrate International Women's Day
If women are your target audience, it's a good idea to organize an event to celebrate this day together. Your female customers not only will likely be happy to take part in the celebration, but also will become more loyal. Advertise your event in email campaigns for better results!
5. Include a Quote From the CEO 
If you want to make your email more personal but don't have time to prepare creative ideas, just ask the CEO to write a line or two about Women's Day.
6. Donate & Support the Cause 
After all, International Women's Day is not about making more money. Show your email subscribers that you care about world issues and donate some money to the cause. Believe us, many subscribers will be happy to support your initiative.
Want to Save Resources on Email Production? 
Try our code-free drag-n-drop editor: it will save your resources and optimize the time spent on email design and coding. Make more email templates for Women's Day or any other event in less time with Blocks! Try it for free.
If you want to learn more about other email marketing conferences and expos read our articles about the April Fool's Day, Christmas, or Easter.