How to Create a Happy Holidays Email Signature: Tips and Ideas
As the holiday season approaches, it's a perfect time to add a touch of festivity to your email templates. A well-crafted holiday email signature can be a simple and effective way to spread joy among your clients, colleagues, and business associates. 
In this article, we'll share how to create happy holiday email signatures and show you examples of great email signatures for holidays to help you get inspired. 
Essential Components of an Effective Happy Holidays Email Signature
First, let's understand what to include in your holiday email signature. Usually, it consists of the following elements: 
professional festive design with elements like holiday colors, icons, or patterns. 

name of the company and/or your name and job title;

your photo, if you want to make this holiday email signature more personal;

contact details such as email address, phone number, and website;

social media icons or links to your professional profiles;

cheerful message or image wishing happy holidays. 
It's not necessary to include all these elements in your email signature. However, it's hard to imagine an email signature without the first two components.

How to Create a Beautiful Holiday Email Signature? Step-by-Step Guide
If you want to create a happy holidays email signature in a few clicks, try the Blocks email editor: with Blocks, you can edit all the elements of an email template easily. Here's a step-by-step guide to creating a holiday email signature in Blocks:
Step 1. Create a template or choose a ready-made email from our template gallery and edit it. 
Step 2. Add the following elements to your email signature: text, social media icons, images (optional), and so on. 
Click on any element in the email signature to change the content, font, color, size, or alignment. Make sure to include your name, job title, company name, and contact information.
Step 3 (optional). Upload holiday images and illustrations and add them to your email signature. Also, you can add your company's logo or your photo. 
Step 4. Insert social media links: Blocks has ready-made social media icons, so all you need to do is insert your links. 
If you need more details to design an email signature with Blocks, read our comprehensive guide!
How to Create Email Signatures in Popular Email Clients (Gmail, Outlook, Apple). 
If you want a simple email signature and don't need a unique holiday design, you can simply create it using email clients. Follow these steps to set up your holiday email signature in popular email clients:
For Gmail:

Go to Settings > See all settings > General > Signature, and create your holiday signature using the rich text editor

For Outlook:

Go to File > Options > Mail > Signatures, and create your signature using the built-in editor

For Apple Mail:

Go to Mail > Preferences > Signatures, and create your signature using the provided editing tools
Examples & Ideas of Happy Holidays Email Signatures
Look at some examples of professional holiday email signatures to get inspired and create your email signature with the Blocks no-code editor!
Simple congratulation in the text format 
If you want to make your email signature more festive, sometimes it's enough to just add a congratulation in the text format. This is the easiest way to turn your usual email signature into a holiday one. Look at the example below to see what it might look like.
If you want to stick with the text format but want something more complex, choose festive colors and unusual fonts like in the example below.
If you're looking for more examples of Christmas emails, check our guide to Christmas email templates.
Holiday icon or illustration in a holiday email signature
If the text format seems too simple to you, add more festive design elements to your happy holiday email signature: it can be a holiday icon, your holiday photo, or even an illustration like in the email signature below.
You can also create a simple holiday icon and simply change its color and caption for each holiday. This is a good solution for everyone who wants to create holiday email signatures quickly.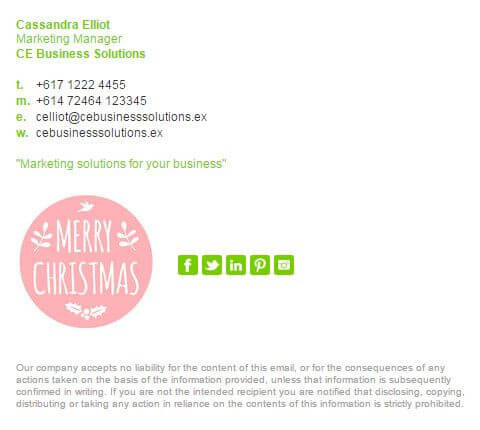 Designing a Holiday Email Signature: General Tips 
Creating a beautiful email signature doesn't require expert email marketing skills. By following our advice, you can design a visually appealing happy holidays email signature. 
Pay attention to the email layout

. Pick a layout that presents your information in a clear and organized manner. Common layouts are single-column (all information aligned on the left or center) or multi-column (information distributed across two or more columns). It is only for you to decide which email layout will work for your holiday email signature. 

Use consistent formatting

. Choose a font that is easy to read and professional-looking. Stick to a maximum of two font colors, preferably your company's brand colors, to keep your signature clean and cohesive.

Incorporate branding elements

. It's a good idea to add your company's logo or a headshot to your holiday email signature. Make sure that the image is properly sized and not pixelated. You may also include subtle design elements like dividers or icons that align with your company's branding.

Optimize for mobile devices.

Ensure your signature looks good on both desktop and mobile devices by using a responsive design and web-safe fonts.




If you use the Blocks email editor, you can be sure that your email templates and signatures will look gorgeous, no matter the device!

Use universally supported image formats

to make sure that they will display correctly in all email clients. The standard image formats are PNG and JPEG.

Consider scheduling or automating the activation and deactivation of your holiday signatures to ensure a seamless transition between holidays and regular business days.
Conclusion
A happy holidays email signature is an excellent way to spread joy and positivity during the festive season. With these tips and examples, you're ready to craft your unique holiday signature. 
Remember that a beautiful email signature is not only about aesthetics; it should also convey professionalism and make it easy for recipients to find the information they need. 
Create your email signature with Blocks to get a design solution that enhances your branding and leaves a positive impression!