Email Marketing Jobs
In this article, we'll provide you with valuable insights on where to find email marketing job opportunities and share effective strategies to land the perfect role. From popular job platforms to targeted job-hunting tips, we've got you covered. 
This article is meant for beginners and advanced professionals who want to start or continue their careers in email marketing. 
Where to Look For Email Marketing Jobs? 5 Best Resources 
You can find email marketing jobs on various platforms. Here are some resources to help you find and choose the right email marketing job for you:
Find Remote Email Marketing Jobs on Job Boards 
Look for job postings on general job boards. These platforms have filters that can help you narrow down your search to email marketing positions specifically: you can search for "email marketing" as a keyword or job title and filter by location, experience level, or job type. Additionally, you can set up job alerts to receive notifications about new email marketing job postings that match your criteria to stay updated on new opportunities.
You can start with the most popular job boards, for example:
1. Indeed
Indeed is a widely used job search engine that aggregates job listings from various sources, including company websites and job boards.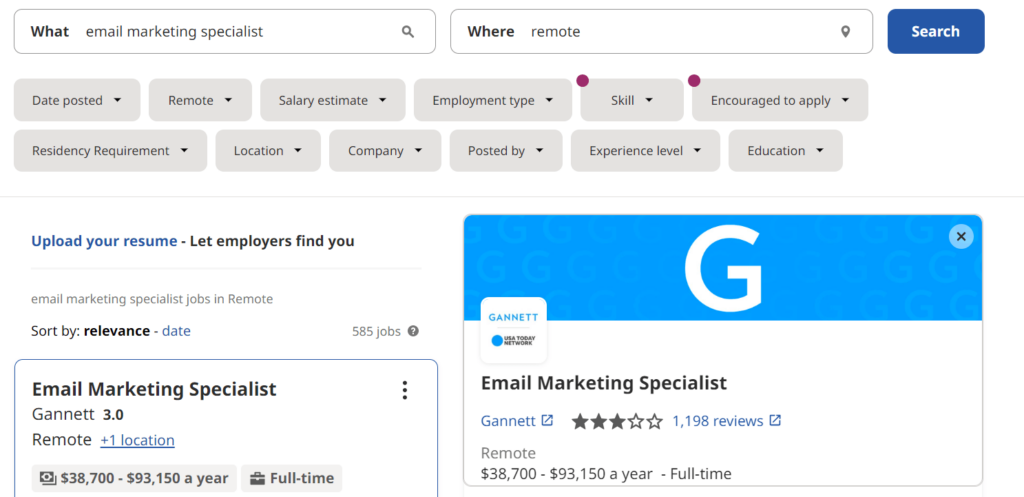 Users can search for jobs based on keywords, location (or remote jobs), and other filters. Indeed also offers features like job alerts, company reviews, and a personalized dashboard to help job seekers track their applications. You can upload your resume, making it easier to apply for jobs quickly, and even discover salary information for specific positions.
2. Glassdoor
Glassdoor combines job listings with insights about companies, such as salary data, company reviews, and interview experiences shared by current and former employees. Each employer has a public rating. 

As always, you can search for email marketing positions based on keywords, location, and filters, while also researching company culture and other information to determine whether the company is a good fit. Glassdoor offers job alerts to keep you updated on new job opportunities that match your search criteria.
3. LinkedIn
LinkedIn also offers a job search platform. You can create a professional profile, connect with other professionals, join industry-specific groups, and discover job openings. 
LinkedIn allows users to search for jobs based on keywords, location, and various filters and offers features like job alerts and the ability to apply with your LinkedIn profile. Additionally, LinkedIn offers a premium subscription that provides access to additional job-seeking resources, such as salary insights and featured applicant status.
Email Marketing Positions on Industry-specific Job Boards
There are also marketing-oriented boards that offer positions only for marketing specialists. Let us show you several options. 
MarketingJobs.com is a niche job board dedicated to marketing-related positions, including email marketing jobs. 
As always, you can search for jobs using various filters and set up job alerts. The platform also features resources like articles, advice, and industry news to help job seekers stay informed about trends and best practices in the marketing field. You can also create a profile and add your resume to find the job role quicker. 
MarketingHire.com is another industry-specific job board focusing on marketing positions. You can search for email marketing jobs using keywords, upload your resume, set up job alerts, and access marketing resources such as articles, industry news, and career advice.

The site partners with the American Marketing Association (AMA) and the Marketing Executives Networking Group (MENG), providing connections to these organizations' resources and networking opportunities. 
Look For Email Marketing Jobs on Companies' Websites 
If you have a particular company in mind that you'd like to work for, visit their careers page to see if they have any email marketing jobs open.
For example, HubSpot offers various positions in different marketing fields, including email marketing, sales, engineering, and many others.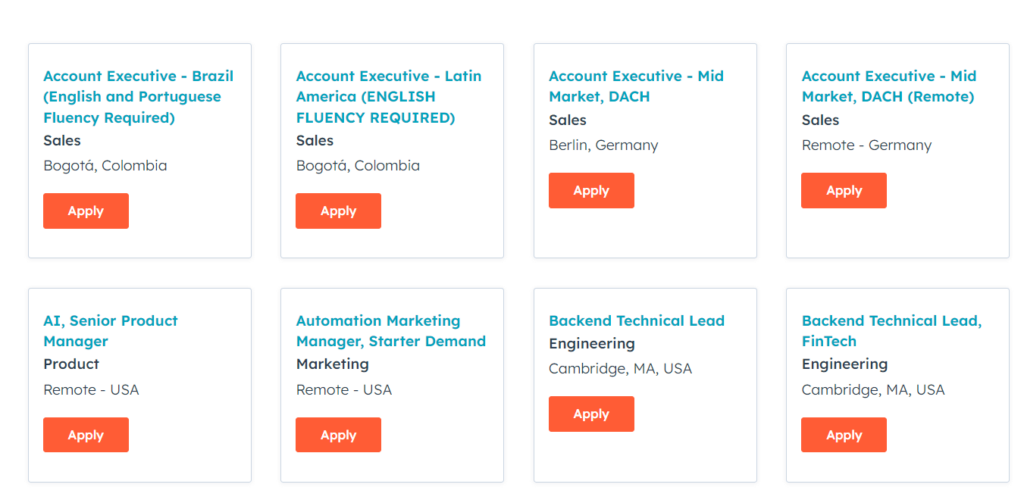 Some agencies also provide email marketing career opportunities: look for agencies that say "we are hiring" on their main pages. 
Networking
Join relevant LinkedIn groups, Facebook groups, or forums dedicated to digital marketing or email marketing. People often share job opportunities within these communities. Here're some active marketing communities on Facebook that often post email marketing jobs:
Email Marketing Worldwide

. It's a public group that often posts email marketing job offers and other news related to the email marketing industry. 

Pretty Little Marketers

. This is a warm community of email enthusiasts who share marketing tips and often post new email marketing positions.

Women of Email

. This community is one of the most lively Facebook communities focused on marketing. Members of the community post email marketing jobs as well as advice, memes, and industry news. Mind that this private community accepts only women. 
Look For an Email Marketing Job On Freelance Platforms
If you're looking for freelance or remote email marketing job opportunities, freelance platforms can be helpful. 
To get started, create a profile highlighting your email marketing skills and expertise and apply for relevant projects. Over time, as you gain experience and positive reviews, you'll be more likely to attract higher-paying clients and better projects. Some of the most popular freelance marketplaces are Upwork, Freelancer, and Fiverr. 
Freelancing can also help you build a diverse portfolio, showcasing your ability to deliver results for different clients and industries.
Salary in Email Marketing Industry: What to Expect
The salary for email marketing jobs can vary widely depending on various factors such as the level of experience, location, company size, and industry. 
According to Glassdoor, the average base salary for an email marketing specialist in the United States is around $60,000 per year. However, this can range from around $40,000 per year for entry-level positions to over $100,000 per year for senior-level job roles.
We also checked email marketing communities on Facebook like Women of Email and others to prove the information from Glassdoor. Here's one of the posts from an email geek about the salary range in the email marketing field.

In addition to salaries, email marketers may also receive bonuses or commissions based on their performance or the success of their campaigns.
How to Choose an Email Marketing Job: 7 Essential Recommendations
Here're some general recommendations that you might want to consider when choosing an email marketing job. 
Understand your priorities.

Determine what factors are most important to you, such as job location, work-life balance, company culture, job responsibilities, or growth opportunities. When you understand your priorities, it's easier to find a job that won't disappoint you afterward. 

Research the company.

Learn about the company's background, mission, values, and work environment to determine if it aligns with your goals and preferences. If possible, apply only to reliable companies that have employees' reviews and good reputations on the market. 

Check company reviews.

As we've mentioned in the previous recommendation, it's always useful to check employees' reviews before sending your CV to a company. Websites like

Glassdoor

or

LinkedIn

can offer insights from current and former employees about the company culture, work environment, and management.

Evaluate job responsibilities.

Make sure that the job responsibilities match your skills, interests, and career goals: if you look for an email marketing job based on these factors, you're more likely to find yourself in a win-win situation for you and your employer. 
Also, always look for roles where you can leverage your strengths and grow professionally. 
1. Assess the compensation package. Consider the salary, benefits, and perks offered by the company to make sure it meets your expectations. Some companies offer such benefits as:
health & life insurance;

paid time off;

family leave;

lunch stipend and others. 
2. Network with employees. Connect with current or former employees to get first-hand insights about the company and role. The easiest way is to find people on LinkedIn and Facebook and message them asking them to tell you more about the company or share their experience. Usually, employees don't mind answering your questions and even helping you with applying for a job. 
3. Consider career growth opportunities. Look for companies that invest in employee development and have a clear career path for email marketing professionals. Some companies offer free courses and training programs for beginners as well as for advanced and senior specialists. 
These recommendations might increase your chances of finding a suitable email marketing job and making an informed decision when choosing among job offers. 
How to Find an Email Marketing Job If I Have No Experience?
If you have no experience in email marketing but want to break into the field, follow these steps to improve your chances of finding a job:
1. Study and earn certifications. Learn email marketing fundamentals, such as email list building, segmentation, personalization, A/B testing, analytics, and deliverability. You can find free resources online, including articles, eBooks, and video tutorials. Consider taking courses on platforms like Coursera, Udemy, or HubSpot Academy.
Read our guides to some of the best email marketing courses available online:
2. Develop a portfolio and resume (CV). Create a portfolio of your email marketing projects, including examples of emails, campaigns, and metrics demonstrating success. Such a portfolio will help you showcase your abilities even if you don't have formal work experience.
Also, customize your CV to emphasize any relevant skills, accomplishments, and education related to email marketing. Even if you don't have direct experience, highlight transferable skills such as copywriting, analytics, or project management.
3. Network. Join industry-related groups on LinkedIn or Facebook, attend local meetups or email marketing conferences, and participate in online forums. Networking can help you make connections, learn about job openings, and gain insights from experienced professionals.
4. Look for internships or entry-level jobs. Apply for internships or entry-level positions in email marketing. Also, if you can't find a suitable job in email marketing, you can start working in related fields like social media or content marketing: these roles can help you gain experience and develop skills that will be valuable when transitioning to an email marketing position.
5. Find projects on freelance platforms. Offer your email marketing services on freelance platforms like Upwork or Freelancer to gain experience and build a client base. This way, you will develop a track record and showcase your abilities to potential employers.
Conclusion 
There're lots of email marketing job opportunities on the market, especially when you know where to look for them. We advise you to search for job offers on popular job boards and industry-specific platforms like MarketingJobs or MarketingHire. If you're looking for remote job opportunities, you can also try searching on freelance marketplaces. 
When searching for a job, pay special attention to the factors like salary, employees' reviews, job responsibilities, opportunities for growth, and perks offered by a company.