Dos, Don'ts & Ideas for a Compelling Easter Email Campaign
With its vivid imagery of bunnies, colorful eggs, and blossoming flowers, Easter retains a major presence in the long list of holidays, and as such, proves to be just the right time for an engaging email campaign. In this article, we're going to delve into the art of crafting successful Easter emails and provide invaluable strategies to captivate your subscribers.
Why Easter Email Campaign is Actually Important
According to surveys, Easter spendings are on the rise: in 2023, 81% of Americans planned to celebrate Easter, spending more than $190 on average. Meanwhile, total expected spendings reached an astonishing $24 billion, indicating a real magnitude of this holiday.
Easter is definitely the occasion you wouldn't want to miss for you email campaign, and there are a few solid reasons for that:
Shopping spree.

As with most other holidays, lots of consumers shop for gifts, decorations, and souvenirs, expecting Easter-themed variety of goods as well as sales and discounts. This marks a great opportunity for companies and brands to increase their recognition and gain new customers.

Occasion for celebration.

While not as huge as, for example,

Christmas

or Thanksgiving, Easter still remains a popular and important occasion. Religious standpoint aside, it's a significant cultural event, and a considerable family holiday. For this reason alone, Easter provides many different businesses with a significant sales opportunity.
Consumer interest.

Holiday seasons tend to demonstrate a general optimism for promotional content. This means that your Easter email has a higher chance to be noticed and, if done right, serves as a nice tool to gain or reactivate subscribers.
A compelling email marketing strategy during Easter holidays might give your company a significant boost in terms of sales and brand recognition. To make the most of your Easter email campaign, follow our hints and tips listed below.
The Dos and Don'ts for an Easter Email Campaign
As with any other holiday email campaign, there are certain things you need to keep in mind when designing Easter emails. We've collected several practical tips that will help you create outstanding Easter templates and use the occasion to your advantage.
6 Things to Include in Your Easter Email Campaign
For a more compelling result, consider including the following elements in your Easter emails.
Easter design.

Embrace the holiday in your email design to make it more colorful and relevant. Of course, don't forget to keep the design in line with your brand: if some elements feel way too excessive and out of place, it's perfectly fine to discard them. Easter is not all about eggs and bunnies, and as such, you can always adopt the themes of family, friendship, and the evergreen blossoming spring.

Special offers.

As with other holidays, it is generally expected from companies to provide special offers for the occasion, whether Easter-themed or not. Use the holiday shopping spree to your advantage by providing consumers with deals they would not want to miss. Not to mention, this might also serve as a great tool to increase brand recognition.

Call-to-action (CTA).

CTA elements in Easter emails are pivotal as they provide clear and specific direction to recipients. A call-to-action can accompany some attractive deal or a sign-up for an event and lead your subscribers to further interaction with the content. Make it engaging and fun to significantly boost engagement rates.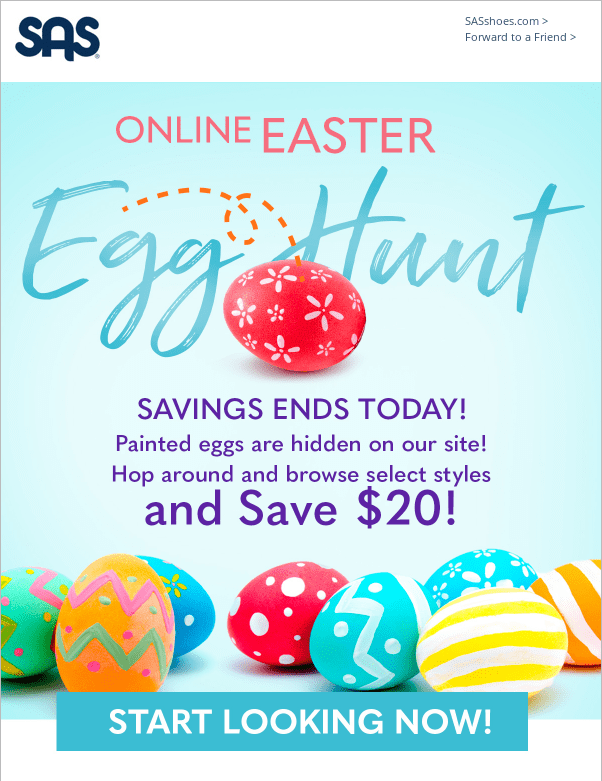 Interactive elements.

How about a little playfulness in the email campaign? Engage your subscribers by providing a small interaction in your Easter email. This might include, for example, a minigame that leads the subscribers right to your website.

Personalization.

Go even further by providing a personalized email for your customers taking into account their shopping habits, lifestyles, and other preferences. This tip will not only make your email stand out, but also provide a subtle touch to your offer, making it feel more warm and intimate.

Additional emails.

Plan your campaign to come up with 2 or 3 emails for different dates. For example, send an email in advance detailing the upcoming Easter offers or sales. Right before the Easter holidays, send your main email containing the offer itself. Finally, you can send a reminder, for example, announcing the end of the sale.
5 Things to Avoid in Your Easter Email Campaign
While some elements are highly recommended, or even mandatory, for an Easter email, others are not a good fit for them. Here are a few things to leave out of your Easter newsletter:
Overwhelming text.

Being concise and informative is generally a good thing for an email, and the same rings true for Easter emails. Reading through a wall of text is definitely not something your subscribers would want to do on their day off. Keep your template short and consistent both with the occasion and your brand design.

Excessive imagery.

While it might be tempting to include colorful Easter-themed images, overloading your email with graphics has its downsides. For example, heavy reliance on imagery slows down the email loading time and distracts from the primary message. Also, many people access emails on mobile devices, and heavy graphics can lead to frustration (or, in some cases, even break your email, making it unreadable).

"Egg" wordplays.

The idea of using puns like "egg-scellent" or "egg-straordinary" in Easter emails is pretty widespread, and that is exactly the reason to stay away from them. Try coming up with something fresh to stand out and grab attention. Of course, this doesn't mean you should avoid the word "egg" at any cost, but being creative (and cautious at that) definitely helps in a big way.

Being too religious.

Unless you are targeting a very specific audience, it's better to avoid religious themes in your Easter templates. We've already mentioned that lots of people essentially view Easter as a family holiday. Therefore, emphasis on religious imagery is not a good choice for emails aimed at the general audience.

Pushing sales too aggressively.

Avoid making your email campaign solely about pushing products. Maintain balance by mixing both promotional and value-added content: Easter recipes, DIY crafts, or useful recommendations. These little pieces of advice are something your readers will appreciate and maybe even use in their daily lives.
5 Tips for an Engaging Easter Email Subject Line
Subject line is a fundamental email element, and plays a very important role. When it comes to the Easter campaign, be prepared for a fierce competition. During holidays, readers' inboxes traditionally receive a huge influx of emails containing greetings and offers. To stand out, the subject line for your email must captivate the reader right from the start, otherwise it risks being lost among dozens of others.
Here are 5 useful tips for your Easter email subject lines:
Keep it short.

You only have about 60 characters to convey the message and convince the desktop users to open your email. The number is even less for mobile: only about 30 characters. And since

85% of users read emails primarily on smartphones

, this makes it a very delicate, "easy to learn, hard to master" kind of art.

Underline urgency.

One important moment here: urgency must actually exist. For example, a limited offer or a coupon that lasts only until the end of the week. If done right, this might become your important selling point. An example here would be a subject line like "Hop to it: Last Chance for Easter Savings!".

Make it relevant and personalized.

Right from the start, make your subscriber feel special by hinting a personalized offer in the subject line. Don't forget to indicate the recipient's name to make it even more personal. For example, a subject line can read "Early-bird Easter specials just for [Recipient's Name]!".

Make reasonable use of puns and jokes.

A fitting pun makes a great element of your Easter email subject line, immediately catching the reader's attention. Go all the way with creativity or stick to something more classic, just remember to keep it appropriate. Here's a good example: "[Recipient's Name], Discover What's Hatching This Easter!".

Use emojis.

Emojis might make your subject line more likable and help your email to stand out. The best option is to use 1-2 emojis and, of course, keep them consistent with the topic, like in this subject line example: "Rise & Shine: Easter Brunch Recipes Inside 🍳".
We've decided to bring a spark of inspiration to you and collected 10 attention-grabbing Easter email subject lines from the real-world brands:
We 💗 every bunny's Easter style… (Janie and Jack)

Easter hosting? Hop to it (Habitat)

Last chance! Easter essentials that'll get there in time. (Food52)

Celebrate a Dinnerly Easter with us 🌈 (Dinnerly)

Hey there, hop stuff. 🐰🥕 (Pulp & Press)

🐣 Easter Celebrations will be Here Before You Know it! 🐰 (Candy Club)

🐇 Happy Easter, from Our Family to Yours 🐣 (See's Candies)

Spoil your pet this Easter (Pet-Supermarket)

Schedule those Easter cards now 🐥 (Paperless Post)

🐇The Easter Bunny is Hopping Away! (EntirelyPets)
And to give you a headstart, we've come up with 10 catchy Easter subject lines for your next campaign. Feel free to use them and steal the spotlight during holiday season:
Bloom into Easter savings🌸

Get ready to fill your basket!

Unscramble the Easter surprises!🥚

Spring forward with Easter delights!

Sunshine, springtime & special deals! ☀️

Be the first to crack our deals! 🐣

The hunt for savings begins!

Easter parade of deals inside! 🌷

No bunny does Easter like we do! 🐰

The great Easter giveaway spree! 🎉
10 Ideas for a Captivating Easter Email
Looking for some neat ideas to use in your Easter template? Check out these 10 examples that will bring fresh colors to your campaign:
1. Springtime product highlights. Your email doesn't have to be 100% Easter-themed. It's okay to take a step aside from the holiday and showcase products that align perfectly with the season. This can captivate your audience and evoke the refreshing emotions of spring.
Take, for example, this Flik Flak email advertising their line of spring-themed watches. While Easter is mentioned as well, the emphasis here is put primarily on the season itself.
2. DIYs and recipes. Provide additional value by sharing some unique recipes or DIY craft ideas right in your Easter email. This creates some extra benefit and also encourages readers to engage with your brand outside of purely transactional interactions.
KiwiCo email provides a great example, with minimal text but plenty of photos and a CTA button to discover more.
3. Behind-the-scenes sneak peeks. Show the preparation that goes into your Easter products or events, be it designing the goods, setting up displays, or brainstorming ideas. Behind-the-scenes content feels exclusive and provides a subtle touch which can foster loyalty and trust among your subscribers, bringing customers closer to your brand.
Email by See's Candies illustrates this best, inviting the subscribers to watch a video on their chocolate eggs decoration process.
4. Easter-themed subscribers content. Go beyond interactivity by encouraging your subscribers to share their own Easter experiences. For example, invite them to send Easter-themed photos with your products for a collage. This not only provides authentic content but also deepens the sense of community around your brand.
Easter email by Posh Peanut greets readers with a collage of photos and offers to send their photo to the company's Instagram.
5. Themes of renewal. Easter is synonymous with spring, and spring is synonymous with renewal. Take an approach to highlight products or services that align with this topic, which is perfect for those looking to refresh or revamp for the new season.
In their email, Pulp & Press puts these themes to a great use. Emphasis on their line of healthy products combined with a blend of yellows, greens and white background conveys the message perfectly.
6. Easter egg hunt invitations. Inviting your subscribers to participate in an online or offline Easter egg hunt can be both engaging and fun. You can get really creative with egg hunts, providing them in the form of hidden deals on your website or even actual events. This encourages interaction with your brand, can drive traffic, and increase conversions.
Here, PSD2HTML invites the reader to join the "Discounts Hunt" right from the get-go, with a colorful image of an egg alongside an immediately noticeable CTA button.
7. The "golden egg". Send out an email with a virtual "golden egg" containing a special discount code or some other special offer. This creates a sense of mystery as well as treasure hunting, commanding excitement and encouraging your subscribers to see what's inside.
Boohoo email here provides a fair share of intrigue with a minimalist yet engaging imagery and a direct "What will you win?" question addressed to the subscriber.
8. Easter basket bundles. Embrace Easter to the fullest by bundling related products together at a discounted rate, and present them as the perfect Easter basket in your email. This works great both as a special discount offer and as a convenient ready-made gift.
This Easter email by Fairytale Brownies serves as a good example, providing two gift options to choose from: spring- and Easter-themed, respectively.
9. Small bonuses. Add even more value to your email by including something special for your subscribers. For example, provide a code for customers to use at the checkout and receive a gift.
A great example would be this Easter email by Candy Club. Along with colorful images and CTAs, it contains a pleasant little bonus in the form of a free candy cup code.
10. Approved by Easter Bunny. A fun idea would be to make it look like your product is curated by the Easter Bunny himself. Make use of lines like "Bunny's Top Picks" or "Easter Bunny Recommends" to liven up the traditional marketing routine. It is also a fun way to highlight certain items and offers.
As an example, the Janie and Jack email greets the reader with Happy Easter wishes from "stylish friend, Grant the Bunny".

Conclusion
Easter is a perfect occasion to connect with your audience, offering a plethora of opportunities to craft memorable and engaging email campaigns. Being creative and innovative with your Easter email campaign may indeed prove beneficial, but don't forget about the more practical essentials as well. For maximum effectiveness, always ensure that your Easter template content is aligned with your brand design and resonates with the target audience.
And of course, don't hesitate to make use of helpful instruments like Blocks to save time and resources for your creative output. Our no-code email crafting tool offers a perfect solution to create your Easter templates from the ground up: just sign up for a free account, and you are all set! Wish you a Happy Easter emailing!
Want to Create More Easter Templates in Less Time? 
Try our code-free drag-n-drop editor: it will save your resources and optimize the time spent on email design and coding. Make more email templates for Easter or any other event in less time with Blocks! Try it for free.
Want to craft top-notch email templates for other occasions? Read our articles about the April Fool's Day, International Women's Day, or Christmas.