12 Impactful Cyber Monday Subject Lines & Ideas Behind Them
Cyber Monday serves as both the continuation of Black Friday and a huge shopping day on its own. With online sales reaching a staggering $12.12 billion in 2021, Cyber Monday is among the biggest dates for ecommerce in the U.S. And since the day is all about online shopping, that makes it a favorable time for email marketers.
Crafting a standout email is a must for such a huge occasion. But before the recipients get familiar with its content, you need to grab their attention with an eye-catching subject line.
In this article, we're going to delve deep into the art of crafting the best Cyber Monday email subject lines, show 12 great examples, and explain why they're so awesome.
12 Best Cyber Monday Email Subject Lines
Studies show that a clear and concise Cyber Monday subject line might boost open rates by 30% compared to a more vague one. In other words, the quality of the subject line might directly influence the email's success. 
At the same time, it's a pretty delicate component due to the character limit: around 60 characters are available for the desktop, and only about 30 characters for mobile. That makes crafting the best Cyber Monday email subject lines a difficult, but not impossible task.
For this article, we have gathered and analyzed 12 impressive Cyber Monday email subject lines. See how they work and use the tactics to your advantage during the Cyber Monday campaign.
Take a break from Cyber Monday. Have some Taco Bell. (Taco Bell)
Why it works: Food might probably be the last thing that comes to mind when you hear about Cyber Monday, and Taco Bell cleverly took advantage of this. In its Cyber Monday subject line, Taco Bell offers subscribers to take a break from shopping and visit the restaurant instead.
This is definitely an original move for a food chain to make on Cyber Monday. The subject line immediately appeals to the audience (seemingly overwhelmed by Cyber Monday offers already) and tries to be relatable. It is also a nice example of how to craft a Cyber Monday email subject line even if your products aren't associated with anything cyber-related.
50% Off + $25 Off $100 = CYBER MONDAY! (Nine West)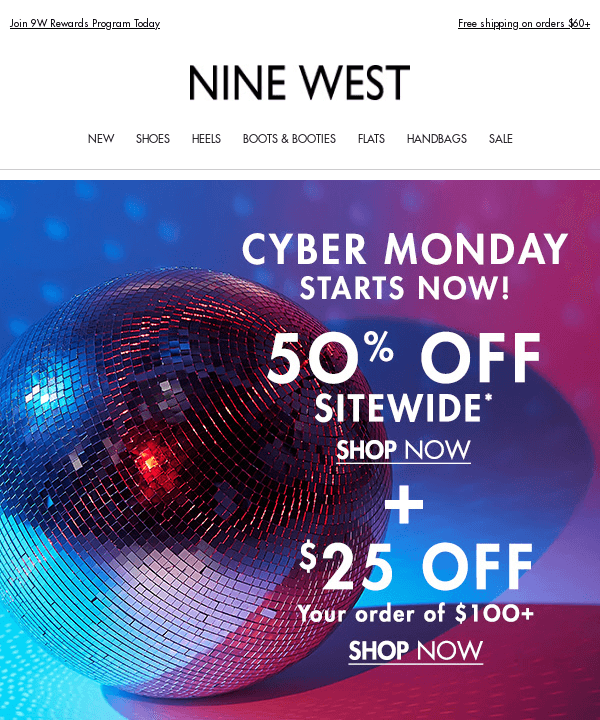 Why it works: According to A/B tests, the use of numbers in a subject line might work impressively well, increasing open rates by up to 57%. And since holiday campaigns are all about discounts, it's a good idea to showcase some of them right in your Cyber Monday email subject line. 
Nine West did it in a pretty cool way, turning the deals into a fun little equation to make the Cyber Monday subject line look more outstanding. Additionally, Nine West goes straight to the point, showcasing the deals in the subject line and encouraging the subscriber to open the email and see what the brand has to offer.
THEY'RE HERE 💻 Cyber Week deals! (Sephora)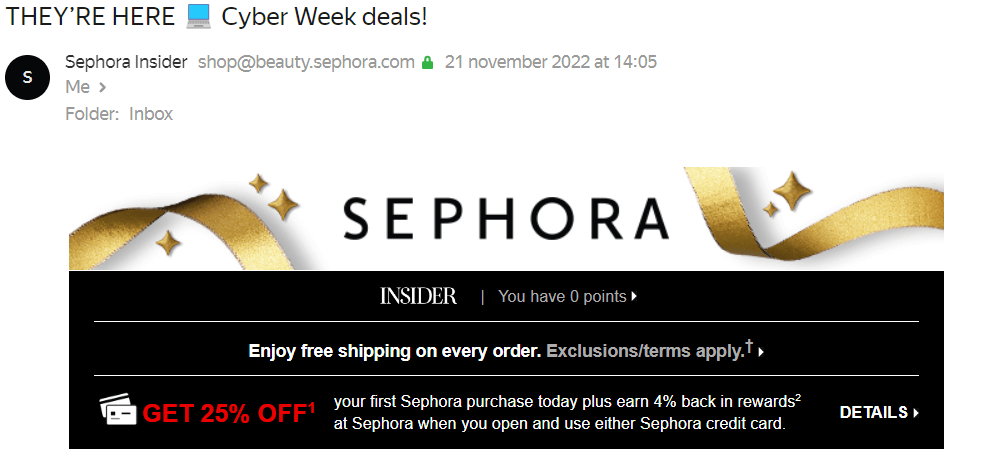 Why it works: Instead of sticking to the term "Cyber Monday", let the creativity flow and hold a Cyber Weekend or even a Cyber Week instead, like Sephora did. 
This Cyber Monday subject line might sound like a phrase from the movie, making it even more noticeable. And, of course, it includes the specific name of Sephora's sales period. This is a nice detail that helps the subject line stand out while also indicating that your Cyber Monday sales are not limited to Monday alone.
Your VIP pass runs out today (Withings)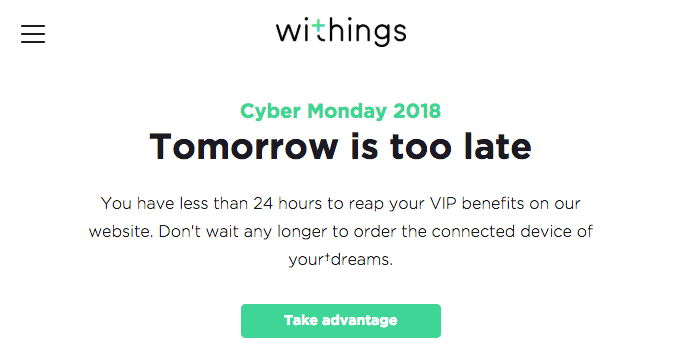 Why it works: Withings has created one of the best Cyber Monday subject lines that works on 2 different levels:
First, the "your VIP pass" phrase. It addresses the subscriber directly and makes the subject line feel more personal: the "VIP" part indicates a unique offer crafted with individuality in mind.

And second, the "runs out today" part creates a sense of urgency, underlining a very limited time frame. This may serve as a great trigger to open the email right away and not miss out on anything important.
Smiles Davis, there's still time to save (Google)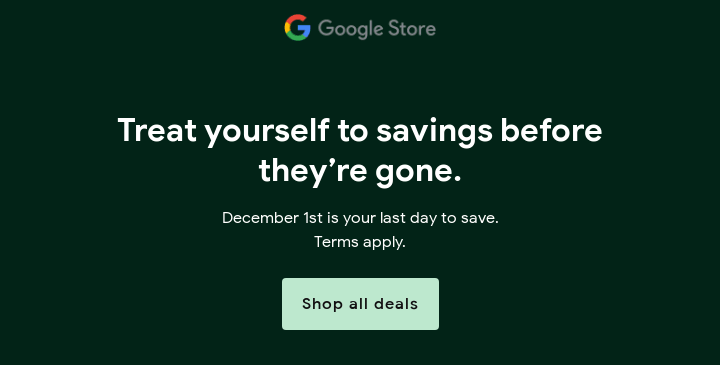 Why it works: Google also aimed for a personalized approach, though without VIP offers. Its Cyber Monday subject line addresses the recipient by name, which in itself might make it engaging enough to check the email contents. 
On top of that, like in the case with Withings, it provides a portion of urgency, indicating that the deals are available for a limited time only. Accordingly, this might work as a good reason for the subscribers to check the contents as soon as possible.
( ͠° ͟ʖ ͡°) It's Cyber Monday Somewhere…Sail starts *NOW* (Standard and Strange)
Why it works: Emojis aren't anything new when it comes to subject lines. They're colorful and appealing, so it's no wonder that lots of brands put them to good use.
But Standard and Strange took a step further and used a little ASCII art instead. This makes its Cyber Monday email subject line look both unique and noticeable. Placing the ASCII art right at the beginning is also a good idea that might make the subject line even more attention-grabbing.
All of this, alongside the clever "sale/sail" pun, places this one among the best Cyber Monday subject lines.
c   y   b   e   r   m   o   n   d   a   y (Foundation)
Why it works: There's no mistake here. This is exactly the subject line that Foundation decided to use for its Cyber Monday campaign. And it is, without a doubt, among the most fantastic Cyber Monday subject lines.
It contains no special offers, deals, or promotions. Just the 2 words, "Cyber Monday", with a space after each letter. Yet this simple approach makes this subject line strikingly noticeable in a crowded inbox. As they say, simplicity is the trademark of genius.
Score! It's Cyber Monday: Mystery deal revealed! (Design Within Reach)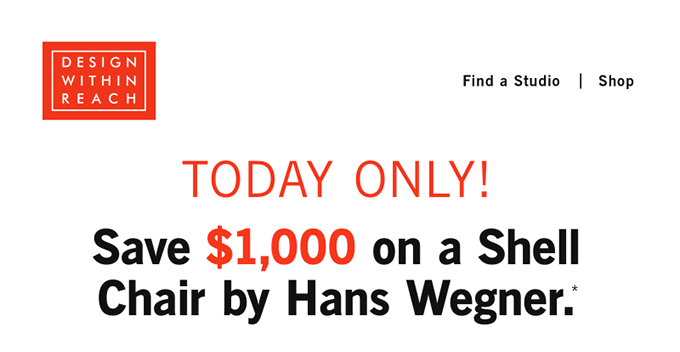 Why it works: A Cyber Monday subject line like this might prove effective if you hold a "warm-up" campaign beforehand. For example, if your previous emails contain information about "mystery deals" or any other kinds of special Cyber Monday offers. 
Reveal those deals and offers right in your Cyber Monday email subject line, just like Design Within Reach did here. It can work for different types of subscribers:
For those who have familiarized themselves with the teasers before (since they might actually be awaiting these deals).

For those who, by some chance, missed them (since this strategy might work as an intriguing surprise).
Our BIGGEST deal: EXTRA 50% off! 🎉 (Thrive Market)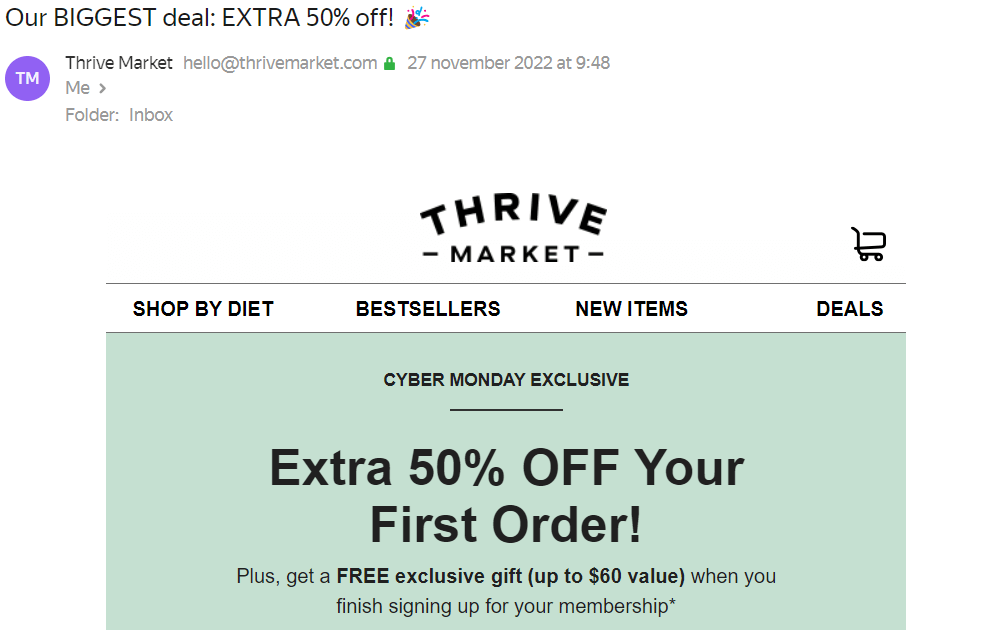 Why it works: When the brands you follow offer something they have never done before, it always piques your interest. Thrive Market took full advantage of that for its Cyber Monday subject line, inviting the subscribers to check out its "BIGGEST deal". Intriguing on its own, this also feels like a privilege to participate in something really exclusive (and maybe even taking place for the first time ever).
This Cyber Monday subject line also makes use of the fear of missing out (FOMO) thanks to its exclusivity and direct connection to the occasion.
No Sale Today. Here's Why. (Everlane)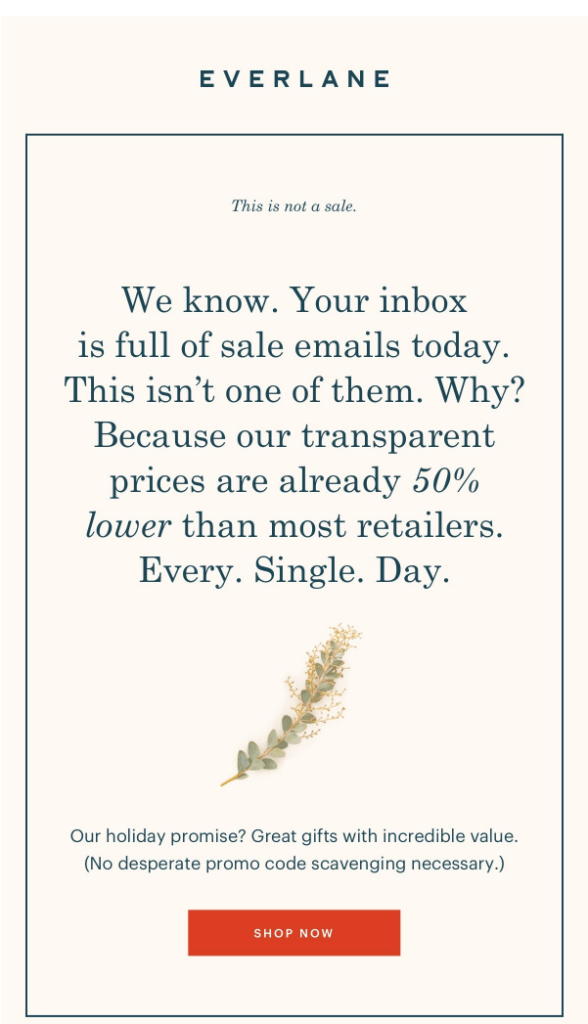 Why it works: Everlane embraces a completely different approach for its Cyber Monday subject line. Instead of announcing deals or offers, it informs the subscribers that no sale is going to take place at all.
Obviously, this subject line focuses on the unexpected and aims to surprise the subscribers. Additionally, the "Here's Why" part invites the recipients to learn more about what exactly is going on (and whether the previous statement was just a joke).
Such an approach is a cool way to intrigue the audience. Though, of course, it's better to take cautious steps since you don't want to alienate your subscribers.
what's better than a cyber monday discount? (Boscia Skincare)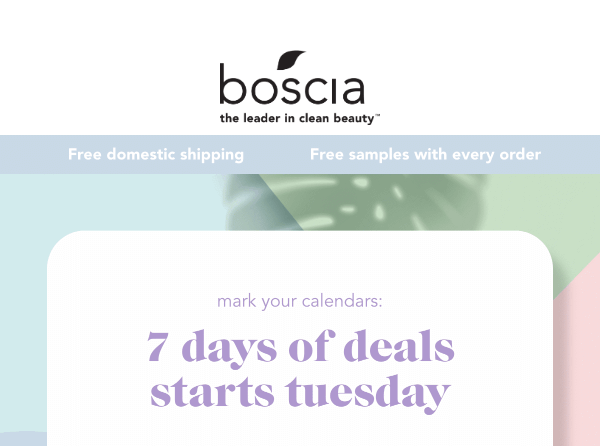 Why it works: One more viable strategy is to use questions in the Cyber Monday subject line. Questions are perfect for grabbing your subscribers' attention and providing valuable information in a more playful way.
This is the idea behind the Cyber Monday email subject line by Boscia Skincare. It directly addresses the subscribers in a subtle and friendly manner, keeping the question short, simple, and open-ended. At the same time, the subject line remains relevant while also creating a sense of interactivity.
Final hours: extra 20% off sale and free shipping (FARFETCH)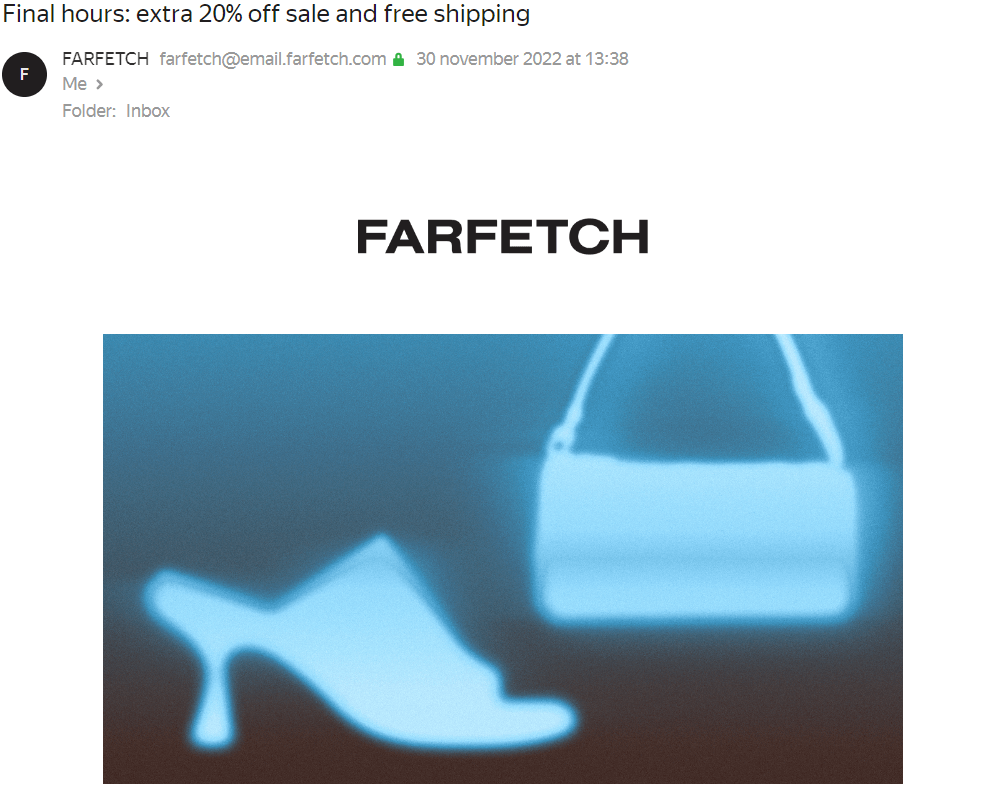 Why it works: Our last Cyber Monday subject line on the list represents a perfect combination of 3 engaging elements:
The "Final hours" part immediately builds a feeling of urgency, showcasing that sale time is very limited, and it's better to act fast.

The "extra 20% off" phrase includes the deal itself and indicates the additional value for customers using just one word: "extra".

Finally, "free shipping" is mentioned right in the subject line. This feels like a nice bonus to the already existing deals and may increase customer engagement as a result.
20 Cyber Monday Email Subject Lines for Your Campaign
To give you a headstart, we have crafted 20 Cyber Monday subject lines for your upcoming email campaign. Feel free to use and modify them at your will to make your emails outstanding and boost open rates:
A Cyber Space of Deals! Exclusive Offers Await Inside

Cyber Monday Deals Beyond Imagination!

Join the Cyber Frenzy: 50% Off Everything!

Set Sails for Cyber Monday: Navigate the Ocean of Discounts!

Hit the Cyber Monday Jackpot with Our Deals!

Rock On with Our Cyber Monday Discounts

Cyber Monday Extravaganza: Exclusive Deals Inside!

Cyber Monday Sales are Live: A New Dimension of Deals Awaits!

Is This the Monday You've Actually Been Looking Forward to?

Power Up with Our Cyber Monday Sales!

Incredible Cyber Monday Deals to Light the Day

Savor the Flavor of Our Cyber Monday Specials

Sway to the Rhythm of Cyber Monday Savings

Cyber Monday is Here! 50% Off for 1 Day Only!

Charge into the Savings Arena! Cyber Monday Deals Galore!

Rev Your Savings Engines on Cyber Monday!

Catch 'Em While You Can! Cyber Deals: 24 HOURS ONLY!

Cyber Monday Sales? Count Us In!

Grab These Cyber Monday Deals Before They're Gone!

Today Only: Check Our Cyber Monday Selections
Conclusion
Though it might seem like a small detail at first, crafting a compelling subject line is equally important as creating an impactful header or banner. Make your Cyber Monday subject lines truly unforgettable by following these strategies:
align the subject line with your brand design;

include numbers, be it discounts or special offers;

create a sense of urgency and make use of the FOMO;

get creative with emojis or ASCII art;

personalize your subject line and, if possible, include the recipient's name;

showcase your extended sales period;

tease (and eventually reveal) the "mystery deals";

provide your subscribers with an exclusive invitation;

ask polite and relevant questions.
An effective subject line must accompany a remarkable email. This is where Blocks comes in. Our no-code drag-and-drop email builder will help you craft excellent email templates in a matter of minutes. Simply sign up for a free account and get ready to create your best Cyber Monday templates.