April Fool's Day 2023: Dos and Don'ts For Email Templates
April Fool's Day is always a good reason to fool around a bit and send your subscribers a relevant offer. But cracking a couple of good jokes is only a part of the problem. How do you create an April Fool's Day email template that will turn your subscribers into customers? In this article we've combined the ideas from various practitioners.
4 Pieces of Advice for Your April Fools Day Email Templates That Will Help You Stand Out
Our sense of humor differs. Some like it hot and some prefer not going overboard with jokes. Creating an email template for April Fool's Day is always a rather challenging task: you need to make it funny, informative, engaging, and not offensive. Here are 5 pieces of advice for you to create a compelling April Fool's Day email template:
Be Honest
Showing the humorous side of your brand will create a deeper bond between it and your subscribers. It can add more of a human feeling to your campaigns and help your subscribers identify with your brand.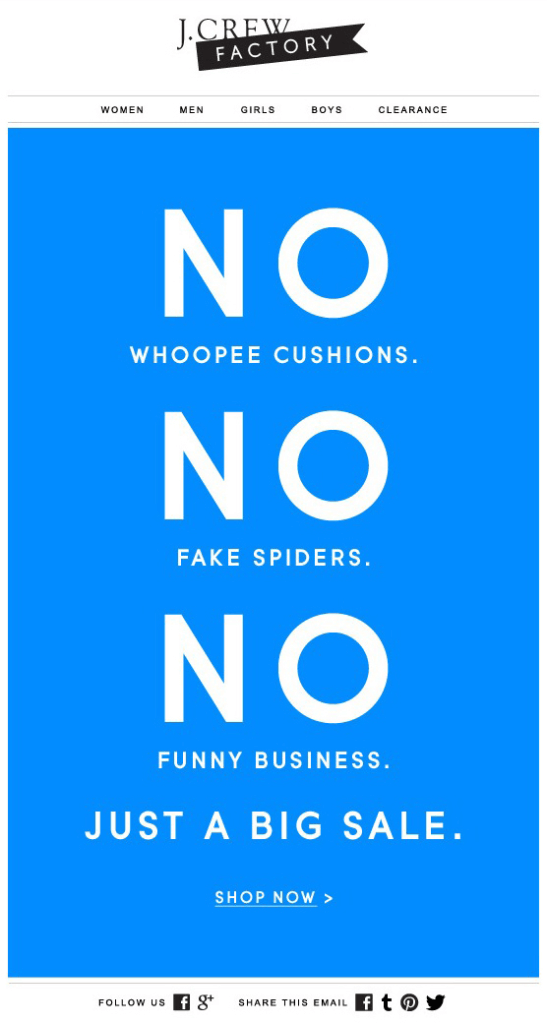 Grab Your Subscriber's Attention
Humor added to a campaign tends to catch people's attention as usually the emails are neutral and uniform. An April Fool's Day email template with some jokes in it is more likely to stand out of your ordinary newsletters. It will drive more engagement and lead to people remembering your emails better, hence, the brand awareness will grow.
Be Reasonable
Jokes and humor are good, but remember that every medal has its reverse. A wrong or overused joke at the wrong time can lead to a pretty unpleasant outcome. Just remember how in 2018 H&M announced a new line, one of the sweatshirts said "coolest monkey in the jungle". It was… okay, a funny and jolly phrase, if not for the fact that the child model was black. Be reasonable and always think of a possible hidden agenda, because people will notice it, even if you think that it's impossible.
Keep in mind that this advice fits any marketing activity, not emails only.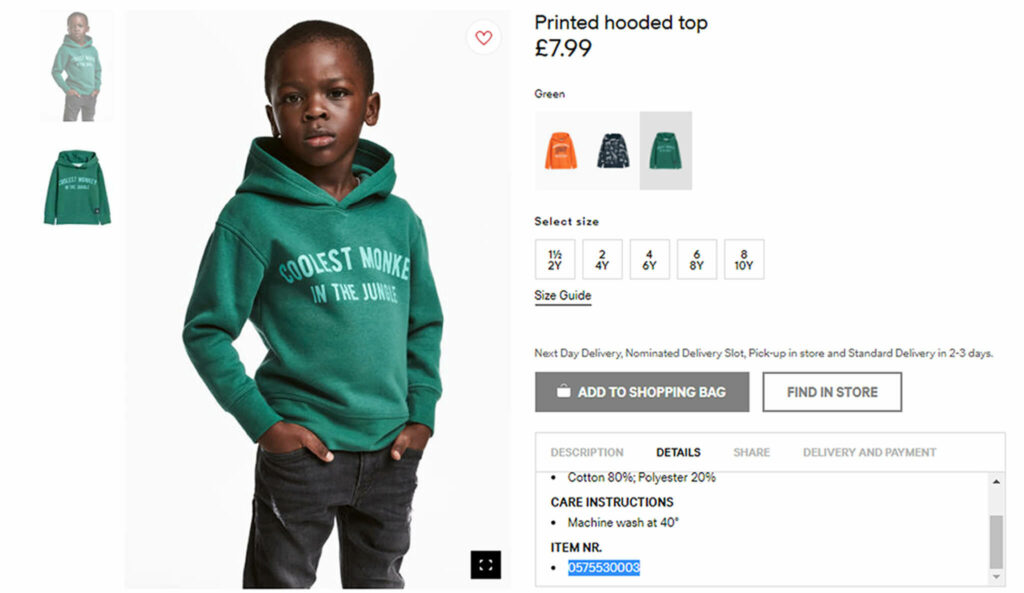 Be Self-aware
We're living in the postmodern era. It's okay for a brand to be self-aware of its flaws and downsides, but to take it easy. Don't try to become 'bros' with your subscribers as it always sounds and feels fake. You can always have a little laugh at your own downfalls (of course if those are not like the one mentioned in the previous point) and show people that even the pros like you can make mistakes (you can also sprinkle it with some sarcasm).
How To Write an April Fool's Day Copy That Will Convert
Here are some tips you can follow to create an effective April Fool's Day copy that will generate interest and sales.
1. Use humor to address common pain points: pointing out the things your audience may have some problems with is a good way to show that you care and understand. This can help create a stronger emotional connection and increase the likelihood of conversion.

2. Keep it authentic: While humor is important on April Fool's Day, make sure your copy remains authentic and true to your brand's values. Don't sacrifice authenticity for the sake of a joke.
3. Use nostalgia: Consider using nostalgia in your April Fool's Day email copy to connect with your audience on an emotional level. Use retro fonts, throwback images, or pop culture references from the past to evoke feelings of nostalgia in your audience.
"May the Force be with you… on this April Fool's Day."
"With great jokes comes great responsibility."
"You… shall not… LAUGH!"
4. Incorporate social media: Use social media to your advantage by creating shareable content that is both humorous and on-brand. Consider creating a hashtag or encouraging your audience to participate in a social media challenge related to your brand.
5. Use satire: Use satire to poke fun at current events or industry trends in a humorous way. Satirical messaging can be a great way to create buzz and generate interest in your brand.
6. Use special symbols: emojis or other special symbols can help you render the ideas you have without just typing them. Maybe you want to hint something funny without directly saying it. Use emojis!

7. Use a meme or viral trend: Incorporate a popular meme or viral trend into your April Fool's Day email template to make it more shareable and engaging. This can help increase the reach of your message and drive more conversions.
Mistakes in April Fool's Day Email Templates in 2023
Let's dive a bit deeper into some of these common mistakes and explore some unique solutions.
Mistake #1: Being Offensive
When it comes to April Fool's Day, it's important to remember that not everyone has the same sense of humor. What might be funny to one person could be hurtful or offensive to another. Some common topics to avoid in your April Fool's Day email templates include race, religion, gender, and politics.
Mistake #2: Being Too Obvious
When your April Fool's Day joke is too obvious, it can take away from the surprise and humor of the joke. If people can see the punchline from a mile away, they might not find it funny at all.
Mistake #3: Being Too Over-the-Top
Sometimes, people try to go too far with their April Fool's Day jokes, and end up creating something that's too extreme or unbelievable. This can make the joke fall flat and even create negative feelings.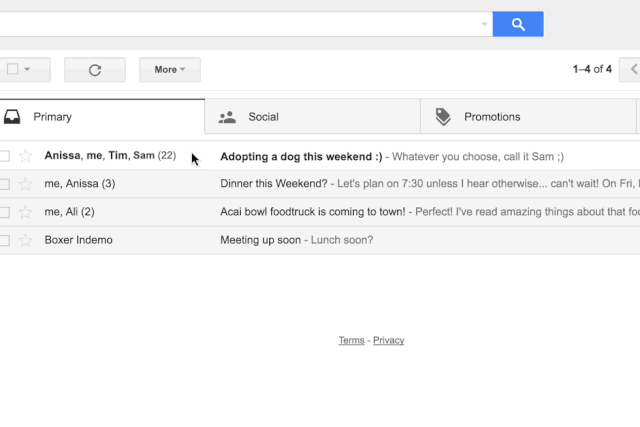 Like Google did in 2016 with their mic drop gif that could be added to any email sent from Gmail. The thing is, many people didn't know about this feature and misclicked, sending important emails on some sensitive topics. Some people even lost their jobs. 
Mistake #4: Being Too Generic
Some April Fool's Day jokes are so generic that they could apply to any company or organization, and they don't really say anything about the specific culture or personality of the organization.
Any "No joke!…" subject line. Literally. Or "Jokes aside!…" We give you permission to use dad jokes instead, at least they are funny.
And these are not even funny. These are just lame. And cheap.
Mistake #5: Being Too Serious
Some people take themselves and their work too seriously, and they struggle to come up with funny and lighthearted ideas for April Fool's Day.
Mistake #6: Being Too Late
Finally, one mistake that many companies make is sending out their April Fool's Day emails too late in the day or even after the holiday has already passed.
Email Template Ideas for April Fool's Day in 2023
As we discussed the main rules to follow and mistakes to avoid in your April Fool's Day email templates, it's time to share some ideas on how to create a good campaign for this holiday.
The "No Prize" Email 
Send an email to your subscribers with a giant newsletter banner trying to draw their attention with some juicy promo. But add one slight change — don't put any discount into it! Just like Venus did.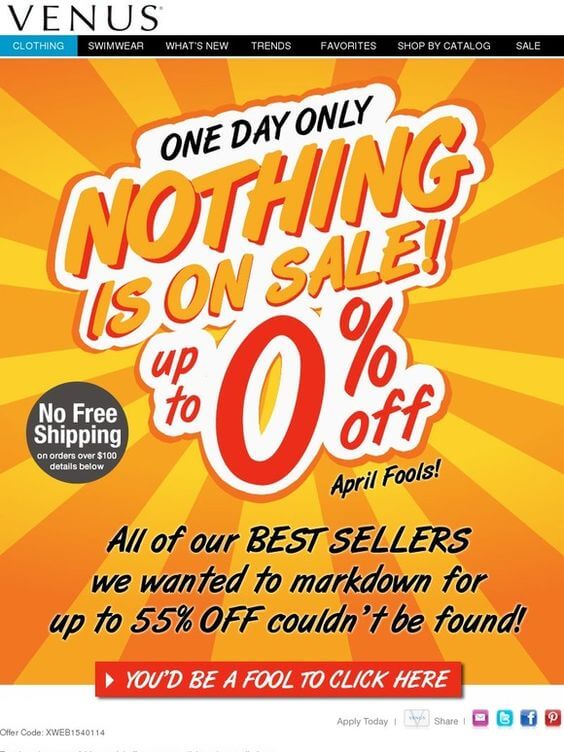 The "Unexpected Collaboration" Email For April Fool's Day
Send an email announcing a collaboration with a completely unexpected partner. For example, UBER made a collaboration with National Geographic. It was not only unexpected, but also brought people's attention towards the problem Nat Geo were trying to raise awareness. Make the email sound as official as possible, with quotes from executives at both companies.
The "Made Up Product Launch" Email For April Fool's Day
Send an email announcing a new product launch, something out of this world, something people can only see in sci-fi stories. The product can be something silly or even from the "so-bad-it's-good" category, like this dog collar that can read your pet's feelings.
The "Cutting Edge Technology" Email for April Fool's Day
Send an email announcing that your company has prepared something out of this world, something to change the game. Like Ben & Jerry with their ice screen that "will transform the way that ice cream is consumed worldwide". Have fun with this one by including fake testimonials from customers who have already tried the time-traveling experience.
Remember, the key to a successful April Fool's Day email template is to be creative, unexpected, and entertaining. Have fun with it, and don't be afraid to think outside the box!
Want To Save Resources on Email Production?
Try our code-free drag-n-drop editor: it will save your resources and optimize the time spent on email design and coding. Make more email templates for April Fool's Day or any other event in less time with Blocks! Try it for free.
Want to craft top-notch email templates for other occasions? Read our articles about the International Women's Day, Christmas, or Easter.