Elevate Your Business with Effective Survey Emails
In the rapidly evolving world of business, constant feedback and insights from customers are of immense value. And one of the easiest ways to gather this information is via survey emails. A typical survey response rate is around 30%, but with the right tactics, this number can increase.
This article delves into the rich world of survey emails, unraveling their importance, structure, best practices, and the ways to create a compelling one. We'll give you all the techniques to create survey emails that will work (or improve the existing ones).
What is a Survey Email?
Survey emails contain a series of questions designed to collect data from subscribers, customers, or employees. For instance, a retail company might send a survey email to its customers asking about their shopping experience. The survey could ask about the customer's satisfaction with the product quality, delivery time, and the level of customer service.
A typical survey email may look like this: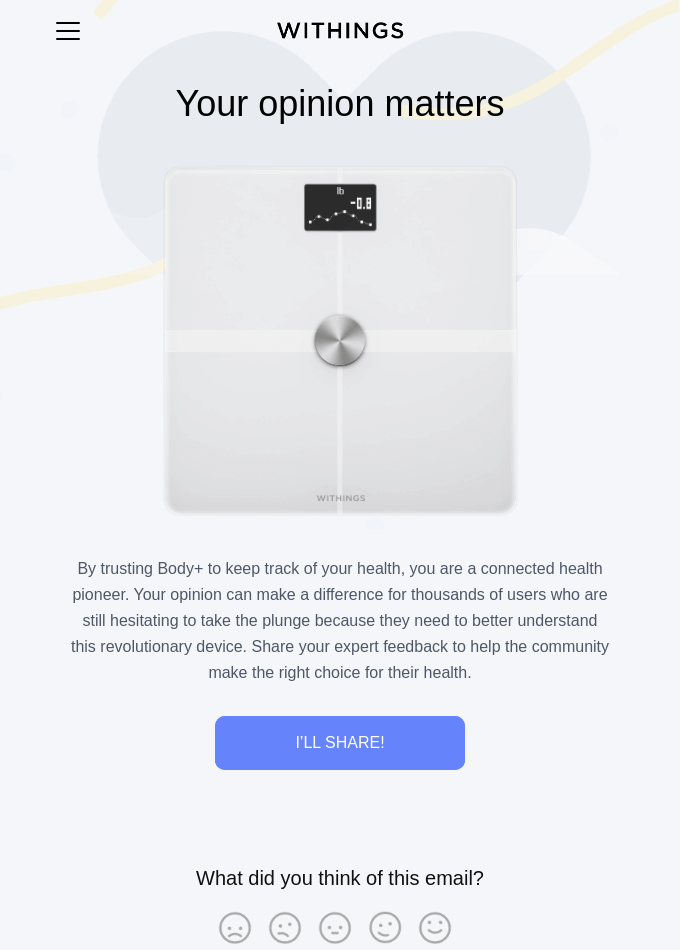 6 Reasons Survey Emails Are a Must for Every Company
Survey emails hold the key to a treasure of business intelligence and here's why you should start using survey emails now (if you haven't done it yet):
Customer engagement

. Survey emails open a dialogue with customers, showing them that their opinion is valuable. This is an opportunity to engage customers directly and build relationships by asking for their thoughts, suggestions, and criticisms. Such emails foster loyalty, leading to a higher customer retention rate and greater lifetime value.

Data-driven decisions

. The responses garnered from survey emails can be leveraged to make informed business decisions, be it refining a product, improving service, or aligning marketing efforts more closely with customer needs. 

Product improvement

. The feedback you receive can give you key insights into what customers think about your product or service. It can illuminate areas of excellence as well as highlight areas that may require improvement. This enables you to refine your offerings based on real customer feedback, ensuring your products or services remain competitive and aligned with customer needs.

Benchmarking performance

. Survey emails can be utilized as a benchmarking tool, allowing you to measure your company's performance against competitors or industry standards. This can highlight competitive gaps and reveal opportunities to enhance unique selling propositions.

Predicting customer behavior.

If you ask the right questions, you're likely to get insights into customer behavior, preferences, and buying patterns. This can help you predict future customer behavior and tailor your offers and marketing efforts accordingly.

Building brand advocates

. When customers feel their opinion is valued and their feedback has a tangible impact, they are more likely to champion the brand to others, promoting organic growth and strengthening your company's reputation.
What to Ask About in Your Survey Email?
Survey emails can be designed to explore various facets of customer experience. To make a decent survey, start with identifying the problem your survey should solve.
When you identified the problem, it's time to formulate a hypothesis. At this stage, you should come up with some ideas that will help you solve the problem. Compare the two variants:
"Delivery time is important for clients"

"Delivery time is more important for customers than free shipping X times"
Which of them will give you a better understanding of the situation? Make sure that your hypothesis isn't too obvious. Your hypothesis should be measurable: this way, after conducting the research, you'll understand what is vital for your clients and what type of services you should pay attention to.
When the hypothesis is ready, you should select the target audience. For example, instead of sending your survey email to all of your subscribers, you may send it only to the ones who purchased from your brand. At this stage, you need to make sure that the problem and the hypothesis are chosen for this exact segment. 
After that, you're ready to formulate the questions you'll incorporate into the survey email. We've gathered 4 types of questions that may help you make up your mind:
Customer Satisfaction

: This is one of the most common purposes for a survey email. Ask how satisfied the customer is with your product or service, and what could be improved.

Product Feedback

: Ask specific questions about your product or service. What features do they love? What could be improved or added? The best way to use this type of question in your survey emails is to send after-purchase emails. In this case, the customers will be more likely to leave feedback no matter whether they liked the purchase or not (people are even more likely to share their thoughts if they didn't like something about the product). 

Brand Perception

: Understand how customers perceive your brand. Do they view your brand positively or negatively? How does your brand compare to competitors? Although comparing your company to other companies in the industry can be useful, you may also give users some alternatives to your own products. Think about whether this information is vital before implementing it into your survey emails. 

Net Promoter Score (NPS): The NPS is a simple question asking the customer how likely they are to recommend your product or service to a friend or colleague. This single question can provide a wealth of insight into customer loyalty. Besides, when you don't overwhelm subscribers with too many questions, they're much more likely to answer. To those respondents who say that they would be happy to recommend your products or services to a friend, you may send referral emails offering this opportunity.
Of course, this list is not exhaustive. Analyze your audience, choose the right KPIs, and formulate the questions that will allow you to measure these KPIs: this way, your survey emails will give you a lot of food for thought.
How to Make Your Survey Perfect: 6 Tips
Creating the perfect survey email can seem daunting, but fear not. Here are six tried and tested tips to guide you through this process:
Perfect timing

. Timing is everything. Analyze the behavioral patterns of your subscribers and send survey emails at a time when your audience is most likely to respond.

Audience segmentation

. One size does not fit all. Segment your audience and tailor your surveys to meet the unique needs of each group.

Test your survey

. Before you send out your survey to thousands of customers, test it with a smaller group first. Make sure the questions are clear and that the survey works properly.

Clear objective

. Each survey should have a clear goal. Keep this in mind when drafting your questions.

Feedback loop

. Show respondents how their feedback has led to tangible changes. This will encourage participation in future surveys. Besides, companies rarely show the results of the surveys, keeping the audience unaware: this may let you stand out from the rest.

Keep it anonymous

. Anonymity can encourage honesty. Let your recipients know their responses will be anonymous if applicable (especially if you want subscribers to describe what they don't like about your company or ask questions that could make them feel insecure).
With these tips in mind, you're bound to create a top-notch survey for your survey email template.
How to Embed a Survey in an HTML Email Template
There are several ways to embed a survey into your email, and the best method depends on the length of your survey and your audience's preferences. Here's what you can do:
Hyperlink to an online survey platform

. You can include a hyperlink in your email that directs recipients to an online survey platform such as SurveyMonkey, Google Forms, or Typeform. To encourage the subscribers to take part in your survey, add a brief description with a CTA button to your survey email.

Embed inline survey questions

. Using HTML forms, you can embed short surveys directly within the email itself. This is especially useful for simple surveys like NPS, where only one question is asked. Use radio buttons, checkboxes, or dropdown menus to allow recipients to select their responses.

Use a feedback rating system

. Instead of a traditional survey, you can include a rating system in your email template. Utilize star ratings, smiley faces, or thumbs-up/thumbs-down icons to gather feedback.
How to Embed a Survey in an Email with Blocks
With Blocks, our no-code drag-n-drop email builder, embedding surveys into email templates is just a matter of a few clicks. 
If you want to embed a one-question survey right within the template, here's what you should do:
1. Go to the "Blocks" section on the right, click on the "Select type" button, and find "Polls".
2. When you find the poll you like, simply drag it to the necessary part of the email and drop it there.
3. All you have to do now is adjust the text and the colors to match the style of your survey email (and don't forget to add hyperlink URLs to the buttons to collect the results of your survey).
If you want to place your survey on a special online survey platform, the process is even easier:
1. Go to the "Blocks" section on the right, click on the "Select type" button, and find "Buttons".
2. Choose the button you want to add to your survey email and drag it to the template.
3. Style the button to match your survey email and add the hyperlink URL that will lead to the online survey platform.
5 Survey Email Best Practices
A masterfully crafted survey email template is like a work of art. Here are five best practices to elevate your survey email template to the realm of perfection:
Be concise and clear

. Keep your email and survey as short and simple as possible. Clarity and brevity increase response rates.

Personalize your emails

. Personalization can significantly improve engagement rates. Use your recipient's name and tailor the email content based on their past interactions with your brand.

Provide incentives

. Incentives like discounts or freebies can greatly improve response rates. Make sure any incentive is communicated in the email. To increase the open rates of your survey email, it's better to mention any incentives in the subject line.

Use a clear call to action (CTA)

. Make sure it's clear what the recipient needs to do. Whether it's clicking on a link to a survey or answering questions in the email, your CTA needs to be unmistakable.

Add branding. Incorporate your company's logo into your email header and stick to one color scheme for brand recognition.
In case you want to learn some of the best email design practices, you can check out our Litmus Live recap. Several email design experts shared their knowledge and experience and we got it all in one place.
Survey Email Subject Lines: Ideas and Examples
A captivating subject line is the first step towards ensuring that subscribers will open and read your survey email. Subject lines for survey emails should be catchy without taking up too much space. If you go for phrases like "We need your help", "Your opinion matters", and other commonly-used survey subject lines, your email is likely to remain unnoticed. 
We decided to give you a little nudge in the right direction and created a list of ready-to-use subject lines for survey emails that will help you stand out:
"Share your thoughts for a 20% off coupon!" This subject line offers a tangible incentive, making the reader more likely to click and participate.

"

Help Us Create the Products You Love

". This subject line shows that the reader's feedback directly impacts the products.

"

You Speak, We Listen – Share Your Thoughts

". This survey subject line assures the reader that their voice will be heard.

"

Your Feedback = Better Services

". Here, the reader understands the direct correlation between their feedback and improved services.

"

Help us improve our service – quick survey inside!

" This line communicates the purpose of the email and also assures the reader that it won't take much of their time.

"

Can We Ask You a Few Quick Questions?

" This subject line for a survey email is direct and respectful of the reader's time.

"

Got a Minute? Help Us Improve

". This subject line creates a sense of urgency and appeals to the reader's helpful nature. Besides, it shows that the survey won't take much of their time. 
We've also looked through hundreds of survey email templates by well-known brands to help you learn from the best. Here are 11 email survey subject lines we've liked most of all:
Got a sec? We have a quick question. (Food52)

Love It? Let Us Know (Michael Kors)

✅ SURVEY: What Did You Think of the February Box? (CatLadyBox)

Tell us what you think and get 15% off your next order! (Timberland)

Into It? ❤️or 💔 (Daily Harvest)

Was It Love At First Use? We'd Love Your Feedback (NYX)

When it comes to reviews… (Boden (UK))

👍 or 👎 ? (Stitch Fix)

We don't always send out surveys, but when we do… 😎 (Gentleman's Box)

Arc Update | Your feedback = our new features (The Browser Company)

Help Lonely Planet map our next chapter 🗺️ (Lonely Planet)
Now you have everything you need to get inspired and create the perfect subject line for your survey email. Don't be afraid to make changes and experiment with your subject lines to find the right one. 
Survey Email Templates: Real-world Examples
One good thing about digital communications is that they're available for everyone interested. And if you subscribe to your competitors' newsletters and analyze their emails, it will help you become savvier in your sphere of digital marketing. Try searching through your inbox using the words like "feedback", "survey", "opinion", and other words of the kind: you're likely to find examples worth paying attention to. 
And we want to share with you 15 survey email examples from popular brands that you may use for inspiration. 
Analyze particular segments of users
We can assume that Scoot sent this email survey only to a particular segment of subscribers: the ones who haven't used Scoot's services for X days. Such segmentation allows them to increase the quality of the answers because the company analyzes the answers of those who have something to say. It's also cool that you can automate such email campaigns and create a trigger that will send this survey email to those users who haven't made a purchase in X days and send this email once in Y days.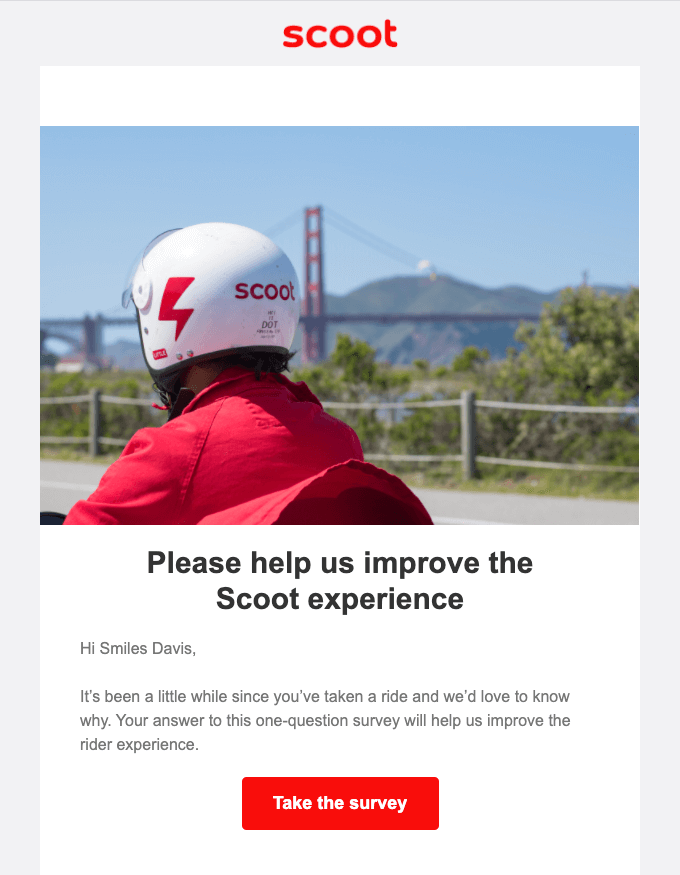 CEO asks to take part in a survey
When the email is sent by the CEO of a company, it elevates the importance of the email in the eyes of the subscribers. At the same time, it's difficult to say how much part CEOs take in analyzing the results of such surveys. It's quite likely that the company uses other specialists to systematize and analyze all the answers. However, CEOs probably read at least some of the reviews: if you care about the thing you create, it's vital to you. 
Here's an example of a survey email sent by the CEO of Cometeer:
Ask for help
When subscribers feel part of a close-knit community and are loyal to a brand, they're likely to respond when the company asks them for help. You'll increase your chances if you share the challenges you're going through with the readers and tell them how the results of this survey may help you become even better. 
That's just what Lonely Planet does:
Show how the survey will benefit the user
Subscribers are much more likely to take part in your survey if they understand its value. For example, the survey email by Vimeo promises its users that they'll get a personalized set of tools based on the results of the survey:
You can also use the survey email to increase personalization in your future newsletters. This way, subscribers will know for sure that after they take the survey, they will receive content tailored to their specific needs. Here's a good example by Skillshare:
Share the results 
Subscribers often take surveys from various brands that pursue their own goals but they rarely see the results of these surveys. After you conduct the survey and analyze its results, share the main ideas with the users: it may increase their loyalty and engagement with your future campaigns. 
Look at the example by Hers:
The Code Camp team found a catchy way of sharing survey results with their subscribers. At the end of the camp, they asked children to give their feedback asking whether they'd enjoyed the camp. After that, the team turned these results into emails and sent them to the parents. Such emails will almost certainly get a high Open rate (what parents will skip emails telling them about their children's lives?). Apart from that, this email is likely to increase brand loyalty: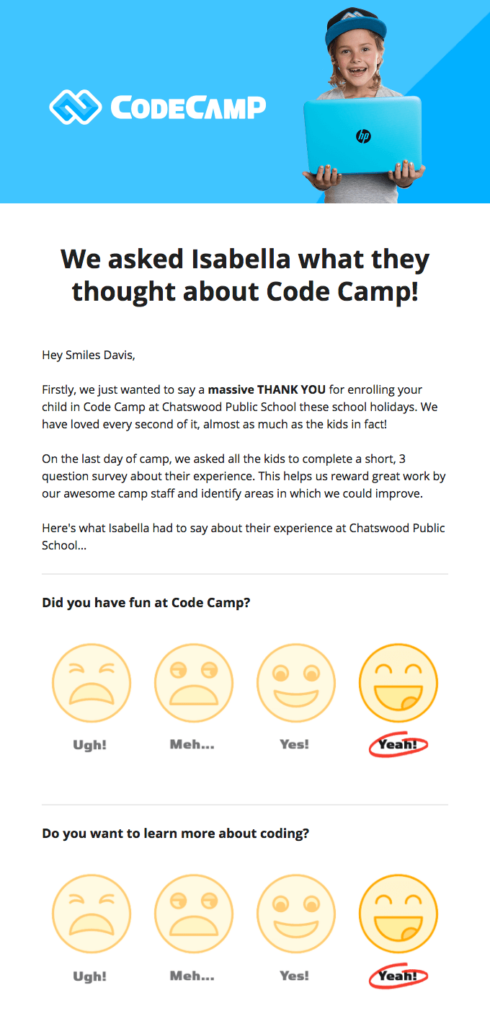 Start by asking a question
We all know it's much easier to skip the email than try to work out its content and whether it will be useful. But when someone asks you a simple personalized question you can answer in a minute, you're likely to do it. 
So instead of saying something like "Share your feedback" or "Leave us a review", EyeBuyDirect started their email by asking a simple question "Do the frames fit?". They placed the question in their survey email subject line, making the content of the email obvious to the readers:
Give visual support
In most of the survey emails, newsletter banners and images within the survey forms are included for aesthetics purposes only. However, in some cases, visual elements are a must if you want to get more accurate results. 
In the survey by Third Love, images help respondents choose the option that describes them best of all.
Share the news and ask for content preferences
When you ask users to take part in choosing the content you create, they're likely to respond. Besides, subscribers will interact with your emails more eagerly if they know that they've chosen the topic themselves.
To make the results of the survey more predictable, you may ask the readers to choose from several options, just like Framer did:
Ask why subscribers stopped using your products/services
You may think of hundreds of various reasons your customers leave, but you'll never know for sure. The only way is to ask the users themselves. Of course, many people will ignore your survey email and others may say unpleasant things about your company. Still, it'll give you some food for thought and may help you avoid similar problems in the future. 
Here's an example by Seeso:
Give additional motivation
Helping their favorite brand to improve can be sufficient motivation for some of the users, but if you offer some perks for completing the survey, you'll increase the number of people participating. Don't forget to add your offer to the survey email subject line to attract more respondents. 
Take a look at the example by Nike:
Apart from offering a gift card, you may also think about what your target audience is big on. This way, your offer will become much more tempting for the subscribers. 
For example, Golden State Warriors offered basketball lovers to take part in a survey and get a chance of winning a jersey with an autograph from a famous basketball player.
Add a short NPS survey
If you don't want to overwhelm your subscribers with too many questions but still want to know their opinion, a one-question NPS survey will do the task. Although some companies underestimate the power of NPS surveys, research by the London School of Economics shows that you'll see a 1% growth in revenue if your NPS score increases by 7%.
Conclusion
Survey emails are indispensable tools as they provide invaluable insights that drive growth and improvement. Crafting a compelling survey email involves a blend of art and science: it requires a careful understanding of your audience, clear and concise communication, and in some cases, a little incentive to coax participation. 
With these insights and the ideas for inspiration we gave above, you are well on your way to creating effective survey emails that yield the responses you seek. Remember, your customers' feedback is the compass that guides your business toward success.