How to Create an Email Signature: Step-by-Step Guide
An impressive email signature not only acts as a virtual business card but also reflects your brand and personality. Designing an eye-catching signature, however, can be a daunting task for those not well-versed in HTML or graphic design. 
With Blocks, you can create a gorgeous email signature without any coding or design skills! Follow our step-by-step tutorial to effortlessly create exceptional email signatures! Whether you're a beginner or an advanced user, creating a professional and eye-catching email signature has never been easier. 
Step 1. Sign in and create a project in Blocks
Begin by signing into your Blocks account. If you haven't already done it, create an account and then start a new project. Within the project, create an email template, and you're ready to start designing your email signature.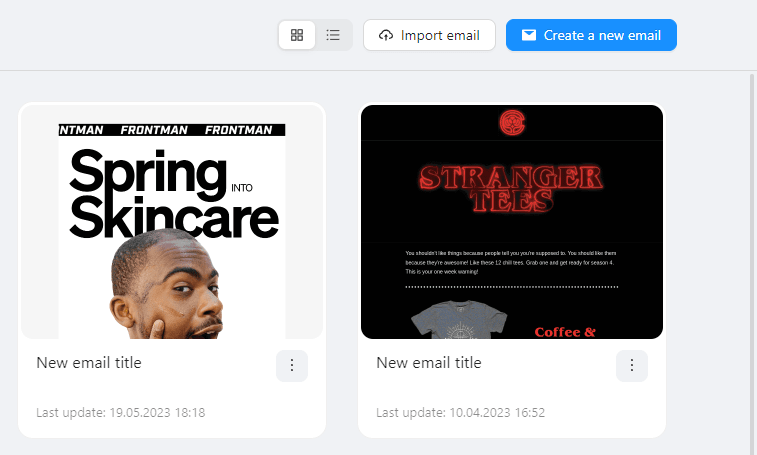 Step 2: Prepare a template for your email signature
In Blocks, email templates are made up of empty blocks and elements. You can add elements (like text, images, or social icons) into empty blocks to design your email signature. Alternatively, you can use ready-made blocks, which include a variety of pre-designed footers or email signatures from Blocks' collection.
Step 3: Add an image to your email signature (optional)
If you'd like to include an image (for example, your photo or your company's logo) in your email signature, Blocks makes it easy to add one. First, open the image center in the panel on the left of your email template.
If you open the image center, you'll see three ways to add an image to your signature.
upload

your own image from your device. The image will appear in your email and will be safely stored on our server in case you want to use it later. 

select

an image from the collection of stock images. Our stock images are available for free to Blocks users.
AI image generator:

keep an eye out for the upcoming feature that will allow you to create AI-generated images right within the email editor!
Step 4: Edit the image in your signature
Blocks features an intuitive image editor that lets you customize your chosen image. You can draw, crop the image, add text, and more to ensure your image complements your email signature perfectly.
Step 5: Edit the text
Customize your email signature's text with Blocks' easy-to-use text editor: choose the right font, size, and color to match your brand or personal style.
Step 6: Add social media icons
Incorporate your social media presence into your email signature by adding ready-made social media icons from Blocks. All you need to do is input the links to your social profiles, and you're good to go.
Step 7: Your signature is done!
Voila! Your professional and eye-catching email signature is now complete and ready to be used in your emails.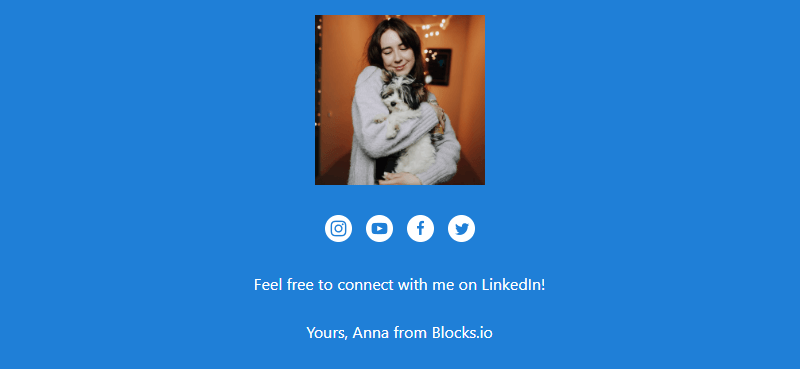 The Importance of Email Signatures
A well-designed email signature is much more than just a sign-off at the end of your email. It serves several important functions that should not be underestimated. Let's dive deeper into the significance of email signatures and the various benefits they offer.
1. Brand Identity and Consistency
Email signatures are an excellent opportunity to reinforce your brand identity in every email communication. Your email signature may include your brand colors, logo, and typography, so you can create a consistent and professional image that helps build brand recognition and trust among your recipients.
2. Contact Information
A comprehensive email signature should include essential contact information, such as your name, title, phone number, and email address. This information makes it easy for recipients to get in touch with you.
3. Social Proof
Include links to your social media profiles, personal website, or even your company's latest blog posts: this way, you will provide recipients with additional opportunities to learn more about you or your business. It helps in building credibility and authority, which are crucial factors in fostering trust and relationships with your contacts.
4. Call to Action (CTA)
Include a clear and compelling call to action in your email signature if you want to drive engagement and conversions. Whether you're promoting a new product, encouraging readers to sign up for your newsletter, or directing them to your latest blog post, a well-placed CTA can yield impressive results. With Blocks, you can add a CTA button to any element of your email template, including the signature. 
5. Personalization and Humanization
A unique and visually appealing email signature can add a touch of personality to your emails, which can help humanize your brand and create a more personal connection with your recipients. 
You can make your email even more touching if you add special event signatures or holiday email signatures. 
6. Legal and Regulatory Compliance
In some countries and industries, it's mandatory to include specific information in your email signature, such as your company's registration number, registered address, or VAT number. Ensure that your email signature is compliant with these requirements. 
7. Different Signatures for Different Roles
Having different email signatures for various roles or departments within your organization can help convey a sense of professionalism. For example, a sales representative's email signature might include a link to a promotional offer, while a customer support agent's signature could contain their direct phone number for easy access. Of course, there are special requirements for the CEO's email signature. 
Conclusion
In conclusion, a well-crafted email signature plays a crucial role in creating a professional image, fostering trust, and encouraging engagement from your email recipients. 
Create an email signature with Blocks to achieve beautiful results quickly and with no design skills! If you still have any questions about creating an email signature or any other element with Blocks, contact our support team.