How AI Can Change Your Email Marketing Game: 11 Expert Tips
"What's the biggest advantage AI has given you in terms of email marketing?" That's the question we asked specialists with years of experience in email marketing. What you'll find inside the article:
5 reasons you can't avoid AI any longer;

11 AI insights from 8 experts;

9 actionable tips for using AI in your email marketing;

3 predictions for AI regulations in the email marketing sphere.
Why You Can't Avoid AI Any Longer
According to a recent survey by IBM, 1 out of 2 companies saw benefits from implementing AI tools into their work, the biggest advantages were: cost savings and efficiencies (54%), improvements in IT or network performance (53%), and better experiences for customers (48%). In 2023, it's pretty obvious that AI isn't just an optional enhancement for email marketing anymore: it's becoming a necessity. 
Here are 5 key reasons you can't avoid AI in email marketing any longer:
Keeping up with the competition

. AI adoption is becoming more common in the business world, and email marketing is no exception. Companies that fail to adopt AI risk falling behind their competitors in terms of efficiency, innovation, customer satisfaction, and overall performance.

Increasing efficiency and speed

. One of AI's most significant benefits is its ability to automate and streamline complex tasks. With AI, businesses can quickly analyze vast amounts of data, conduct A/B testing on a massive scale, generate content, and more. Such tasks would be prohibitively time-consuming and costly to perform manually.

Reducing сosts

. For instance, AI can automate repetitive tasks like sending follow-up emails or segmenting audiences, which would otherwise require a significant amount of manual work. This means companies can potentially save on labor costs and reallocate resources to more strategic initiatives. 

Adapting to consumer expectations

. Whether they realize it or not, consumers are becoming more accustomed to AI-powered experiences: they receive personalized recommendations, interact with chatbots, get helpful notifications, and so on. As this trend continues, consumers will increasingly expect such experiences from all businesses in all the communication channels possible (including emails).

Implementing new features

. For instance, machine learning algorithms can provide predictive analytics and intelligent automation, capabilities that are hardly possible without AI. One of the examples could be using AI for the send time optimization to send emails to the customers when they're most active. 
While every company is different, you'll definitely find a way to revolutionize your email marketing using AI tools.
How AI Can Help You Now: Tips and Expert Advice
In this section, we've combined our tips along with expert advice from email marketing professionals. Here's what you can do with the help of AI tools in 2023 (the list is not exhaustive):
Image generation 
AI-powered tools create unique, visually appealing images that can significantly enhance email marketing campaigns. There are lots of tools on the market, probably the most popular being DALL·E 2, Stable Diffusion, and Midjourney.
Want to try generative AI in your emails? Blocks, our no-code drag-n-drop email builder, offers this function! Just follow these simple steps:
1. Create a free account (or sign in, if you already have one).
2. Choose an email template from the gallery or create one from scratch.
3. Click on the image section, then on the "AI" button, and write your prompt. Just as simple as that.
Send Time Optimization
AI has significantly improved the effectiveness of email campaigns through send time optimization. Tools like Iterable or Emarsys use AI to analyze each recipient's past behavior, determining when they are most likely to open an email. This process considers various factors, including the recipient's time zone, their typical email checking times, and even the days of the week they're most active. 
Apart from that, AI tools continuously learn and adapt, refining their send time predictions based on the latest user behavior. Thus, AI enables a level of personalization that would be virtually impossible to achieve manually.
Brainstorm 
When you create tons of emails on a regular basis, at some point, you may find yourself in a situation where you don't know what to write about: all the ideas you get seem too trite, boring, or difficult to bring to life. Here's where AI can step in. 
Tools like ChatGPT and Jasper AI can be helpful in the brainstorming process, providing a fresh perspective and generating ideas that a human team might not consider. For example, a marketing team could feed the AI tool data on past successful email campaigns, and the tool could analyze this data to suggest similar ideas for future campaigns. Moreover, these AI tools can produce numerous ideas in a short amount of time, allowing for rapid iteration and refinement of concepts.
If you don't feel like sharing info on your previous campaigns with AI, provide the tool with all the details it should take into account when brainstorming ideas: you may specify email subject, length, tone, target audience, and content type. 
Here's what your conversation may look like: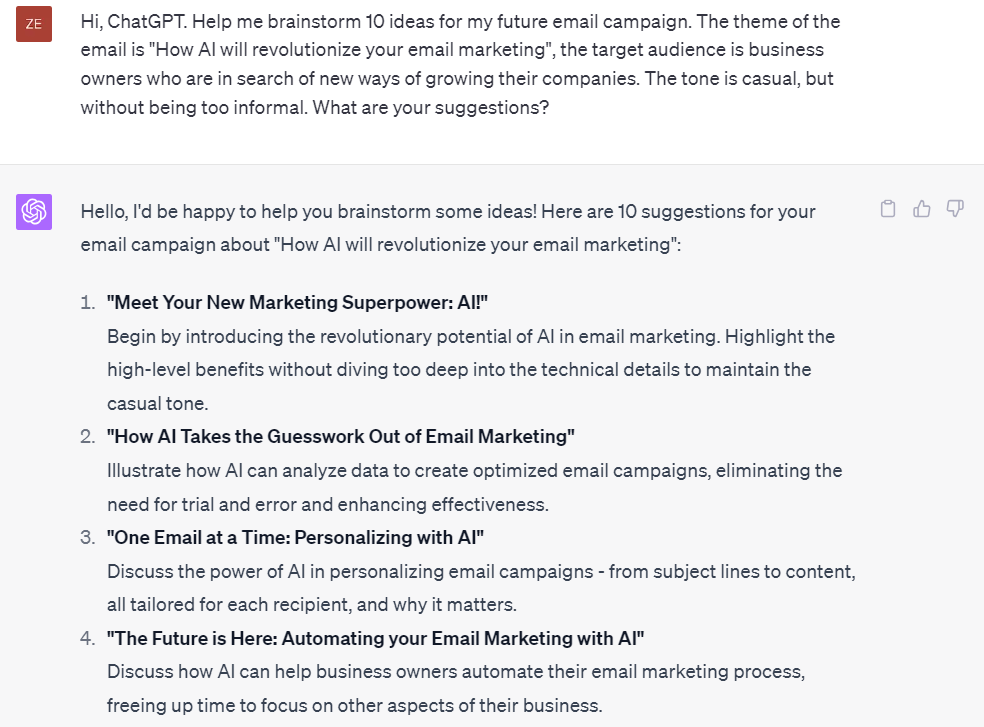 Research
One more application of AI tools is using them to gather and analyze information to find valuable email marketing insights. AI-powered web scraping tools can extract large amounts of data from various online sources: one of the examples could be Zyte. This could involve scraping competitor websites, social media platforms, and industry blogs to gather information on current trends, popular keywords, and effective marketing strategies. 
Another thing you can do is use tools that have instant access to the web (for example, Bing or the beta version of ChatGPT 4) to search for the data you need. You can also give these tools some information concerning your previous campaigns and ask them to search for the patterns that made those campaigns successful. Of course, you should check all the information AI tools give you, but that's already a huge time-saver.
Predictive Analytics
AI can predict how customers will respond to different email marketing strategies. Tools like Adobe Marketo Engage and Salesforce's Einstein can analyze past interactions and various other data points to predict customer behavior. This gives you immense power: you can tailor your email campaigns to address these predictions and get higher engagement and conversion rates.
When you identify potential issues before they become a problem (for example, a high-risk churn rate), you can proactively address these concerns, improving customer retention rates.
Personalization
Personalized emails show 6 times higher transactional rates in comparison with standard emails. Here's when AI can step in and significantly enhance this process. AI-powered tools like Optimizely or Dynamic Yield can analyze large amounts of customer data to provide highly personalized email content. They can track individual customer behaviors and preferences, such as browsing history, purchase history, and engagement with past emails, and use this information to tailor future emails. 
Here's what they can do:
recommend products similar to those the customer has previously viewed or purchased;

personalize the email subject line to include the customer's name or recent product interest;

personalize the send time of emails based on when individual customers are most likely to engage with them.
Writing email copy
AI-powered copywriting tools, such as ChatGPT and Jasper, can generate high-quality, engaging email copy based on the information you provide. For example, you can input information about a product or a service you offer, and the AI tool can generate a persuasive product description, a compelling call-to-action, or an engaging email. 
One more good thing about such tools is that you can use them to adapt the same email copy for various target audiences, tones of voice, and other characteristics. AI tools don't have a soul (yet): they won't get mad at you for asking them to make changes to the text. 
In the example below, we asked ChatGPT to pretend that it's an email marketer for a movie streaming platform announcing its new feature (collaborative mode) to the subscribers. The task was to break the subscribers down into age groups and tailor the headlines to the segments. Here's what I got: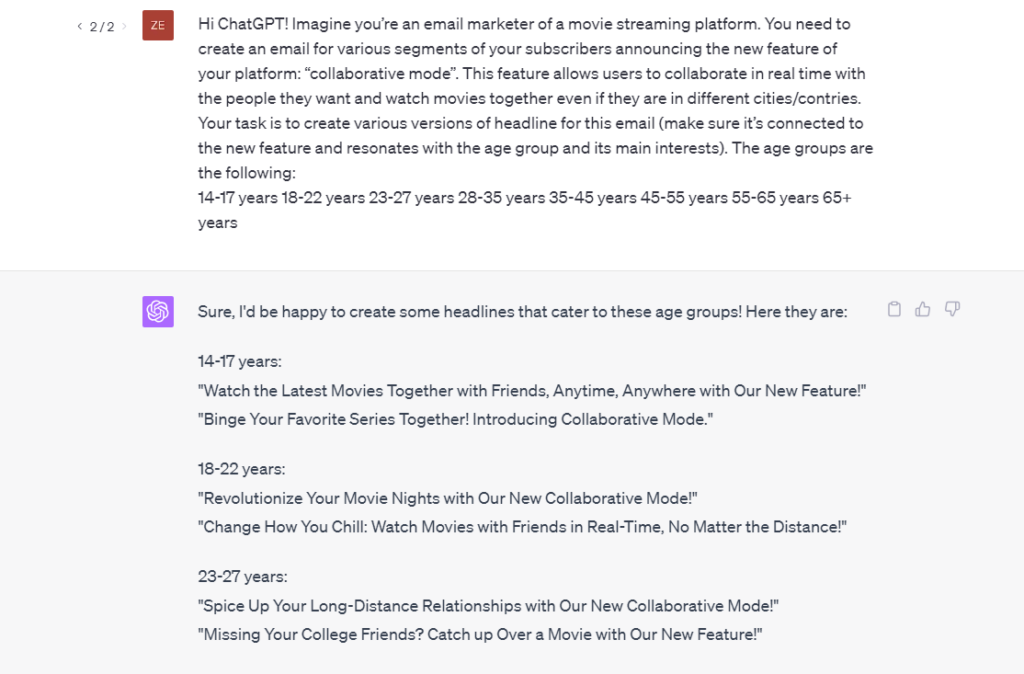 If you want to make the process even smoother, check out Blocks' AI Assistant. It has the same functions as ChatGPT and can help you with all the writing copy tasks you may need. Here's how it works:
1. To access AI Assistant, log into your Blocks account and open any template you like. 
2. Click on the button with the square face in the panel on the right.
3. Depending on your task, choose one of the pre-assigned roles or create one yourself. Some of the roles available now are Subject line & Preheader generator, Translator, Copywriter, Proofreader, Marketer, Coder, and Psychologist.
4. After you've assigned the AI assistant with a role, type in your task and let the Assistant do its job.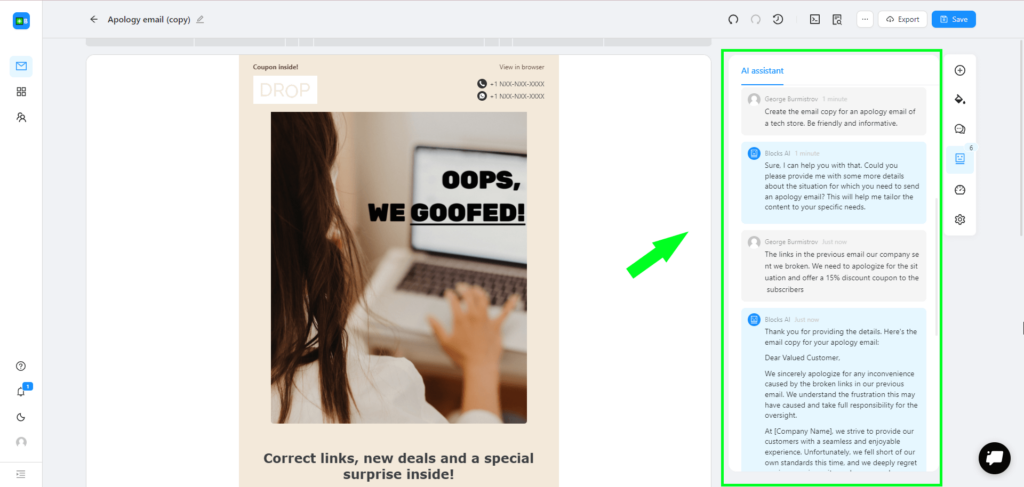 Subject line optimization
For 64% of people, subject lines are the reason they choose to open or delete an email. Even if you create a top-notch email, no one will see it unless you manage to grab readers' attention and make them open the email. Fortunately, AI can help.
Some AI tools (for example, Phrasee) use natural language processing and machine learning to create compelling subject lines tailored to your audience:
These platforms can generate numerous variants, each reflecting different emotions or urgency levels, and predict their effectiveness based on past campaigns. This automated process eliminates the guesswork and manual testing, saving time and improving results.

Apart from that, such tools stay in line with your brand's voice adapting the subject lines to your style. Hence, adopting AI for subject line optimization could lead to substantial improvements in your email campaign performance.
If you're searching for a simpler solution, you may also resort to Blocks' AI Assistant, ChatGPT or some other generative AI tools. Simply describe the target audience, the main subject of the email, and other details you find necessary, and you're done. Here's what you can do: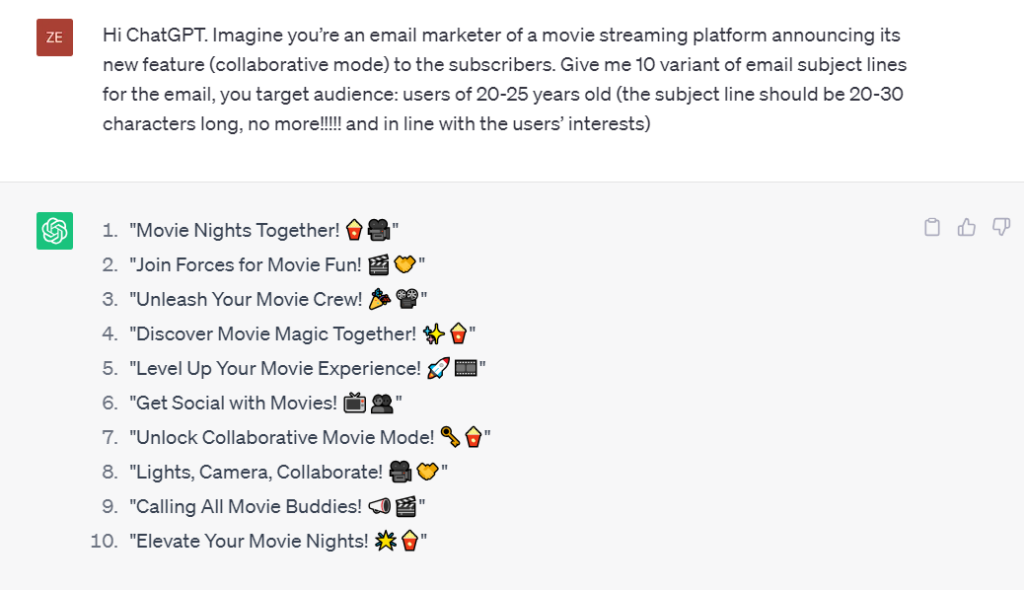 A/B testing
About 59% of companies run A/B tests for their email marketing campaigns. At the same time, only 1 out of 8 A/B tests show significant results. A quick conclusion: if you perform A/B tests manually on a regular basis, you're likely to waste too much time and effort without seeing any big changes. However, AI can revolutionize this process.
Such tools like Optimizely and Kameleoon allow you to perform advanced A/B tests.  This extends to every aspect, including headlines, content, images, CTAs, and layouts. AI's machine learning capabilities ensure it learns from each test, sending your subscribers the copy that shows better results. 
If you use a combination of generative AI to produce several variants of email copy, CTAs, images, and other email parts and an A/B testing tool to automate the process, you're likely to see better engagement without spending extra effort. 
Email List Cleaning
AI can streamline the process of maintaining a clean email list. For example, ZeroBounce uses machine learning to analyze email addresses, which are then assigned a score from 1-10, depending on how active they are. This way, you can identify inactive and invalid email addresses and remove them from your sending list.
Legal Disclaimer
Although we're not legal experts, we see a few ways in which AI tools might be regulated in the near future:
Data privacy and consent

. As AI becomes more advanced at processing personal data for insights, we might see stronger regulations around how AI can use data, especially in terms of email marketing. Consent is already a crucial part of email marketing due to GDPR and other privacy laws, and these may be further tightened to ensure that AI doesn't misuse data or overstep boundaries.

Copyright.

As for now, there are no laws regulating the authorship in the sphere of AI. For example, you can use the images you generate with the help of Midjourney, Stable Diffusion or DALL·E 2 in your promotional campaigns. Still, some brands and individual artists start using image generation companies for training the AI tools on their works without any consent. That's why we may see some copyright regulations in the near future. 

Accountability

. Finally, laws might seek to establish who is responsible when an AI tool makes a mistake, like sending an inappropriate email or causing some kind of harm. Is it the email marketer who used the tool, the company that created the AI, or the AI itself? This is a complex question that the legal system will probably try to answer.
Ultimately, the goal of these regulations would be to protect consumers, promote fairness, and maintain trust in digital marketing. As email marketers, we should stay informed about these legal changes and adapt our practices accordingly.
Final thoughts
AI tools are a powerful way to upgrade your email marketing, some of its benefits include: keeping up with the competition, increasing efficiency and speed, reducing costs, adapting to consumer expectations, and implementing new features. 
Among the things AI can help you with are:
Image generation (Blocks, Midjourney, Stable Diffusion, DALL·E 2)

Send Time Optimization (Iterable, Emarsys) 

Brainstorm (ChatGPT, Jasper)

Research (Zyte, Bing, ChatGPT 4)

Predictive Analytics (Adobe Marketo Engage, Salesforce's Einstein)

Personalization (Optimizely, Dynamic Yield)

Writing copy (Blocks, ChatGPT, Jasper)

Subject line optimization (Phrasee, ChatGPT) 

A/B testing (Optimizely, Kameleoon)

Email List Cleaning (ZeroBounce)
Want to try out AI image or email copy generation for your next email marketing campaign? Set up your free Blocks account and get the ball rolling!