Guide to Salesforce CPQ Certification 2023 (Updated)
Salesforce CPQ (Configure, Price, Quote software) is a powerful tool that streamlines the quoting process, allowing sales teams to generate accurate, professional, and customer-friendly quotes with ease. Obtaining the Salesforce CPQ Certification can significantly boost your career prospects. In this article, we will delve into the details of Salesforce CPQ Certification and the steps to prepare and succeed in the certification exam.
Why Should You Get Salesforce CPQ Certification
There are several reasons why you might need to get Salesforce CPQ certified: 
Career Advancement:

the Salesforce CPQ Certification demonstrates your expertise in the CPQ domain and increases your chances of securing higher-paying roles.

Enhanced Credibility:

being a Salesforce CPQ certified specialist, you become a more reliable expert and showcase your commitment to continuous learning and proficiency in the Salesforce platform.

Increased Demand:

as businesses continue to adopt Salesforce CPQ to simplify their sales processes, the demand for certified professionals has grown exponentially.

Networking Opportunities:

the certification opens doors to networking opportunities within the Salesforce community: you can connect with other professionals and potential employers.
What Are the Requirements For Receiving Salesforce CPQ Certification?
Let's overview the essential requirements for everyone who wants to pass the Salesforce Certification exam. 
Salesforce experience: it's highly recommended that you have hands-on experience with Salesforce, specifically with the Salesforce CPQ application. You should understand the platform's functionality and be familiar with the CPQ process.

CPQ knowledge: you should have a solid understanding of CPQ concepts, such as product configuration, pricing, quoting, order management, and contract management. You'll need to be familiar with Salesforce CPQ's features and capabilities, as well as how to customize and optimize the platform for various business requirements.

Training and preparation: it's recommended to take advantage of training resources to gain a deep understanding of Salesforce CPQ and the best practices for implementing it.

Pass the certification exam: to become Salesforce CPQ certified, you must pass the Salesforce CPQ Specialist exam.
The Salesforce CPQ Certification Exam: Overview 
The Salesforce CPQ Certification exam consists of 60 multiple-choice questions, which you must complete in 105 minutes. You need to score at least 65% to pass the exam.
The exam covers the following key topics: 
CPQ Platform: the basic components and functionality of the Salesforce CPQ platform, including product configuration, pricing, and quoting.

Product and Price Configuration: how to set up and manage product bundles, options, features, and pricing structures.

Quote Templates and Output Documents: creation and customization of quote templates, as well as the generation of output documents.

Discounting and Pricing Methods: discounting methods, price rules, and pricing methods that help you offer dynamic pricing to customers.

Contract Management: the lifecycle of contracts, amendments, and renewals within the CPQ system.

Approvals and Order Management: the approval process for quotes and orders, as well as managing orders within Salesforce CPQ.
The exam is proctored online, and you can take it from home. 
The exam covers the following topics:
CPQ Platform: 9%

Bundle Configurations: 17%

Product Selection: 12%

Pricing: 15%

Discount Schedules: 8%

Quote Templates: 11%

Contracting, Order Management, and Amendments: 18%
How to Get Prepared for the Salesforce CPQ Certification Exam
There are several ways to prepare for this exam. Let's explore each of them! 
1. Review Salesforce CPQ Documentation 
Study the official Salesforce CPQ documentation and exam guides to gain a deeper understanding of the features, functionality, and best practices.
The official documentation also explains the requirements for taking an exam, the target audience of the exam, details of the examination process, and so on. 
2. Study With the Official Salesforce Training and Workshops
Salesforce offers a CPQ training, "Salesforce CPQ Basics," that is available on Trailhead and covers all the necessary concepts and skills for the exam. This instructor-led course can be taken online and is highly recommended for exam preparation. The course includes an introduction to Salesforce CPQ, learning about quotes, calculating prices, managing contracts, and more.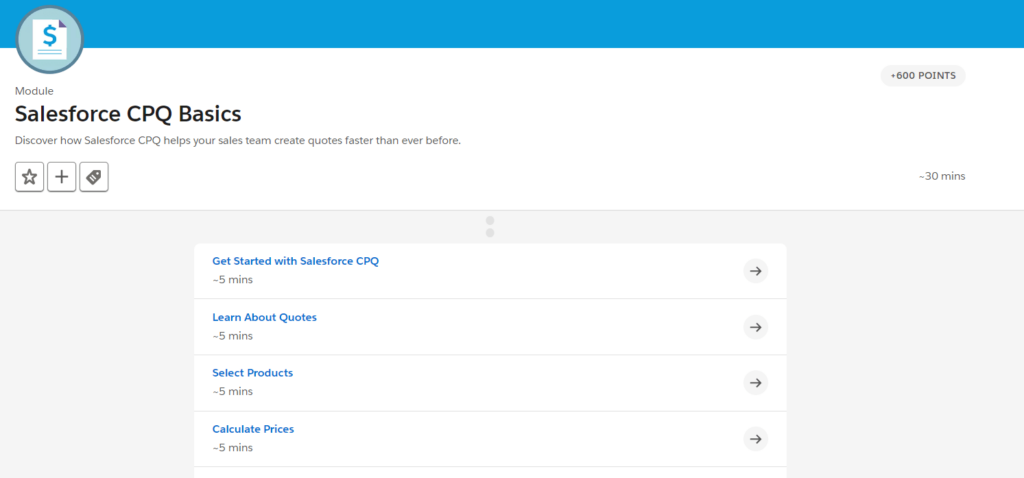 What's more, you can take part in a special workshop that will enhance your understanding of Salesforce CPQ even more. 
3. Get Ready With the Trailmix by Salesforce Trailhead

 
Salesforce CPQ trailmix is a set of educational materials that help you significantly improve your performance and prepare for the certification with ease. The trailmix includes tasks, modules, and links to the most important resources for exam preparation, for example: 
projects that teach you how to build Salesforce CPQ solutions;

links to guidelines, rules, and guides;

tasks that let you understand how to deal with products, approvals, quotes, and more;

modules that explain the concepts of Salesforce CPQ.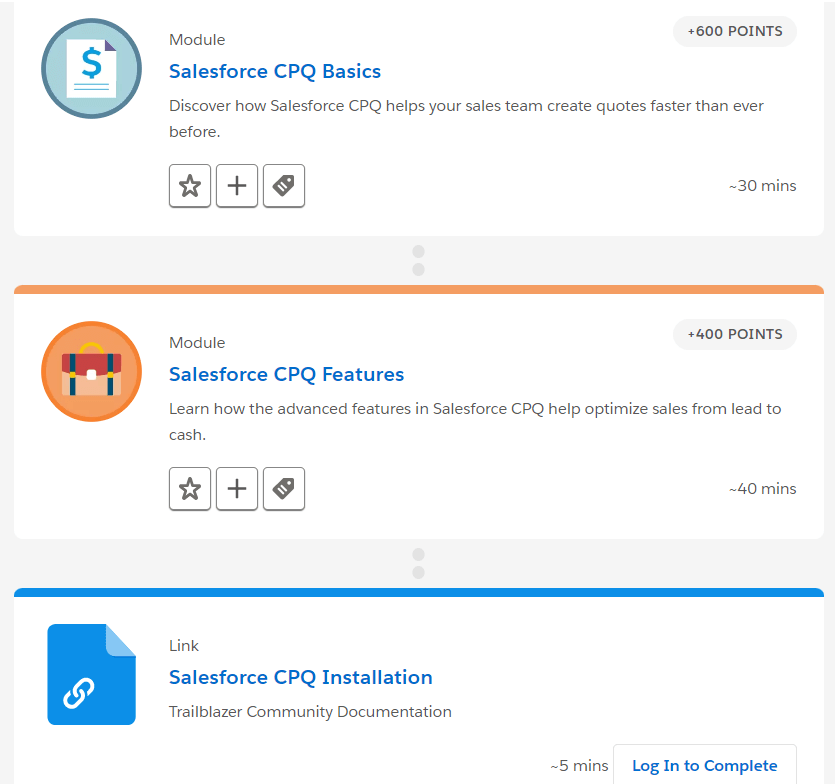 4. Join Study Groups and Salesforce Communities
Connect with other professionals preparing for the Salesforce CPQ Certification exam through study groups and Salesforce communities. Sharing experiences, resources, and tips can be highly beneficial in your exam preparation journey.
For example, join the official Trailblazer community to prepare for the exam: you can search for the topics you want to discuss, ask questions, and help peers deal with their questions and issues. 
According to one of the certified Salesforce experts, you can get prepared and successfully pass the CPQ certification exam in 14 days.
Conclusion
The Salesforce CPQ Certification is a valuable credential that can open new doors and accelerate your career growth in the Salesforce ecosystem. With the right preparation and determination, you can successfully achieve this certification and enjoy the numerous benefits it offers. 
Follow our tips to get certified: 
Review official documentation;

Take part in courses and workshops;

Get ready with the Trailmix;

Join Salesforce CPQ study groups and communities.