The Guide to Salesforce Marketing Cloud Certification
Want to get a Salesforce Marketing Cloud certification, but don't know where to start? Read our guide to learn more about the 4 Marketing Cloud certificates and understand which of them suits your needs best. 
What is Salesforce Marketing Cloud Certification?
Marketing Cloud certifications are official credentials by Salesforce. They give you an opportunity to enrich your resume, prove your experience, and check your knowledge of the features. 
Each Salesforce Marketing Cloud certification program includes a set of skills one needs to acquire to pass the exam. Depending on the qualification you need, you might have to study data management, analytics, email marketing practices, and some other areas for passing the exam. Read on to learn the requirements for each Marketing Cloud certification. 
Salesforce offers several kinds of certifications for the product users. Mind that we'll touch upon solely Marketing Cloud certificates in this article. 
4 Marketing Cloud Certifications from Salesforce
Each Marketing Cloud certification requires certain skills and expertise in Salesforce. Let's talk about each certification program to understand which one suits your needs and what skills you should acquire to pass the exam. 
1. Marketing Cloud Administrator 
Marketing Cloud Administrator is the first credential offered by Salesforce. This program will suit you if you want to:
work with end users and support their Marketing Cloud projects;
act as an administrator of Marketing Cloud accounts;

find solutions to business problems and tasks;
Marketing Cloud Administrator credential also suits you if you don't want to study programmatic language or deal with development tasks.
Some of the necessary qualifications for passing the Marketing Cloud Administrator exam include:
basics of digital marketing;

best practices for data management;

knowledge of account configurations, including security settings, business unit structure and more;

account monitoring, including auditing and reporting;

knowledge of Salesforce Marketing Cloud integrations. 
2. Marketing Cloud Consultant 
Marketing Cloud Consultant certification is a Salesforce credential for email marketers and martech specialists. This exam suits you if you want to:
create email campaigns in Marketing Cloud;

work with email application tools;

solve tactical and strategic email marketing tasks.
The requirements for those who want to pass the Marketing Cloud Consultant exam are the following:
understand the basics of email marketing automation in Salesforce Marketing Cloud;

analyze email campaigns and use segmentation and tracking;

know the basics of SQL and scripting languages;

set up and administrate user account;

know how to manage email data. 
Mind that you'll need to pass the Marketing Cloud Administrator exam first to get this credential. 
3. Marketing Cloud Email Specialist
Marketing Cloud Email Specialist credential helps you demonstrate your knowledge of Salesforce email marketing campaigns. Choose this program if you want to:
manage email marketing campaigns in Salesforce Marketing Cloud;

manage subscriber data and set up integrations.
If you want to get this credential, you need to be up to the following requirements:
email marketing skills in Salesforce Email Studio;

knowledge of data models;

ability to set automations and create reports. 
4. Marketing Cloud Developer 
Marketing Cloud Developer credential is the program for Salesforce experts who want to:
create advanced marketing messages and landing pages in Salesforce Marketing Cloud; 

perform segmentation, reporting, and analysis.
If you want to acquire the Marketing Cloud Developer qualification, make sure you have the following skills:
knowledge of Marketing Cloud scripting languages;

data configuration skills;

basics of SQL;

create forms and custom preferences pages in Marketing Cloud;

knowledge of subscription management.  
Mind that you'll need to pass the Marketing Cloud Email Specialist exam first to get this credential. 
How to Schedule and Pass the Salesforce Marketing Cloud Exam 
1. Study Salesforce Tutorials and Educational Materials 
To get prepared for the Salesforce Marketing Cloud certification exam, look through the list of essential skills and identify your knowledge gaps. Salesforce offers the following study materials: 
Interactive study tools. There are study tools and interactive quizzes for each Marketing Cloud certification program: just choose the necessary qualification and find the Study & Prepare section. For example, there's an interactive study tool for the Marketing Cloud Administrator program.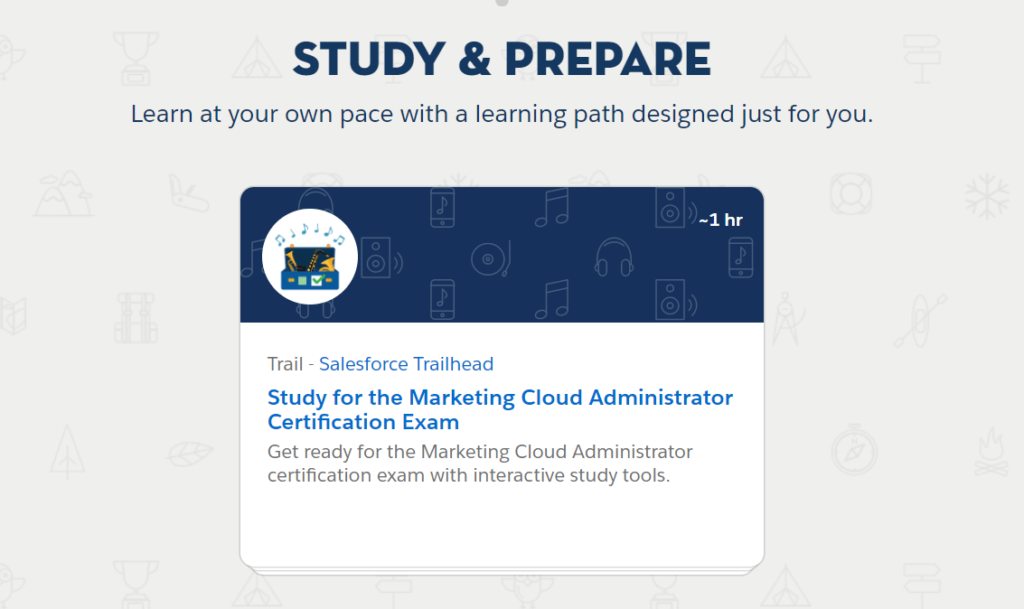 When you click the link with the name of a Salesforce certificate, you'll get access to free educational scenarios and flashcards that can help you revise the info. All you need to do is to sign up for a Trailhead account.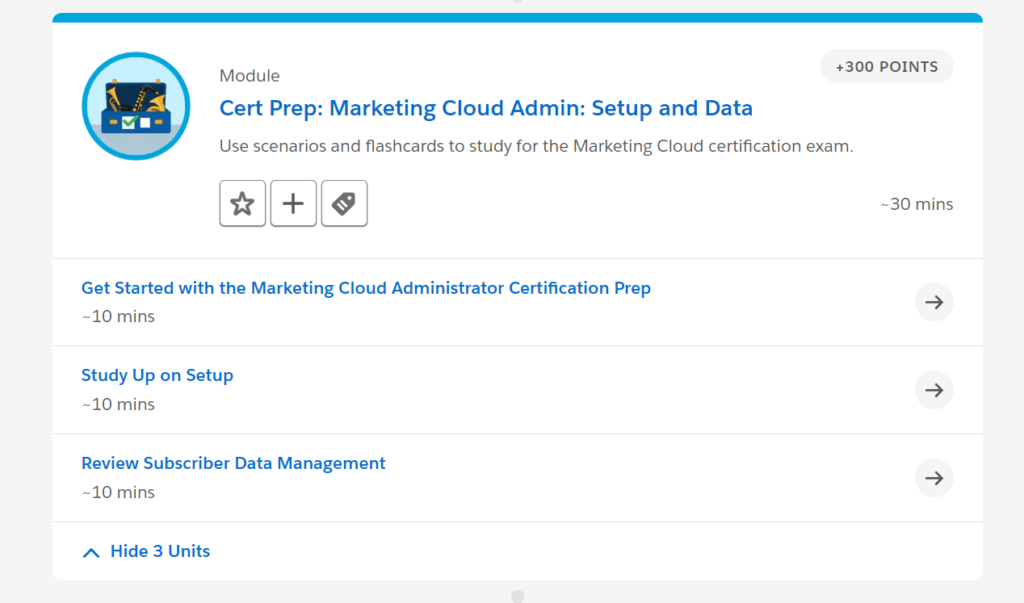 2. Join the Communities 
Connect with other students and Salesforce experts via the Trailblazer Community. In the community, you can ask questions, discuss issues, and share your ideas about Marketing Cloud and other Salesforce products. What's more, you can join a Community group and find someone who might help you get prepared for the exam and give useful advice. Choose the group depending on the exam you've chosen, your location, job role, or interests. 
3.

Schedule the Marketing Cloud Exam 
You can choose either an onsite or online exam. Either way, the process will be similar: 
Log in to

Webassesor

or create a new account. It's a partner service that organizes Salesforce exams. 

Choose whether you wish to pass an onsite or online exam;

Choose the specifications for your exam and don't forget to review the details before submitting the request.
Also mind that if you choose an online exam, you'll need to go through the pre-check process. It's necessary for security reasons and making sure that each participant acts according to the rules. 
Final Thoughts 
Getting a Salesforce Marketing Cloud certification is essential for everyone who wants to provide a better customer experience. There are 4 types of Marketing Cloud certifications based on the qualification you want to acquire: an administrator, a consultant, an email specialist, or a developer. Use the educational materials offered by Salesforce and its partners for better results at the certification exam.
If you want to try out similar certification programs, read our articles about Pardot certification program or Eloqua courses.