The Ultimate Guide to SaaS Certifications
Software as a Service (SaaS) has taken the technology industry by storm: with its low upfront costs, easy scalability, and flexibility to access applications from anywhere, it's no surprise that SaaS has become the go-to solution for businesses and organizations worldwide. 
According to Forrester, 75% of corporate leaders transitioned to SaaS platforms as they observed a significant enhancement in their business agility. Additionally, 74% mentioned that the rapid implementation and deployment of these systems facilitated their seamless shift to an entirely SaaS-based infrastructure.
If you're interested in learning more about SaaS and considering a career in this booming field, SaaS certification programs and training courses can help you develop the necessary skills and expertise. In this article, we'll explore some of the top options available to you.
1. Architect SaaS Applications 
Architect SaaS Applications is a training course focused solely on SaaS design and management. The training course includes the following sections:
introduction to the SaaS industry;

multi-tenancy architecture;

data services architecture;

provisioning architecture;

monitoring and upgrades of SaaS;

securing and integrations
Requirements & Details of Architect SaaS Applications Course 
This training course is meant for beginners. The target audience of this SaaS training course includes:
everyone who is new to the SaaS industry. 

software developers;

software architects;
This training course does not give you any source code or design project, but it provides you with a profound understanding of the industry and SaaS architecture.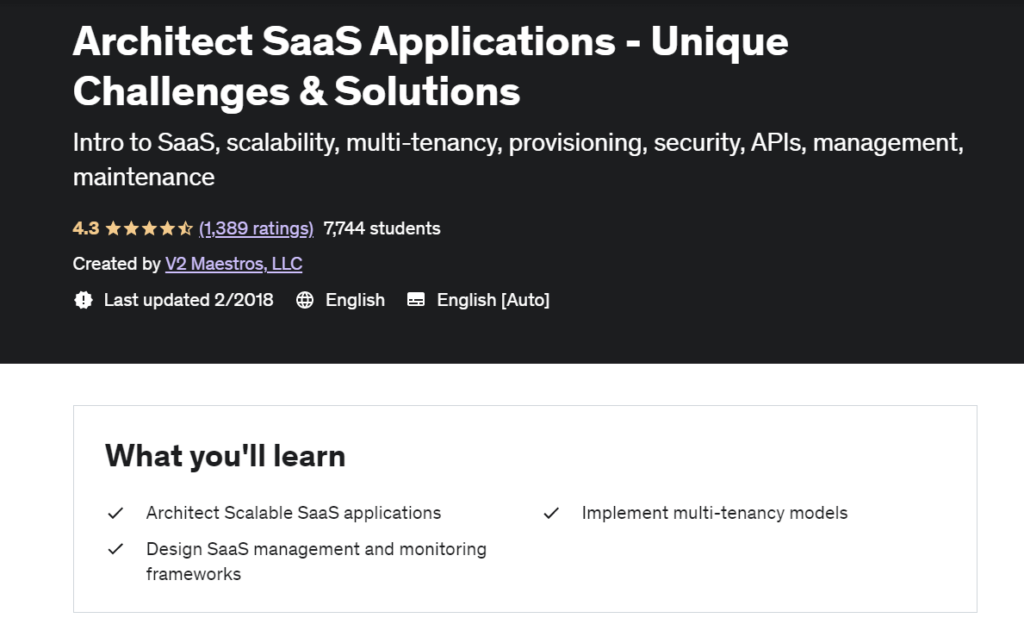 How to Take This SaaS Course?
This course is available on Udemy. You can buy the subscription and take the course right there. If you're not satisfied with the content, Udemy promises to return the money within the first 30 days of use. 
2. Essentials of SaaS Business
The Essentials of SaaS Business course teaches you how to build a marketing strategy for a SaaS business. It gives you an understanding of marketing metrics and KPIs for SaaS, the basics of the SaaS industry and its specifics compared to traditional IT businesses. 
This training course includes the following sections:
traditional vs lean startup approach;

creating a minimum viable product;

validated learning and feedback loop;

agile development;

business metrics;

product trial and pricing;
Requirements & Details for the Essentials of SaaS Business Course
This SaaS training course is meant for beginners. The only requirement is to understand the basics of business terminology, such as revenue, budgeting, and so on. 
You will receive a certificate of completion upon finishing this course.
How to Take This SaaS Course?
This course is available on Udemy. You can buy the subscription and take the course right there. If you're not satisfied with the content, Udemy promises to return the money within the first 30 days of use. 
Udemy also offers other SaaS certifications and courses for various user levels: browse their catalog to learn more about other programs.
3. Oracle SaaS Certifications & Training Courses
The Oracle SaaS training program provides useful insights for everyone interested in SaaS products by Oracle. The certification program by Oracle covers the following products:
Enterprise Resource Planning (ERP) Cloud:

a SaaS by Oracle that empowers the workforce with an ERP system. The course lets you explore cloud applications by Oracle and understand such topics as finance, project management, and more. 

Oracle Human Capital Management Cloud:

this certification program lets you explore HR applications by Oracle. It lets you study such concepts as talent management, workforce management, rewards management, etc. 

Oracle's Enterprise Performance Management (EPM) cloud:

this training focuses on cloud solutions that help you make predictions and take data-driven decisions. Some of the topics are finance, planning, data management, and reporting. 

Oracle's Supply Chain Management Cloud

training course teaches you how to create a supply chain with Oracle SaaS, including inventory management, principles of manufacturing, and more. 

Oracle's Customer Experience (CX) Cloud

program is focused on using SaaS to improve customer experience. It helps you master marketing, sales, commerce, and more. 
How to Complete These Courses and Get Certified?
These SaaS certification programs are available at Oracle University. First, you'll need to select a program you're interested in. Next, you'll be asked to choose the training mode: you can buy a learning subscription, join an online class, order a custom training program or even train in person! The training courses and certifications are paid, but there's a free introductory training. 
If you're looking for other courses by Oracle, check our guide to getting Eloqua certification. 
4. Amazon Web Services Certification
Amazon Web Services (AWS) is a leading cloud services provider and its certification programs are highly respected in the industry. If you're interested in building and managing SaaS applications on AWS, this certification program is a good fit for you! 
The AWS Certified SaaS Practitioner certification is designed to validate your understanding of the architectural principles and best practices for building, deploying, and managing SaaS applications on AWS. This certification is suitable for developers, architects, and IT professionals who want to demonstrate their proficiency in working with SaaS solutions on AWS.
How to Receive AWS Certification?
You need to get registered on AWS and pass an exam to receive this SaaS certification. Amazon offers several free and paid preparation materials that help you prepare for the exam and feel confident while taking it. 
The free preparation set includes sample questions, a 2-hour preparation course, and an AWS Cloud Quest.

Amazon also offers paid preparation opportunities: official practice exams, a 6-8 hour preparation course, and a more profound AWS Cloud Quest. 
5. Google Cloud Professional Cloud Architect
As a SaaS specialist, you might also be interested in receiving a SaaS certification from Google. 
As a Google Cloud Professional Architect, you'll be able to design, develop, and manage dynamic solutions on Google Cloud. This certification is ideal for professionals with a strong background in cloud architecture who want to deepen their knowledge of SaaS and other cloud services. 
How to Receive the SaaS Certification by Google?
To get certified, you need to pass the exam that checks the following abilities:
to design and plan SaaS architecture;

to analyze business processes;

to manage the infrastructure of a cloud solution and more. 
Google offers free sample questions, webinars, and exam guides that can help you prepare for the exam.

6. Salesforce SaaS Certifications 
Salesforce is a pioneer in the SaaS industry. That's why certification programs by Salesforce are highly relevant and can increase your competitive performance. Some of the most popular SaaS certifications by Salesforce are:
Salesforce Administrator Certification

: this certificate verifies that a person understands the Salesforce system and can maintain it. It's suitable for system administrators, sales operations professionals, and others.

Salesforce Architect Certification

will suit you if you want to design and develop SaaS solutions for Salesforce platforms.

Salesforce Developer Certification

is meant for those who manage API, create SaaS that would meet business requirements, and more. 

Salesforce Consultant Certification:

this certification program is meant for a variety of roles to help organizations improve performance and customer service through their understanding of the platform and management skills.

Salesforce Marketing Certifications

: Salesforce offers several of themL check our

guide to Salesforce Marketing Cloud certification

to learn more. These certifications test knowledge of Salesforce-related SaaS products and best practices for executing email campaigns. 
If you're interested in marketing certification programs, you might also like our guides about Klaviyo certification and Mailchimp certification. 
How to Receive a SaaS Certification from Salesforce
You should get registered on the platform and prepare for the exam. There are lots of training guides and courses from Salesforce as well as by its partners that help you check your knowledge, revise the information, and get certified. 
7. Coursera's SaaS Courses 
Coursera, another popular online learning platform, offers several training programs for everyone who wants to learn SaaS. Some of the most useful programs are:
Cloud Computing Specialization: this course was created in partnership with the University of Illinois at Urbana-Champaign. This specialization covers essential cloud computing concepts, including SaaS, Infrastructure as a Service (IaaS), and Platform as a Service (PaaS). The curriculum includes hands-on projects and case studies, ensuring you gain practical experience in building and deploying SaaS applications in the cloud.

Introduction to Cloud Computing: this course lets you study cloud computing, engineering, infrastructure, and other important aspects of SaaS products. Students who complete the course may qualify to pursue the Cloud Computing Core IBM digital badge.

DevOps, Cloud, and Agile Foundations Specialization: this program helps you understand DevOps, key aspects of cloud computing, and management of SaaS. 
How to Complete SaaS Courses on Coursera
Most of the courses are available if you have a Coursera subscription. You can take a free trial and pay later if you like the course. 
Final Words 
A SaaS certification or training course can equip individuals with the skills and knowledge necessary to implement, manage, and optimize SaaS solutions, which are becoming increasingly popular among organizations worldwide. Additionally, obtaining a SaaS certification or completing a training course can demonstrate to employers that an individual is committed to ongoing learning and professional development.