The Ultimate Guide to Mailchimp Certification: Become an Email Marketing Pro
As of 2023, Mailchimp has around 2.4 million monthly active users, and this number is rapidly growing with more people acquiring Mailchimp certificates. In this article, we will take a closer look at what Mailchimp certification is, the different types of certifications available, the skills you need to acquire, and how to pass the exam.
What is Mailchimp Certification?
Just like some other popular platforms (for example, Salesforce Pardot), Mailchimp has a certification program that recognizes individuals who have demonstrated a deep understanding of the platform and its features. 
The certification program covers a range of topics, including the following: 
email design;

list management;

campaign creation;

measurement and analysis. 
By earning a Mailchimp certification, individuals can demonstrate their expertise to current and potential employers, as well as to their clients and customers. Let's have a closer look at the types of Mailchimp certifications.
Types of Mailchimp Certifications
Mailchimp offers three certification programs: Mailchimp Foundations, Email Marketing, and Email Automations. Let's find out what's the difference between Mailchimp certifications.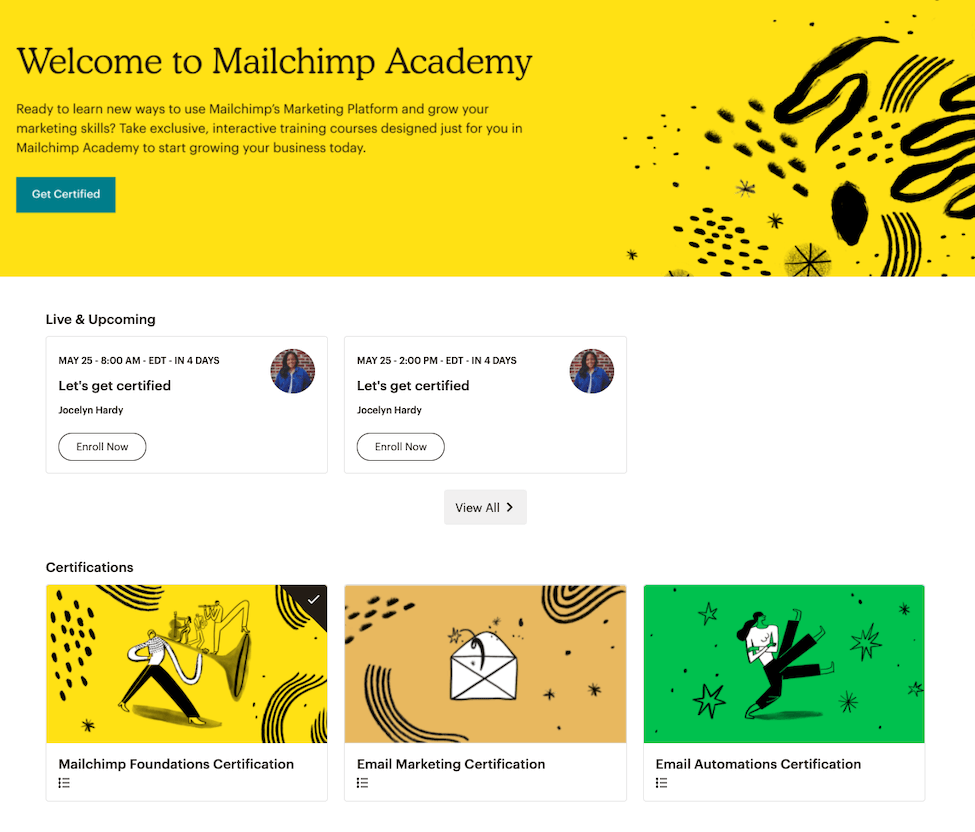 Mailchimp Foundations Certification
Mailchimp Foundations is one of the two types of Mailchimp certification that individuals can earn. It is designed for users who are new to Mailchimp and want to gain a solid understanding of the platform and its features. The Mailchimp Foundations certification focuses on the basics of email marketing and how to effectively use Mailchimp to create and send marketing campaigns.
The Mailchimp Foundations certification covers the following topics:
Understanding Email Marketing: This section covers the basics of email marketing, including what it is, why it is important, and how it can help you achieve your marketing goals.

Setting Up Your Mailchimp Account: This section covers the steps for setting up a Mailchimp account, including creating a list, adding subscribers, and creating a sign-up form.

Creating Campaigns: This section covers the process for creating campaigns in Mailchimp, including selecting a template, adding content, and scheduling a send.

Analyzing Results: This section covers how to track the performance of your campaigns, including using the Reports tab to view statistics and make data-driven decisions.
By earning the Mailchimp Foundations certification, individuals can demonstrate their knowledge of the basics of email marketing and how to use Mailchimp to create effective campaigns. This certification can be a valuable stepping stone for individuals who are interested in pursuing a more advanced certification.
Mailchimp Email Marketing Certification 
Email Marketing certification lets you dive deeper into email marketing and learn how to set up advanced email marketing campaigns with Mailchimp. Mailchimp Email Marketing certification covers the topics like designing emails (including using the email editor in Mailchimp), setting up analytics, and personalizing email campaigns.

Mailchimp Automations Certification
This certification helps you understand how automations work in Mailchimp and how to set them in the correct way. Here are some of the special features of Mailchimp's automations that you will learn during the certification program. 
Trigger-based automation: Mailchimp's automations can be triggered by a wide range of subscriber behaviors, such as making a purchase, abandoning a cart, or signing up for a newsletter. This allows businesses to send targeted, relevant emails at the right time, without needing to manually schedule them.

Customizable workflows: Mailchimp's automation workflows are highly customizable and can be designed to fit the specific needs of a business. The workflows can include multiple triggers, actions, and delays, and businesses can use the drag-and-drop interface to easily build and edit their workflows.

Personalization: Mailchimp's automations can include personalized content, such as the subscriber's name, purchase history, or browsing behavior. This can help businesses create more relevant and engaging emails that are more likely to convert.

A/B testing: Mailchimp's automations can be split-tested to help businesses identify the most effective subject lines, content, and timing for their automated emails. Mailchimp allows users to create up to three variants for A/B testing. 

Integration: Mailchimp's automations can be integrated with a wide range of third-party tools and platforms, such as ecommerce platforms and social media, to help businesses streamline their marketing efforts and create more effective automations.
Automations certification will help you understand all these features and create your own personalized automations in no time.
How to Pass the Exam and Become Mailchimp Certified 
There are several steps you need to go through: first, you'll need to join Mailchimp & Co, become a member of the Mailchimp Academy, and then choose the certification program. 
Step 1. Join Mailchimp & Co
Only Mailchimp & Co members have access to Mailchimp Academy with training courses and certifications, so you'll need to join Mailchimp & Co to get certified. However, Mailchimp & Co is free for all the Mailchimp users, so the process shouldn't take you long. 
Mind that you will need to have a Mailchimp account and access to the Mailchimp platform, but you do not need to be a paying customer. The certification exams are available online and can be taken at any time, provided that you have the necessary knowledge and skills to pass the exam.
Step 2. Join Mailchimp Academy 
Click the Mailchimp & Co icon to get access to Mailchimp Academy.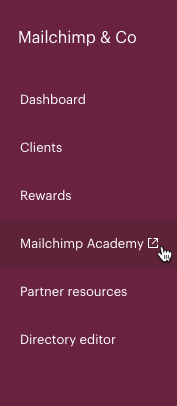 Mailchimp Academy offers a range of online courses and training materials designed to help individuals learn about email marketing and the Mailchimp platform. Apart from giving you access to Mailchimp certification, Mailchimp Academy also offers online courses, video tutorials, e-books, and webinars that can help you stay up-to-date on the latest developments in email marketing and become a Mailchimp certified expert.
Step 3. Choose the Certification Program 
As we've already mentioned, Mailchimp has three certification programs: Fundamentals, Email Marketing, and Automations. If you're a beginner, we'd recommend you to start with Mailchimp Fundamentals to get around the platform.
Step 4. Get Ready and Pass the Exam 
To earn a Mailchimp certification, individuals must pass an exam that covers the topics and skills outlined above. Here are some tips to help you prepare for and pass the exam:
Study the materials: Before taking the exam, be sure to study the material provided by Mailchimp, including the certification guide and other resources. This will help you become familiar with the topics that will be covered on the exam.

Practice: Make use of Mailchimp's free trial account to practice using the platform and its features. This will help you become comfortable with the platform and gain hands-on experience with the topics that will be covered on the exam.

Join a Study Group: Consider joining a study group with other Mailchimp users who are also preparing for the Mailchimp certification exam. This can be a great way to collaborate and learn from others. 

Use sample tests: Make use of sample tests and quizzes to test your knowledge and identify areas where you need to improve. 
Step 5. Get Your Certificate (And a Badge!)
When you successfully pass your Mailchimp certification exam, Mailchimp will give you special credentials that prove that you're a certified Mailchimp expert. The unusual thing about Mailchimp certifications is that they give you badges apart from the regular certificates. 
Mailchimp badges are digital badges that individuals can earn to showcase their Mailchimp certification and expertise. Once an individual has passed a Mailchimp certification exam, they are awarded a badge that they can display on their website, social media profiles, and other online platforms. The badge provides a visual representation of the individual's certification status and can be a valuable tool for demonstrating their expertise to potential clients, employers, and other stakeholders.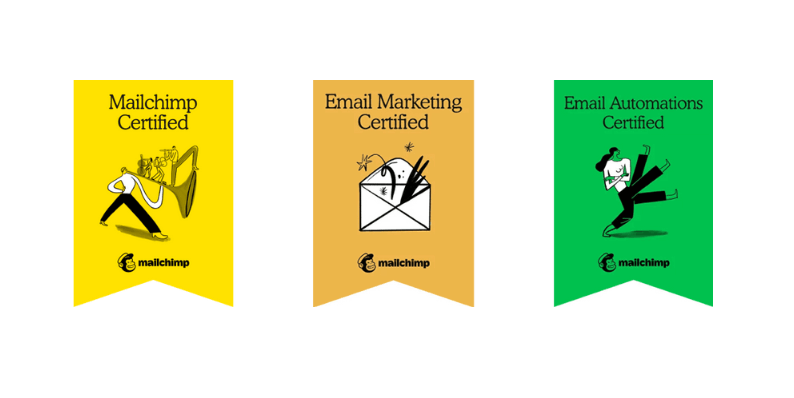 Step 6. Keep Your Certification Up-to-Date
Mailchimp certifications have an expiration date. According to Mailchimp, a certification should be renewed every 12-18 months. 
After a certification has expired, individuals can still access their badges and certificates in their Mailchimp account, but they will need to retake the exam to regain their certification status. This helps to ensure that individuals who hold Mailchimp certifications have the most up-to-date knowledge and skills, and it allows Mailchimp to maintain the high standards of their certification program.
If you have a certification that is about to expire, you will typically receive a notification from Mailchimp reminding you to retake the exam to maintain your certification status. You can also check the expiration date of your certifications in your Mailchimp account.
Conclusion
Mailchimp certification is a valuable program for individuals who want to demonstrate their expertise and knowledge of the platform. Whether you are new to Mailchimp or have a deeper understanding of its features, the certification program can help you achieve your goals and advance your career. 
Don't forget to keep your certification up-to-date to make sure that you comply with the Mailchimp's standards.
If you want to try out similar certification programs, read our articles about the Klaviyo certification program or Eloqua courses.