Klaviyo Certification: A Comprehensive Guide to Becoming Certified (2023 Update)
Klaviyo is a popular email marketing automation platform that helps businesses of all sizes grow their customer base and increase revenue. This article will cover everything you need to know about Klaviyo certification, including the different types of certification, study materials, and tips for passing the exam.
What is Klaviyo Certification?
Klaviyo offers several certification programs for marketers who want to become experts in using the platform. 
Klaviyo certification is available to anyone who wants to improve their knowledge of the platform. The certification program is ideal for marketers, business owners, and e-commerce professionals who want to improve their email marketing and e-commerce automation skills. Klaviyo certification is a great way to demonstrate your proficiency to employers or clients, as well as to differentiate yourself from other marketers who do not have the certification.
What Are the Types of Klaviyo Certification?
As of 2023, the Klaviyo Academy offers two types of certification: Product certification and Partner certification. These two certifications are meant for different audiences and have different requirements, so let's dive deeper into this topic to see which certificate suits your needs. 
Klaviyo Product Certification
Klaviyo Product Certification is designed for professionals who want to demonstrate their knowledge and expertise in using Klaviyo's specific features. This certification covers specific features of the Klaviyo platform, such as SMS marketing or integrating with Shopify. This certification is ideal for e-commerce professionals who use Klaviyo to sell products and want to specialize in specific features.
Mind that if you want to acquire this Klaviyo certification, you need to know the basics of the platform and understand the principles of digital marketing.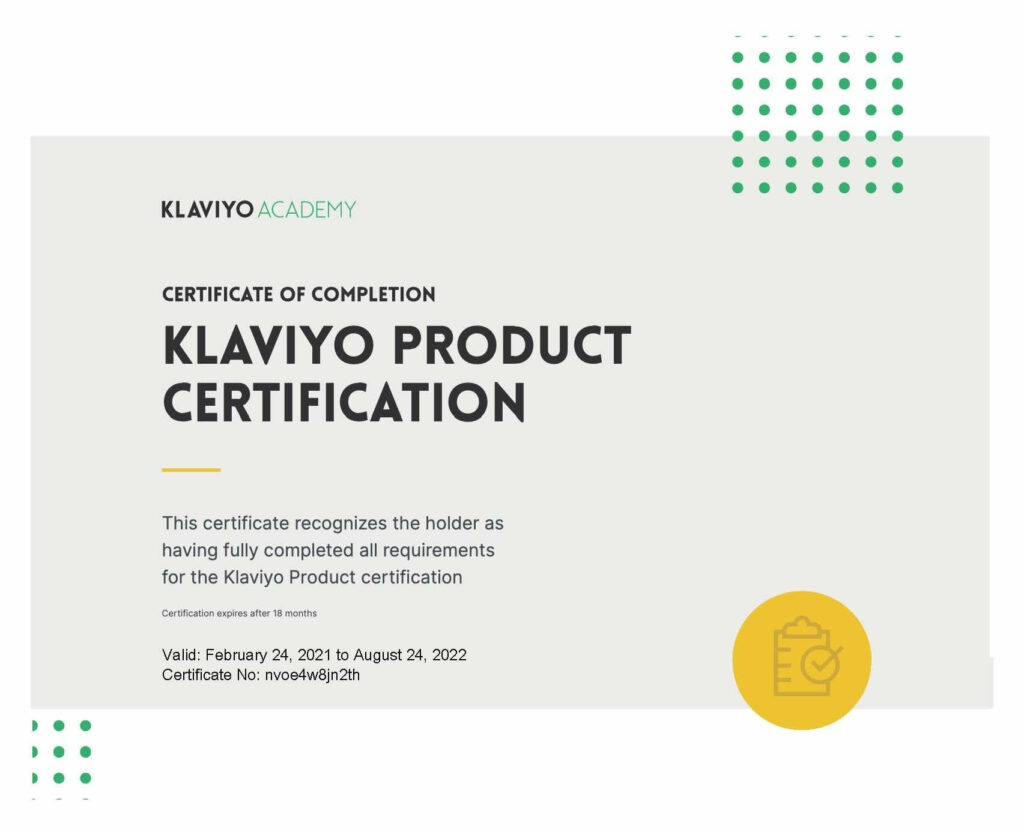 Klaviyo Product Certification includes 7 courses and covers the following topics:
a short introduction to Klaviyo's features;

types of messages and experiences you can create in Klaviyo;

personalized messages and audience segmentation;

analysis of your marketing performance. 
If you want to join the Klaviyo Academy and get access to the Klaviyo Product Certification program, you'll need to register in Klaviyo. This certification is free for all Klaviyo users. After you get prepared, you'll be offered to take the certification exam. 
Klaviyo Partner Certification 
Klaviyo Partner Certification is designed for agencies, consultants, and other service providers who want to offer Klaviyo services to their clients and get additional profit using referral links. Other perks of this partner certification program are:
getting listed in Klaviyo's partner directory;

partner-specific badges;

special offers for Klaviyo partners. 
If you're an experienced Klaviyo user and plan to work via this platform regularly, it's a good idea to acquire this certification. Mind that this certification is more agency-oriented, so if you don't have large workloads, you most likely don't need this certificate.
If you still want to acquire the Partner Certification, you'll need to fill out an application form. Klaviyo will review your application and follow up with more details. 
Other Educational Programs In the Klaviyo Academy 
Apart from Product and Partner certifications, the Klaviyo Academy also offers a range of other certifications and courses that cover various topics related to Klaviyo, including email marketing, segmentation, automation, integrations, reporting, and analytics. These courses are designed to help users of all levels, from beginners to advanced users, learn how to use Klaviyo to drive business results.
There are three different levels of courses and certificates in the Klaviyo Academy: Basic, Intermediate, and Advanced. These courses will be a good supplement to your product certification and also serve as additional credentials that prove your expert knowledge. Let's briefly review each level.
Basic Klaviyo Certifications & Courses 
These courses are meant for beginner marketers who want to enhance their knowledge and also prepare for the Product Certification. The basic program includes the following courses:
Getting started with Klaviyo;

Basic SMS certificates;

Deliverability certificate;

Black Friday, Cyber Monday, and Holiday email campaigns;

List building, and others.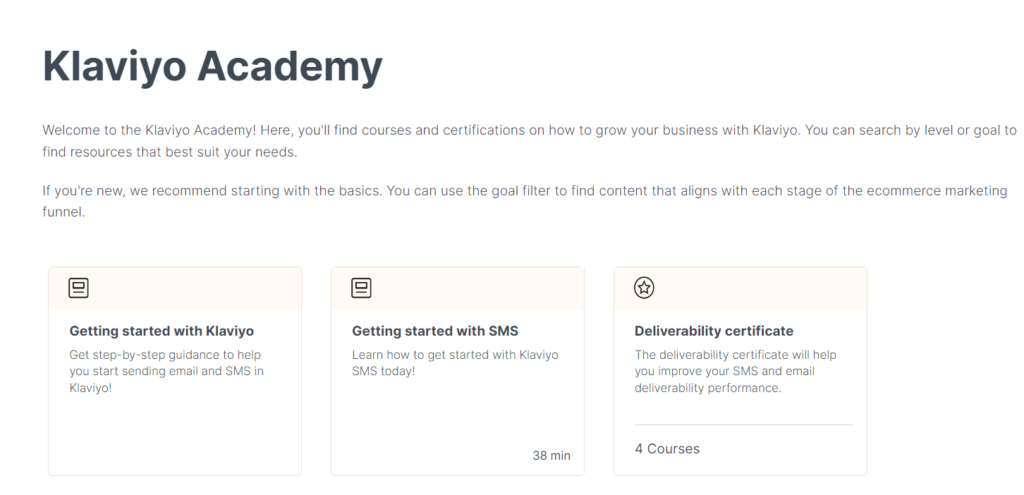 Intermediate Klaviyo Certifications & Courses 
Intermediate certifications and courses in the Klaviyo Academy cover some more advanced topics and features, including: 
Facebook and Klaviyo integration; 

Customer acquisition and retention certifications;

Klaviyo's flows (email automations);

targeting and personalization. 
Advanced Klaviyo Courses 
Currently, Klaviyo offers only one advanced educational program: it covers the topic of running a multinational business.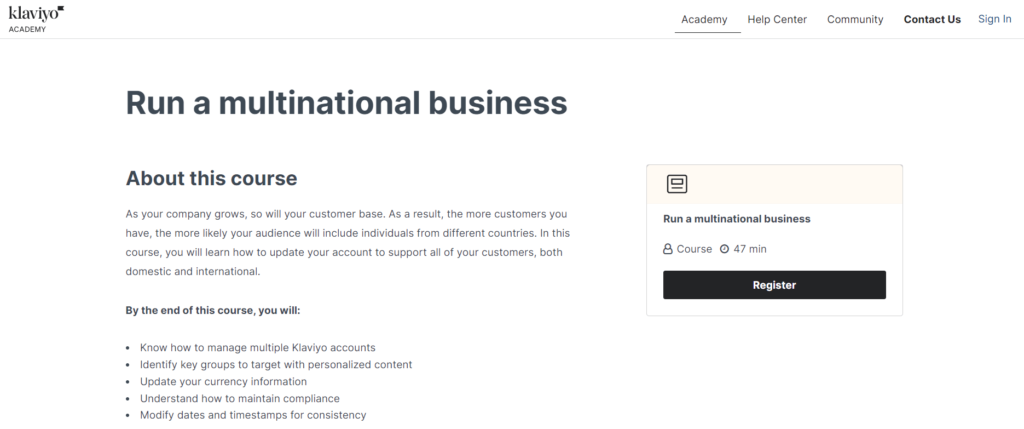 Conclusion
Klaviyo certification is a great way to demonstrate your expertise in using the platform to drive business results. With the different types of certification available and a range of study materials provided by Klaviyo, you can prepare for the exam and pass it on your first attempt. By taking advantage of the study materials, practicing, and following the tips outlined in this article, you will be well on your way to becoming a Klaviyo certified expert.
If you want to try out similar certification programs, read our articles about the Mailchimp certification program or Marketo courses.