Google UX Design Certificate: Everything You Should Know
In the constantly changing world of digital marketing, it's crucial to master your skills and learn new things about your industry. In this article, we'll share everything you should know about Google UX Design Certificate. You'll learn about the studying process details and understand whether you need a UX design professional certificate at all. 
Google UX Design Certificate Review
Google certificates are a series of career-focused online courses providing learners with in-demand skills for various industries. Google certificates are hosted on the Coursera platform and aim to equip individuals with the necessary skills and knowledge to succeed in the chosen field without the need for a traditional degree.
The Google UX Design Certificate focuses on teaching the principles of user experience (UX) design. UX design is about creating digital products that are easy to use, engaging, and tailored to users' needs. Throughout the program, you'll learn the main concepts of the UX design and develop practical skills by working on various projects. One more good thing: you don't need to know anything about UX design before taking the course.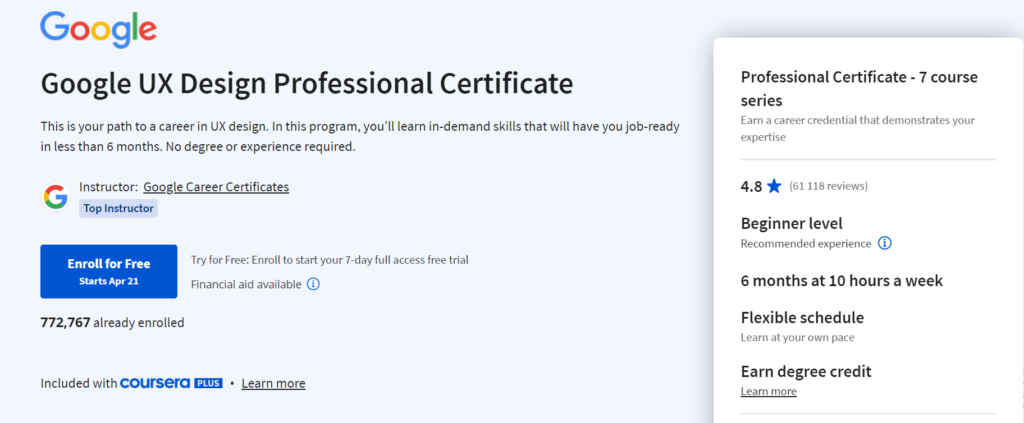 The Google UX Design Certificate program consists of 7 courses and its curriculum covers such topics as:
Foundations of UX design

. You'll learn more about the design process, user research, equity, and accessibility.

Start the UX Design Process: Empathize, Define, and Ideate

. At this course, you'll dive into the customers' pains and needs and ways of solving their problems. 

Build Wireframes and Low-Fidelity Prototypes

. You'll learn to develop solution-oriented storyboards, create wireframes using Figma, and build interactive paper and low-fidelity prototypes to address user needs.

Conduct UX Research and Test Early Concepts.

This course will teach you how to execute and analyze usability studies, derive insights, and refine low-fidelity designs based on the gathered data.

Create High-Fidelity Designs and Prototypes in Figma.

At this stage, you'll get the hang of creating mockups and high-fidelity prototypes using Figma and utilizing design systems for consistency.

Responsive Web Design in Adobe XD.

In this course, you'll learn to use Adobe XD keeping the five steps of the UX design process in mind, plan information architecture and sitemaps, utilize common web page layouts, and create a responsive website design to add to your portfolio.

Design a User Experience for Social Good & Prepare for Jobs

. This course will teach you to apply the UX design process to create a portfolio project for social good, build mobile and website prototypes, and prepare for an entry-level UX design job interview.
Apart from the educational videos, you'll also get access to practice-based activities and assessments that will let you hone your designer skills and prepare you for the real world. At the end of the course, your portfolio will contain 3 professional UX design works you'll be able to show when applying for the job of your dreams. 
As part of your program, you'll be able to prepare for future interviews with a special interview practice tool, attend resume building workshops, and career coaching sessions. 
After completing the educational process, you'll become a Google certified UX designer. But if you don't know what digital profession to choose and want to have several options in mind, take a look at our articles on various SaaS Certifications and Hubspot Inbound Marketing Certification. 
How long does it take to complete the Google UX Design Certification program?
You can enroll in the program any day you like. Overall, it takes 200 hours to complete and lasts for about 3-6 months. The duration of the program depends on you only, as you can choose your own pace of education and study whenever it is convenient. 
Moreover, when you complete your education, you can get a recommendation of 10 college credits (3-4 college courses) with a Credly badge. However, you should keep in mind that it's up to your educational institution to decide whether the credits will be counted as part of your education or not. So it may be a good idea to discuss the educational process with someone in authority first.
Google UX Design Certificate cost
There's no final cost of the certificate as it depends on how fast you complete your education. When you enroll in the program, you get a free 7-day period to see whether this type of studying suits your needs. After that, you'll be charged $39 for each month of education (if you live in the USA or Canada). If you live in a different country, the price may be a bit lower.
Note that there's financial aid available as well. If your financial situation doesn't allow you to earn a Google UX Design Certificate, don't hesitate to apply for the aid.
At Coursera, you can fill in up to 10 applications at a time for the courses you want to take. To do that, you need to fill in the form (see the example below) telling the Coursera team more about your situation and the reasons for applying for the aid. Keep in mind that you'll have to apply for each of the 7 courses in the Google UX Design Certificate program separately.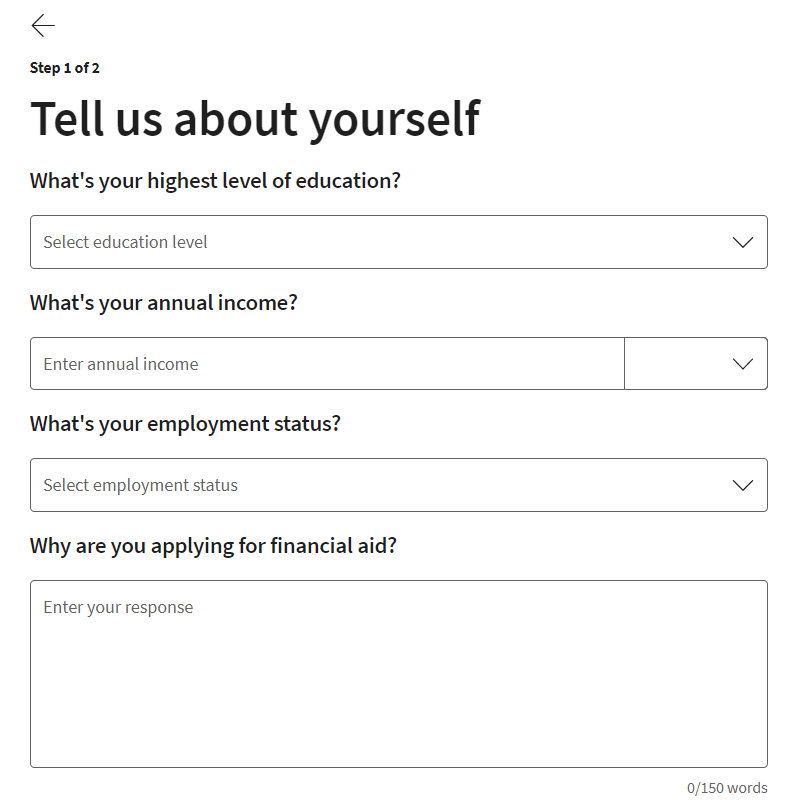 Do I Need a UX Design Professional Certificate?
If you're still not sure you need a Google UX Design Certificate, take a look at some of the benefits the certificate comes with:
Industry-relevant skills

. The Google UX Design Certificate is designed by experts at Google, ensuring that the program covers the most relevant and up-to-date skills required by UX designers in the job market.

Practical experience

. The certification program includes hands-on projects and assignments that help you develop a practical understanding of UX design concepts and apply your knowledge in real-world situations.

Accessible learning

. It doesn't matter whether you know anything about design or what your background is: Google UX Design Certification program is suitable for beginners.

Credibility

. Since the program is developed by Google, a leading technology company, the certificate can be a valuable addition to your resume. You can also add the certificate to your LinkedIn profile to showcase your skills.

Portfolio development

. The certification program will guide you through the process of building a professional UX design portfolio, which can be an essential tool for demonstrating your works to potential employers.
Overall, a Google UX Design Certificate can be your stepping stone to break into the UX design field or enhance your existing skills, making you more valuable in the eyes of potential employers.
Final words
Google certificates are a valuable alternative to traditional education for those looking to gain specific skills and knowledge required for different career paths. They help individuals to stay competitive in the job market, boost their career prospects, and showcase their expertise to potential employers.