Eloqua Certification Types: Which Level is Right for You?
Eloqua offers several certification levels that cover different aspects of the platform. Let's overview each certification level to see which of them would suit you best.
Level 1: Oracle Eloqua Certified Associate
If you're a tech-savvy professional who knows their way around Oracle technologies, Oracle Certified Associate is the first step. This certification provides a technical background and helps understand Oracle Eloqua.

Once you complete the program, you'll be well-prepared for roles like Administrator, Developer, Implementer, Architect, or Data Scientist/Business Analyst. The Oracle Certified Associate program is designed to recognize your foundational and intermediate knowledge and skills in these areas.
Level 2: Oracle Eloqua Certified Professional
This level of Eloqua certification means that you've got an advanced understanding of Oracle concepts and skills, as well as experience using them in real-life situations. The Oracle Certified Professional certification recognizes that you have advanced skills in Oracle technologies, with a strong foundation in the underlying technology. So if you're looking to prove that you're a true Oracle pro, this certification is definitely worth considering!
Once you earn this certification, you'll be ready for roles like Administrator, Developer, Implementer, Consultant, or Architect.
Level 3: Oracle Eloqua Certified Master 
The Oracle Certified Master is the ultimate achievement when it comes to Eloqua Certifications. This level of certification shows that you're a true expert, with the ability to solve even the trickiest problems in a hands-on setting.
Getting to this level of certification usually means earning multiple other certifications along the way, as well as completing some pretty intense training. But once you do, you'll be well-prepared for roles like Administrator, and you'll be recognized as one of the top experts in the field.
How to Pass the Oracle Eloqua Certification Exams? 
When you choose which Eloqua certification suits you best, you'll need to get prepared for the exams. Let's overview the whole path from the first level to the most advanced one. 
1. Try out free training. The Oracle Learning Explorer program is a free program where you can start your training with a free trial. This program offers training courses about the basic features of SaaS, Oracle Cloud Infrastructure, and hardware & software.
2. Get registered on Oracle Eloqua's training platform and buy a subscription. The basic certification programs (like OCI Fundamentals Associate) are free, but most of them are paid. If you want to acquire more advanced certifications, you'll need to buy a subscription.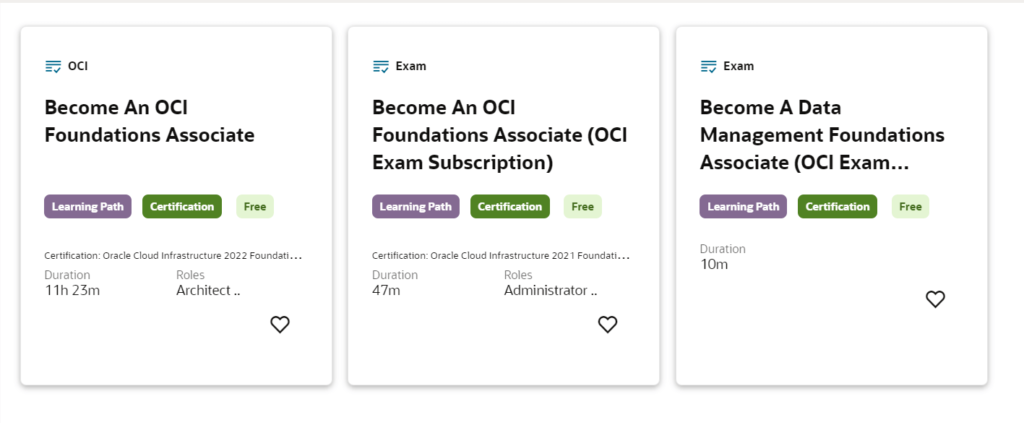 3. Get prepared for the exams. Oracle Eloqua provides all the necessary information for your training. Mind that each Eloqua certification program requires a different set of training paths and exams. You'll need to consult the requirements for your certification once you get registered in the system and choose the program. 
4. Register for your exam and take it. Find the certification title in your learning path and get registered for the exam through your learning subscription. 
If you're not sure you're 100% ready for the exam, you can buy an exam attempt and take your actual exam within the next 6 months. 
5. If you successfully pass your exam, you'll receive a certification badge that can be added to your social media profiles, CV, or website. 
6. Mind that most certifications have an expiration date, so one day you will need to get recertified. The recertification process typically involves completing an updated version of the certification exam or completing a certain number of continuing education credits. This ensures that certified marketers are up-to-date with the latest trends and best practices in marketing automation and that they maintain their skills and knowledge over time.
Benefits of Eloqua Certifications and Training Courses
Earning an Oracle Eloqua certification can be a game-changer for your career, providing numerous benefits that can help you achieve your professional goals, including:
1. Improved Professional Credibility. 
First and foremost, certification increases your professional credibility. With an Oracle Eloqua certification under your belt, you'll be recognized as an expert in your field, with the knowledge and skills needed to succeed in a wide range of job roles. This can be a huge boost to your professional reputation, making it easier to advance in your career and earn the respect of your peers.
According to Oracle Eloqua, 81% of certified experts increased the quality of their work and 75% got the job roles they were unable to do before.
2. Increased Salary 
Another major benefit of Oracle Eloqua certification is the potential for increased earning. Certified professionals are often in high demand, and employers are willing to pay a premium for individuals with proven expertise in their field. By earning your certification, you'll have the opportunity to negotiate higher salaries and better job benefits, helping you achieve your financial goals and increase your standard of living. 77% of certified experts were rewarded within six months, Eloqua says.
3. Increased Job Satisfaction
Beyond financial benefits, Oracle Eloqua certification can also lead to increased job satisfaction. With the confidence and skills that come with certification, you'll be better equipped to handle the challenges and opportunities that come with your job, making it more fulfilling and rewarding. 91% of specialists became more confident after they acquired certification, Eloqua says. 
4. Increased Opportunity and Recognition 
Finally, earning an Oracle Eloqua certification can provide increased opportunity and recognition. Whether you're looking to work for a new company or advance within your current organization, certification can help set you apart from other candidates and demonstrate your value to potential employers. It can also help you stand out in professional networks and communities, providing opportunities for networking, mentorship, and ongoing professional development.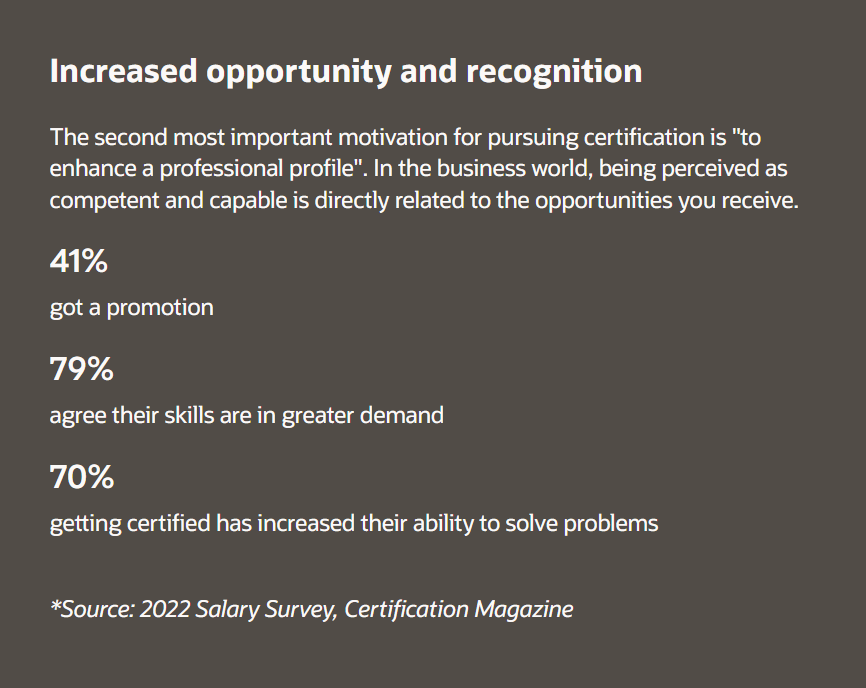 Conclusion
Eloqua certifications and training courses are valuable tools for marketers who want to improve their skills and knowledge of marketing automation. These programs provide a structured and standardized approach to learning, which can help marketers become more effective and efficient in their work. Overall, Eloqua certifications and training courses are a worthwhile investment for marketers who want to stay ahead of the curve in the fast-paced world of digital marketing.
Depending on your level, you can choose the Associate, Professional, or Master certification program. Each program has unique requirements, so don't forget to consult the guides before you start preparing for the exam.
If you want to try out similar certification programs, read our articles about the Pardot certification program or the Mailchimp courses.