MJML Email Framework Review
If you're looking for a solution to help you create responsive HTML emails with less coding, save time, and generate responsive marketing campaigns, perhaps MJML is a good option for you! Read this review to learn more about what MJML is and see if it suits you or you should look for alternatives. We'll cover MJML email templates, email editor, pricing, and more. 
Review of MJML Features
What is MJML?
MJML stands for Mailjet Markup Language. It's a framework that allows you to produce HTML emails faster thanks to the library of ready-made components, such as text, image, button, column, section, and others.
If you know a thing or two about coding, you should try MJML for simpler email production: go to MJML online editor to explore the components library and leverage the power of MJML semantic syntax. The platform allows you to preview your HTML email before it generates a final product.
MJML is a free open-source framework: anyone has access to the code behind the engine.The MJML community is enthusiastic about sharing their own templates, MJML components, and tools to perfect the platform. Everyone can use the solutions made by the community: for example, you can find a lot of useful information on the "Community" page: links to free tools on GitHub and chats where you can discuss MJML with other users
MJML Email Editor
MJML email editor consists of two panels: work in the left panel to combine components into an HTML email and preview it in the right panel.
The right panel allows you to see how your email will look both on desktop and mobile devices. Mind that you still need to test your email campaigns before sending, especially if you have a large email base.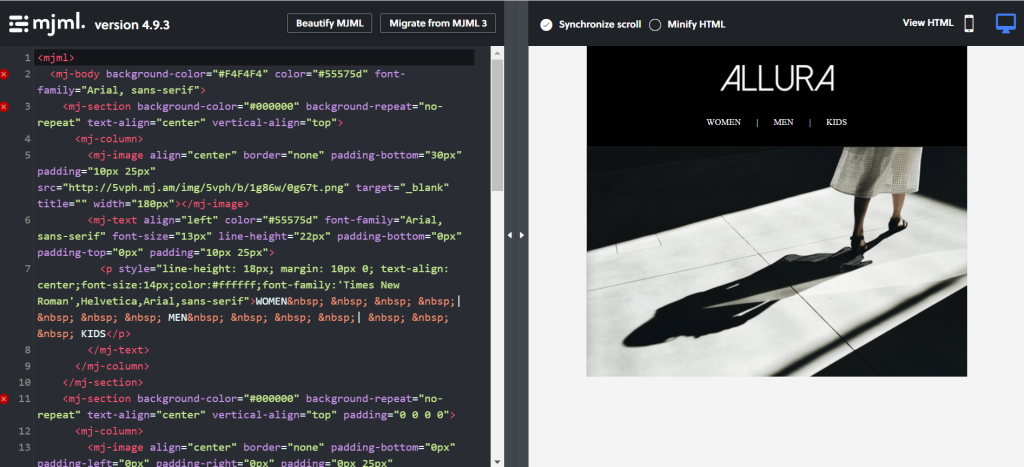 Besides an MJML email editor, you can also download the engine and use it offline on your PC. The offline mode makes MJML email framework stand out from competitors.
MJML App for Desktop 
If you want to use MJML locally from your PC, you can download the MJML app. Here're some features of the MJML app that you might find useful:
MJML desktop app allows you to browse the ready-made MJML templates and customize them;

Work with your templates offline;

See the results of your coding just as in the online app;

Save your email campaigns for later use;

Send the emails directly from the MJML app and test how the elements display (you'll have to create a 

Mailjet account

to use this feature).
MJML app performs better when used together with the plugins like Atom and Sublime Text. These plugins contain the components of Mailjet Markup Language, so it's easier to edit the email copy. 
MJML Email Templates 
MJML offers about 20 free email templates for different purposes: welcome campaign, popular events like Christmas and Black Friday, receipt email, and so on. MJML's library also has several industry specific templates like real estate, ticket store, travel, and ecommerce. You can select the type of email using special tags on the "Templates" page. 
The email templates are coded in Mailjet Markup Language, so it's better if you edit them in MJML email editor. Each template can be opened and edited online: you can add, change, and delete the components of the ready-made template right in the MJML editor. MJML templates are a great option when you don't want to create an email from scratch. 
MJML email templates in the free gallery are fully responsive, so you don't have to worry about whether they look good on mobile devices. However, we recommend testing MJML email campaigns anyway before sending them to the email audience.
MJML Integrations with Email Clients 
Each MJML component (like column, text, image, etc.) has specific requirements for every popular email client. Thus, before you send an MJML email, you have to make sure that the components you've chosen display correctly in your receivers' email clients. 
MJML supports the following email clients (although, some MJML components don't):
Outlook

Apple Mail 

Gmail

Yahoo Mail

Office 365
You can check the compatibility of components with different email clients in this instruction. 
MJML Alternatives and Competitors
Just like any other tech solution, MJML has some flaws that might make you think about alternatives. According to MJML users, these are the cons of the email framework: 
Some MJML email components don't display in certain email clients (for instance, background images)

HTML code generated by MJML may be not as clean as it could be. Extra tags make the files larger and increase the risk of error.

You have to be experienced at HTML to work with Mailjet Markup Language, fix bugs, and control the email production. 

Some email elements generated with MJML don't look good in Outlook.
If you're looking for an open-source framework for email production and you're familiar with HTML, there are plenty of alternatives to MJML on the market, for example:
Foundation for Emails

. Foundation for Emails features are similar to those offered by MJML: it has custom components, email templates collection, and an opportunity to create responsive campaigns. There are two ways to work with Foundation of Emails: the CSS and Sass versions. Foundation for Emails doesn't have an email editor, so here MJML beats the competitor.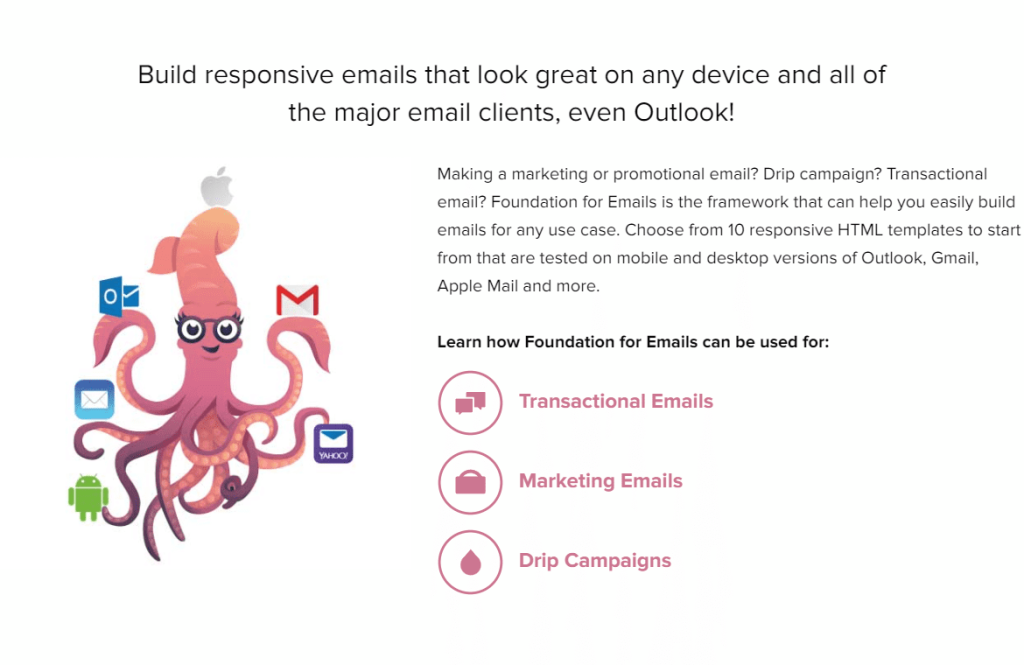 Maizzle.

Maizzle email framework uses Tailwind CSS language to generate HTML emails. This framework focuses on letting the users customize email elements: add custom components, optimize emails for desktop or mobile, and add custom fonts. Unlike MJML, Maizzle has no email editor and there are no free templates. 
If learning HTML is not your priority at the moment, perhaps you'd like to consider drag-n-drop email editors as alternatives to MJML. Here're some options to start with: 
Blocks 

drag-n-drop email builder. Blocks provides opportunities for both marketers and coders. If you don't know the first thing about coding, you can edit and customize email templates without touching the code with the help of ready-made elements. If you're a seasoned coder, you can use the code editor to work directly with code. Blocks generates clean HTML code that is compatible with all devices and email clients. You can try it for free. 

Knak 

drag-n-drop editor. Knak is a popular email & landing page editor with a user-friendly interface and a library of templates. Also, Knak is fully integrated with popular ESPs and MAPs like Eloqua, Marketo, Salesforce, and more. This platform will suit both small and large marketing teams. 

Request a demo

 on Knak's website to see what it's capable of.

Stripo 

drag-n-drop email design tool. Stripo allows you to create custom email templates with the help of ready-made modules. If you don't want to create emails from scratch, Stripo has a large templates gallery: from abandoned cart emails to Thanksgiving and St. Patrick's Day. Stripo offers pricing plans for both single users and corporations, so you're likely to find one that will suit you!
In case you want to learn about more email frameworks, we prepared a comparison of the most well-known solutions. We compared their pros and cons so you can decide which one fits your goals best.