BEEFree Email Editor Review: Email Templates, Pricing, and Alternatives
BEEFree.io is an email editor for no-code email and landing page design. In this BEEFree review, we take a look at its features, flaws, email templates, pricing plans, BEEFree vs Stripo review, and more alternatives to BEE email editor. 
BEEFree Email Editor Overview 
BEEFree.io is a drag-n-drop builder.This means you can design and edit email templates or landing pages without coding – the BEE interface has everything you need.. 
When you start working with BEE, you come across three basic concepts: Settings, Rows and Content.
Settings allow you to change general settings of your email design: for example, width, alignment, language, and background color. 

Rows are the elements that you insert into a template like header, footer, and so on. BEEFree editor allows you to create custom elements and save them for later use.

Content means images and links you add to your email. They also can be edited in BEEFree drag-n-drop editor. 
BEEFree Editor Features
Let's look through the most essential BEEFree email editor's features: 
Create an email from scratch or edit a ready-made template;

Save elements and templates for later use;

Export email templates to popular platforms like MailChimp, HubSpot, Campaign Monitor, and others;

Сollaborate on the same project with your team. You can invite your colleague to BEE and assign one of the following user roles: Owner, Admin, Manager, Editor, Contributor, or Viewer. 
BEEFree Email Templates 
BEEFree email templates library includes 1200+ HTML templates for various industries and purposes, including:
seasonal emails: Christmas, Valentine's Day emails & so on;

triggered emails: abandoned cart, transactional, and welcome emails;

ecommerce, real estate, and nonprofit BEE email templates; 

marketing templates and emails for personal use. 
BEEFree Pricing 
BEEFree.io offers three pricing plans: free, team, and enterprise. 
Free plan gives you lifetime access to the BEE email editor and the free templates collection. Mind that you can save and send a limited number of templates, so this option is more suitable for freelancers, not teams.  

Team plan costs $30 a month and it gives you an opportunity to create an unlimited number of email templates, landing pages, and drag-n-drop blocks. 

As for Enterprise plans, the BEEFree email editor offers custom pricing for large teams that need access to multi-level collaborative tools and sophisticated workspace.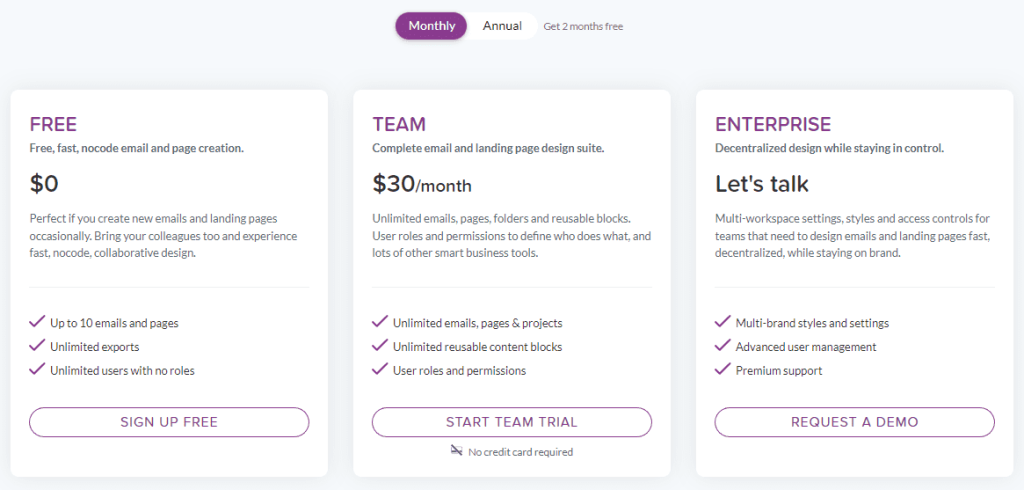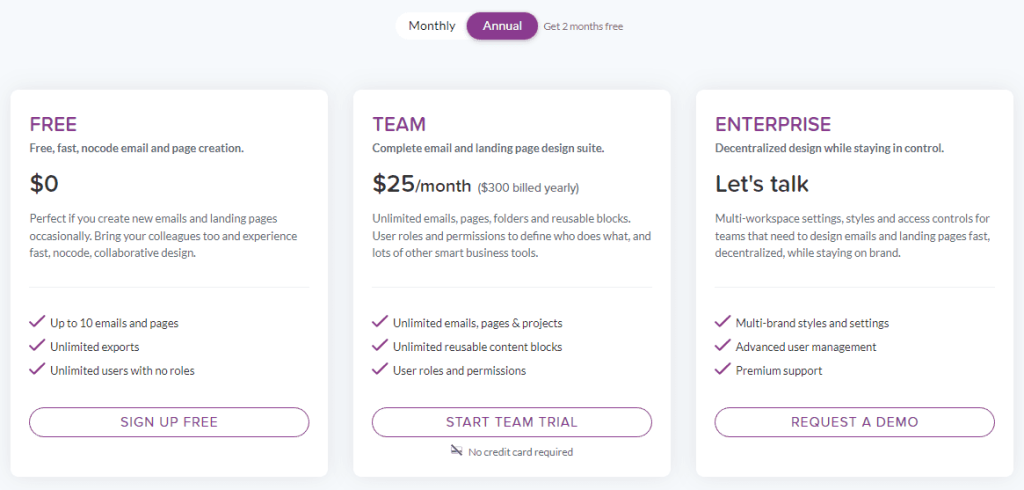 BEEFree.io Review: Pros & Cons
Our BEEFree editor review is based on our own research as well as users' reviews from the community. Let's discuss the pros and cons of BEEFree.io regarding its features for designers, marketers, and developers. 
BEEFree.io Pros
User-friendly interface of the BEEFree email editor. If you have any experience in marketing, you can easily get around BEE drag-n-drop editor and start creating simple email designs without a designer or coder.
Large collection of BEE email templates. Paid pricing plan gives you access to hundreds of ready-made templates thatyou can edit and customize as you like. You can find practically any template you need in the BEE template library. 
Responsive emails. Today, mobile responsiveness is a must. BEEFree helps you create responsive emails that look decent on every device
Generally, no coding skills required. You don't have to know HTML or CSS to create simple email templates or landing pages templates with BEE. 
BEEFree.io Cons 
If you want to add advanced effects like custom fonts, you will have to deal with CSS code. Marketers will have to delegate the task to developers. 
Lack of integration with some email marketing tools. The number of BEEFree integrations is rather limited, so check if the BEE editor is integrated with your ESP or marketing automation platform before switching to it. 
You'll have to do some manual work. For example, you've got to export the HTML code of your email manually. In some cases, you might need to edit the HTML to make sure it displays correctly before sending the email via your ESP or MAP. 
You can't edit the HTML code of the ready-made elements right in the editor. It's not a game changer if you're not planning to code, but if you need this feature, perhaps you'd like to have a look at BEEFree alternatives. 
BEEFree Alternatives: Compare BEEFree vs Stripo vs Knak vs Blocks
Let's compare features of the most popular email editors with BEEFree email editor's functions. Have a look at the table below to learn the differences between BEEFree.io, Stripo, Knak and Blocks.
| | BEEFree | Stripo | Knak | Blocks |
| --- | --- | --- | --- | --- |
| Price per month for Frelancers/Teams | | | | |
| | | | | |
| | | | | |
| Code-free drag-n-drop editor | | | | |
| | | | | |
| Build-in HTML code editor | | | | |
| | Mailchimp, HubSpot, Sendinblue, and more | HubSpot, Mailchimp, Klaviyo, and more | HubSpot, Salesforce, Eloqua, and more | |
| Seamless migration from other HTML email editors | | | | |
| | | | | |
| | | | | |
| | | | | |
| | | | | |
| | For Plugin paid plans only | | | |
| | | | | For all the elements of an email |
| | | | | |
| | | | | |
| | | | | |
We prepared articles about Stripo and Knak. Go check them out for more information, details, and comparisons.
We also made a comparison of the most well-known email frameworks for those, who like to work with the code but need to make the process easier and faster. We compared their pros and cons so you can decide which one fits your goals best.